---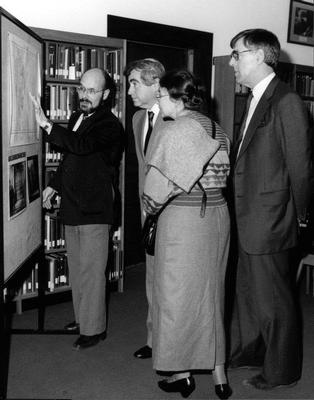 Dr Stefan Reif pinpointing the Cairo Genizah site for Israeli Minister of Religions Zevulun Hammer, his wife, and British escort, Colin Manvell, of the Central Office of Information
Princess in Cambridge
During a private visit to the University Library in April, Princess Margaret, who is known to be very fond of books and libraries, was shown a selection of the Library's treasures that included a number of Genizah fragments.
The Princess expressed special interest in the Damascus Document (Zadokite Fragment) and its origins in the literature of the Dead Sea sect, discussing with the Director of the Unit the historical implications of the sect's religious ideas.
Some Cambridge Genizah manuscripts were also shown to distinguished academic visitors from various countries who were conducting all or part of their deliberations in Cambridge.
Those attending the "Islam and the Maghreb" conference arranged by the editor of The Maghreb Review, Dr Mohamed Ben-Madani, were particularly interested in Genizah material relating to North Africa as described by researchers in the Unit.
For those touring centres of historical interest with American Jewish Archives under the leadership of Rabbi Malcolm Stern and participants in the International Seminar on Jewish genealogy that was organized by Dr Anthony Joseph, the historical and social documents exhibited by Dr Stefan Reif attracted the most attention.
As part of their British Council course entitled "Conservation Crisis in Libraries" and directed by the Cambridge University Librarian, Dr Frederick Ratcliffe, an international group of 25 librarians and archivists were introduced by Dr Geoffrey Khan to the Genizah Collection.
---
£13,000 for new post
In a most important development this year, the Rothschild Foundation and the Care Charitable Fund (on the instructions of Dr and Mrs Davide Sala) have provided matching funds for a British Academy award and made possible another full-time post in the Unit.
The sum of £3,000 has been received from the Rothschild Foundation, with a promise of an additional £6,000, while Dr and Mrs Sala have made £4,000 available.
Other contributions of major importance made by supporters in this country in recent months have been received from Sir Michael Sobell (£1,250), Mr John Rubens (£1,000) and Mr Cyril Stein (£1,000), who continues to offer helpful advice to the Director of the Unit on its fund-raising campaign.
Welcome renewals of their support have been gratefully received from Mr and Mrs Michael Phillips (£500); United Mizrahi Bank (£500); Mr and Mrs David Lauffer (an increase to £400); Mr and Mrs Conrad Abrahams-Curiel, Bank Leumi, The Ellison Marsden Charitable Trust and Mr and Mrs Bernard Garbacz (£250) each); Mr and Mrs Maurice Arenson and Barclay Charitable Trust (£100 each).
Among those who have kindly contributed for the first time are Mrs Carole Mosheim (£200) and Mr A.S. Oppenheimer (£250, in honour of his teacher, Rabbi Dr Ephraim J. Wiesenberg); Mrs Jennifer Finegold (£100, on behalf of JIA Women-in-Business Group); Dr and Mrs A.P. Joseph (£100, on behalf of the Conference on Jewish Genealogy); and Mr and Mrs Jack Lassman (£100).
The Unit's American supporters have also been generous, the position being that contributions received from them since the spring of 1987 have amounted to over $6,000, mostly through the American Friends of Cambridge University.
Particularly helpful have been the awards of the Georges Lurcy Charitable and Educational Trust ($3,000, arranged by Mr Seth E. Frank and Dr Edward M. Bernstein) and the Directors of the American Friends, who made their own allocation ($1,000).
The Unit is also grateful for the assistance of Jerome and Miriam Katzin ($500); Mrs Diane Claerbout and Ms Kathryn L. Johnson ($250 each); Mr and Mrs Raphael Levy ($150, and an active involvement in our public relations campaign); and Mrs Clara B. Laks, Mr and Mrs Charles I. Wiesenthal and Dr Felix Wimpfheimer (£100 each).
All these contributions and other anonymous and smaller amounts received from various sources are acknowledged with thanks.
---
Exciting developments in Genizah Unit
Research projects, in common with all human endeavours, have their seasons of quiet and steady progress as well as times of more lively and exciting achievement. Some of the developments of the past few months in the Genizah Unit indicate that we have definitely moved into a particularly energetic and productive period.
The challenging award of the British Academy has been matched by new support from the Rothschild Foundation and the Care Charitable Fund, making possible a year of full-time research on the rabbinic fragments in the New Series of the Collection.
During his sabbatical year in England, Dr Maaravi Perez, visiting from Bar-Ilan University, has completed for the Unit descriptions of a number of binders containing fragments of important Judaeo-Arabic commentaries of the Hebrew Bible, some of them hitherto unnoticed.
In a hectic few days in July, the world's leading scholars in the field of Judaeo-Arabic convened in Cambridge to share with each other the latest results of their Genizah research. The scholarly echoes of that explosion of individual and co-operative learning will reverberate for months, if not years, ahead.
During the preparations for the conference, computer links between Cambridge, Princeton and Jerusalem were established and are also likely to affect future communication between academics in the field.
As we move into the new academical year, we welcome to the Unit our sabbatical visitors, Professor Michael Klein, Dean of the Jerusalem campus of the Hebrew Union College and currently Visiting Fellow at Clare Hall, who has undertaken to prepare a catalogue of the targumic fragments in the Collection; and Dr Robert Brody, of the Department of Talmud at the Hebrew University of Jerusalem, who will be engaged on the description of the rabbinic fragments.
Both scholars bring to the Unit a wealth of learning and a reputation for industry that will ensure a productive involvement in our work.
Also with us for the next ten months is Jonathan Seidel, of the University of California at Berkeley, who comes as a Fulbright-Hayes Graduate Student to complete part of his doctoral research at St John's College on the magical texts in the Genizah.
What is more, that veteran among exponents of Genizah research and creator of various initiatives in the field of Judaeo-Arabic, Professor Norman Golb, of the University of Chicago, is currently visiting Clare Hall as a life member and is often present here in the University Library to encourage our efforts.
Added to all these developments is the likelihood of some important new publications during the next few months. Clearly, there will be little prospect of a quiet period in the immediate future.
Stefan C. Reif
Director, Taylor-Schechter Genizah Research Unit
---
A whole world opens up
I had long looked forward to the chance of sifting through the treasures of the Cambridge Genizah Collection, and this year (1986/87) I was given the opportunity.
I was fortunate to be able to examine not torn and crumpled fragments in tightly packed boxes, but well-ordered binders containing items that had been cleaned and restored.
The pleasant and helpful attitude of the staff of the Genizah Unit and the Manuscripts Reading Room - Dr Stefan Reif and Mr Godfrey Waller, in particular - encourages the enthusiasm of the researcher who has to deal with these precious and important fragments.
As my work is concerned with mediaeval Bible commentaries written in Judaeo-Arabic, I requested binders T-S Ar. 21-28. When they were brought to me, I was amazed at what I saw.
As one begins to read, one is delighted to come across a particular passage reminiscent of an opinion or an idea previously encountered in a later work. One reads and notes the contents of the fragments, which may be very short - a few lines on one folio - or as long as sixteen pages, with almost continuous text.
Obviously, the longer fragment attracts more attention, but the shorter fragment often proves more important since it may complete what is missing in printed editions.
So the reading continues: some copied Hebrew verses apparently part of a Biblical work; a translation of a chapter or a few verses of Bible. One tries to understand the translator's approach to Biblical philology in all its complexity.
In another fragment there is a simultaneous translation, perhaps word for word, or verse by verse, or even chapter by chapter. Sometimes, each verse is accompanied by translations into both Aramaic and Arabic, clearly designed for synagogal use.
There is much pleasure to be had from reading these fragments of commentaries on different Biblical passages. A whole world is opened up - long commentaries; short commentaries; clearly literalist passages; homiletical passages; Hebrew grammar according to the system of the tenth-century scholar, Judah Hayyuj, with his then revolutionary theory of triliteral roots, and also according to others, perhaps ignorant of this discovery; philosophy from a variety of schools; and even kabbala.
One comes across a continuous commentary of the exegesis of particular passages, such as the popular Ten Commandments or some of the year's special Haftaroth, among them the seven "Haftaroth of Comfort" read on the Sabbaths after the fast of the Ninth of Av.
And so the reading continues in pursuit of one's goal - fragments of commentaries by familiar authors of long-standing interest. There are commentaries of Rabbanites and Karaites, of the learned, and of teachers of small children.
One comes across fragments of Saadya Gaon's commentary on the Pentateuch (published by Professor Moshe Zucker), on Isaiah (published by Professor Yehuda Ratzaby), and on Job. And there emerges a fragment from the Book of Hebrew Roots by the eleventh-century grammarian, Jonah ibn Janah, in the original Arabic.
A little later, what joy! A fragment from the commentary of Judah ibn Balaam on the book of Genesis. However, Dr Reif, the Unit's Director, dampens the excitement by revealing that it has already been discovered and has only recently been published.
I carry on looking, reading, taking notes, trying to decipher the blurred letters of something perhaps previously unknown. Perhaps this one is a fragment I can publish! It appears to complete the commentary on a Biblical passage that has been published only in parts. One is at the same time an enthusiastic optimist and a cautious pessimist.
I continue deciphering and searching and encounter a fragment comparing Biblical and Rabbinic Hebrew (Judah ibn Qoreish, from ninth-century North Africa?); is this an anti-Karaite fragment from a Rabbanite source? I note it down and carry on leafing.
I come across a homily on the portion read on the Sabbath of Hanukkah that appears to be complete; a philosophical commentary on Ecclesiastes; Saadya's translation of Song of Songs; a midrashic fragment on the book of Numbers.
On one page there are some quotations from Saadya, Moses ibn Gikatilla and Abraham ibn Ezra. I read and take notes; I jot down classmarks for further investigation. There is much to be done, by me and by others.
Indeed, the Genizah has something for everyone, including (perhaps especially) the student of Biblical commentary written in the Judaeo-Arabic dialect of the Middle Ages.
Maaravi Perez
Senior Lecturer in Bible, Bar-Ilan University
---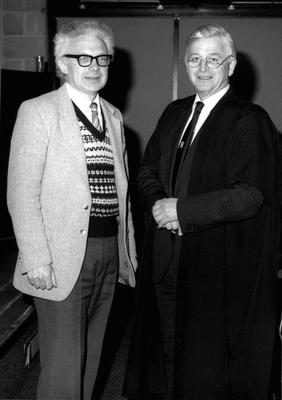 The late Dr David Goldstein (left) with Cambridge University Librarian Dr F. W. Ratcliffe.
Great loss to bibliography
Researchers in the Genizah Unit were saddened to hear of the premature death in July of a respected colleague, Dr David Goldstein, Curator of Hebrew Books at the British Library, at the age of 54.
Dr Goldstein took up a post in the Department of Oriental Manuscripts and Printed Books at the British Library in 1975, a year after the Genizah Unit's establishment, and was much interested and actively involved in various aspects of the Unit's work through the years.
Together with the Unit's Director, Dr Stefan Reif, and Mr Ronald May, of the Bodleian Library in Oxford, he was responsible for the initiatives that led to the setting up of the Hebraica Libraries' Group.
His preliminary census of Hebrew incunables (books printed before 1500) in the United Kingdom, published by the British Library in 1985, includes references to printed fragments identified in the Genizah Collection at the Cambridge University Library.
In a series of lectures given in Cambridge to mark the 850th anniversary of the birth of Maimonides, Dr Goldstein was introduced by the University Librarian, Dr F. W. Ratcliffe, and spoke about the many autographs of Maimonides to be found among these fragments.
Hebrew bibliography in this country is seriously weakened by this sad loss.
---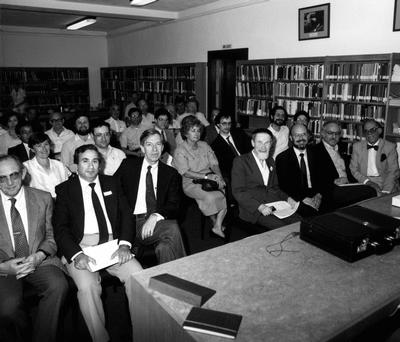 Some of the participants in the anniversary conference
Ninety years of Genizah research
For some fifty scholars from Israel, Britain the United States, Egypt, France and Holland who participated in the Society for Judaeo-Arabic Studies conference on "Ninety Years of Genizah Research at Cambridge (1897-1987)" held in the universities of London and Cambridge in July, there will be no lack of memories.
From the opening of the first session in the impressive auditorium of the School of Oriental and African Studies until the closing of the business session in the restored mediaeval elegance of the School of Pythagoras at St John's College, there was a happy combination of scholarship and friendliness, atmosphere and organisation, Jewish food and college service.
If anything was in short supply during these three days, it was time. With thirty-one communications to hear, computer technology to view, receptions by SOAS in London and by the Faculty of Oriental Studies and the University Library in Cambridge to enjoy, and future activities, meetings and publications to arrange, there was barely an hour to spare for lunch, and a brisk pace was demanded of participants as they made their way from one venue to another.
Those invited as guest chairmen of some of the sessions, such as Professors Benzion Segal of London and Malcolm Lyons of Cambridge, Drs Erwin Rosenthal and Martin Hinds of Cambridge and Dr Davide Sala of London, soon found that the task, far from being a sinecure, made considerable demands of their authority and determination.
The two major areas covered by the lectures were the language and the literature of Judaeo-Arabic, particularly as reflected in the Genizah documents.
In the case of the former, the work of the earliest mediaeval Hebrew grammarians and lexicographers, the Arabic background to this and its later influence were analysed (I. Eldar, A. Maman, G. Khan and D. Becker), and the idiosyncratic nature of the first translations of Arabic texts into Hebrew made by Byzantine Karaites was demonstrated (S. Hopkins).
The treatment of literature ranged from the earliest known translation of the Hebrew Bible into Judaeo-Arabic (J. Blau), through a supposed Arabic origin for parts of the Book of Yosippon (S. Sela) and from the literary analysis used by mediaeval Jewish commentators (H. Shy) to a reconsideration of Saadya Gaon's alleged limitation of liturgical flexibility (R. Brody).
Further Arabic influences were located in the structure of Hebrew poetry (Y. Yahalom) and Jewish legend (A. Schussman) and a hymn of praise to a philanthropist followed by an appeal for help with Passover expenses was evocative for many of the academic listeners (D. Doron).
The more general literary questions of when and why Hebrew and Arabic were used (R. Drory) and the nature of the North African Jewish library in the classical Genizah period (M. Ben-Sasson) also provoked much thought and discussion.
The attitudes of the Jews, Christians and Muslims to each other's religions in the Middle Ages also figured prominently in various lectures.
The origins and early development of polemical literature, particularly in The Book of Nestor the Priest (D. J. Lasker and S. Stroumsa) and the story of the monk Bahira (M. Gil), were discussed, and it was demonstrated how material from one community could be reworked in another.
Texts were also cited that debated the religious obligations of non-Jews in Jewish eyes, both Karaite and Rabbanite (H. Ben-Shammai), and raised questions about the legal status in the Muslim courts of a Jewish wife whose husband had converted to Islam (S. Ward).
As always in Genizah research, the Maimonides family attracted the attention of a number of lecturers. Evidence was presented that cast doubt on the attribution of a Talmudic quotation to Moses Maimonides (E. J. Wiesenberg) and that evaluated Yemenite texts of a commentary by Tanhum Ha-Yerushalmi on his Mishneh Torah (J. Dana).
On the philosophical side, the technical terms for "cause" and "reason" in his Guide were analysed (A. Nuriel) and a systematic critique of that work by a hitherto unknown oriental Jewish philosopher was summarised (P. B. Fenton).
In a newly discovered responsum by Abraham, the son of Moses Maimonides, guidance was sought on whether a Jew who had declared himself bankrupt could still be summoned to a Muslim court by his Jewish creditor (M. A. Friedman).
Treatments were not always so technical. There were also papers on such fascinating Genizah topics as the medical texts that describe diseases, diets and ethics (H. Isaacs), and the magical literature shared by Jews and Muslims in mediaeval Egypt, its social context and historical background (S. Wasserstrom).
One lecturer even departed from the Judaeo-Arabic theme and introduced the audience to a Hebrew Genizah manuscript by Yehudah ben Shemaryah, a student of Rabbi Meir of Rothenburg (N. Goldfeld).
The remaining four lectures concentrated on the general significance of the Judaeo-Arabic material from the Genizah, the history of its study and the way to exploit it in the future.
To this latter end, an introduction to the use of computer technology, with a practical demonstration, was provided (M. R. Cohen) and a convincing appeal was made to historians to integrate the study of Judaeo-Arabic documents into the broader context of general Jewish historiography by establishing more courses and professorial posts in this and related subjects (N. Golb).
The introductory lecture in London saw Judaeo-Arabic research as the study of a Jewish language, an important component in understanding the history of Arabic, and an interpretative device for the reconstruction of the Mediterranean Middle Ages and assessing its influence on Modern Europe (J. Wansbrough).
The equivalent presentation in Cambridge concentrated on the historical Cambridge connection with all aspects of Arabic studies and the manner in which Judaeo-Arabic material from the Genizah had first been examined, tentatively classified and evaluated at the University Library (S. C. Reif).
The co-operation and assistance kindly provided by the Ben-Zvi Institute in Jerusalem, the British Academy, the School of Oriental and African Studies and Mr N. D. Khalili in London, the Genizah Unit in Cambridge and the Littauer Foundation in New York were greatly appreciated by all participants and it was hoped that an important volume would result from the deliberations that they had made possible.
---
Dr Khan promoted
Dr Geoffrey Khan's important contribution to the work of the Genizah Unit and his record of publication have been recognized by his promotion to the office of Research Associate from 1 October 1987.
Dr Khan, who joined the Unit in July 1983, successfully completed his doctoral dissertation on Semitic syntax in 1984 and has since published a number of articles and reviews in learned periodicals that have won him a reputation as an excellent young scholar.
His book, Studies in Semitic Syntax, has been accepted by the London Oriental Series and is due to be published next year by Oxford University Press.
He has also lectured on the Cambridge Genizah manuscripts at a number of important international conferences and has made considerable progress in describing and cataloguing the Arabic and Judaeo-Arabic fragments among them.
In addition, he has provided major assistance with the preparation of the Unit's computerized bibliography of published work on Cambridge Genizah fragments and with many other aspects of the Unit's daily activities.
---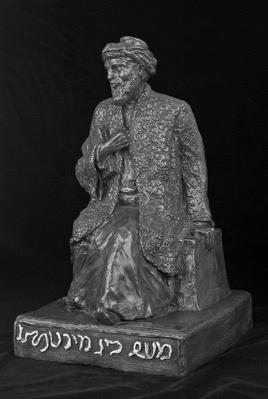 The sculptress, Hazel Alexander of London, who has exhibited work in this country and in Israel and has sold pieces all over the world, has made a cold cast bronze of Moses Maimonides ("The Rambam", 1135-1204), with a facsimile of his signature, as preserved on a number of Genizah fragments, across the front of its stone base.
The dimensions of the piece are 17" x 10" x 10" and the weight is about 22lbs.
In keeping with her general policy of devoting her work to charitable causes, Mrs Alexander has made a numbered edition of this piece for the Unit and copies are being sold at the special price of £195.
Further details are available from Dr Stefan Reif, Director of the Unit.
---
Berlin talks
Dr Stefan Reif and Dr Geoffrey Khan both attended the Congress of the European Association for Jewish Studies at Jagdschloss Glienicke, near Wannsee in Berlin in July.
Each chaired one of the sessions, as well as delivering a lecture. Dr Reif's subject was "Aspects of Mediaeval Jewish Literacy" and Dr Khan's was "Mediaeval Karaite Bible Texts".
Both scholars drew extensively on Genizah sources.
---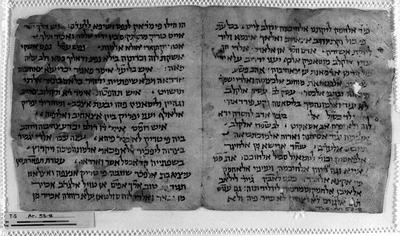 T-S Ar. 53.8: Judaeo-Arabic translation of Proverbs
Rare stroke of luck
Professor Joshua Blau, of the Hebrew University of Jerusalem, is convinced that nothing could be more erroneous than believing that the time for major Genizah discoveries has passed.
"While conducting some research on Genizah material at Cambridge University Library last winter, I had a rare stroke of luck," writes Professor Blau.
"It was towards the end of my stay when, by serendipity, I came across two vellum leaves of the Genizah fragment that is preserved in T-S Ar. 53.8, containing a Judaeo-Arabic translation of Proverbs 16:24 - 18:26."
Professor Blau goes on to explain that the fragment is written in a rather rare phonetic spelling which was used only during the first three Islamic centuries and which then completely disappeared after Saadya Gaon's version had become the standard Bible translation of that part of mediaeval Jewry that spoke Arabic.
Hitherto, Saadya Gaon's translation was the oldest extant Judaeo-Arabic Bible translation. "Since our fragment is written according to a spelling that fell into disuse through the appearance of Saadya's translation," sums up Professor Blau, "it pre-dates that work and therefore represents the earliest Judaeo-Arabic translation of the Bible identified to date."
---