---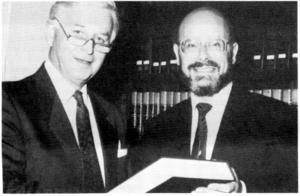 Cambridge University Librarian Dr F.W. Ratcliffe and Dr S.C. Reif at the launching of the new volume
New bibliography
One of the Genizah Unit's most important projects since its inception in 1974 has just reached fruition. Last month saw the appearance of Published Material from the Cambridge Genizah Collections: A Bibliography 1896-1980, edited by the Unit's Director, Dr Stefan Reif.
The bibliography serves as a guide to every book, article and reference dealing with the Genizah fragments at Cambridge in the defined period. As such, it will be an indispensable tool for all those working on such manuscript sources.
The volume's statistics convey the extensive nature of the coverage. In large A4 format, there are nine pages of introduction, followed by 432 pages of references - often with as many as 100 citations on each - 153 pages on which material is arranged according to author, and a short-title catalogue and list of works cited, covering eighteen pages. Some twenty scholars were involved in the preparation of the work, and there is hardly an area of Jewish studies that is not represented.
The volume is not simply a record of each time a Genizah fragment has been used by the scholar, but a corrected record of the relevant details.
There are thousands of cases in which some aspect of the information provided in the original publication is inaccurate, and this inaccuracy has made it difficult for a later scholar to follow the lead given by his predecessor.
With the vast majority of these references now corrected, future scholarship will certainly have its way considerably eased. In addition, the history of Genizah studies can readily be reconstructed from information in the entries.
The volume is published by Cambridge University Press for Cambridge University Library as No. 6 in the Genizah Series and is available from the usual suppliers of CUP publications at £75.
---
Sobell raises award
Welcome assistance of £3,000 has been received from a foundation that wishes to remain anonymous. In addition, the Sobell Foundation, which has been among the Unit's leading supporters since 1975, has increased its award for the current year to £1,250, and Mr Cyril Stein has again kindly contributed £1,000.
A further $990 was contributed by the American Friends of Cambridge University and included gifts from Mrs Clara B. Laks ($250), Mrs Diane S. Claerbout ($250), Mr and Mrs Raphael Levy ($150) and Mrs Anne Schechter Hertzberg ($100, in memory of Jeanne and Morris Schechter).
In this country, support was renewed by Mr and Mrs Michael Phillips (£750), Harbour Charitable Trust (£750), Mr and Mrs David Lauffer (£500), and Ilford B'nai B'rith (£300).
Contributions were also received from Mr and Mrs Conrad Abrahams-Curiel, Mr and Mrs Bernard Garbacz, Mr Jack Lunzer, Mr R.S. Rubin, Sir Sigmund Sternberg and Mr and Mrs Conrad Morris (£250 each) and from Chigwell and Hainault Synagogue (£200).
Among others donating funds to the Unit were Mr and Mrs Henry Knobil (£125) and Mr S.W. Laufer (£100), while a total exceeding £1,000 was contributed by anonymous donors or in smaller sums.
The Unit is glad to have the encouragement of these supporters and thanks them all.
---
Growing awareness
Genizah material now stands at the centre of all mediaeval Jewish scholarship
After a hectic and stimulating four months as a Lady Davis professor at the Hebrew University of Jerusalem, I returned to Cambridge with two major impressions concerning academic matters with which I was closely involved in Israel.
First, Genizah material now stands at the centre of all scholarship dealing with the Mediterranean Jewish communities of the Middle Ages, and this intensive study of the fragments is creating an increasingly enthusiastic interest among the wider public.
Secondly, there is a growing awareness of how richly varied a texture Jewish liturgical custom has woven for itself over the centuries and how much research remains to be undertaken - particularly by way of such sources as the Genizah - to identify its numerous strands.
These impressions were gained during a busy programme of research, university teaching and supervision, popular lecturing and media presentations, pursued mainly in Jerusalem, but also in Tel Aviv and Ramat Gan.
My research resulted in the completion of five chapters of a general history of Jewish worship, two of them directly bound up with the exploitation of the liturgical items to be found in the various Genizah collections. If my various other duties permit, I hope to complete the remaining three or four chapters over the next few months.
My teaching duties at the Hebrew University required me to give one MA course in the Hebrew literature department to seven graduate students; I devoted these weekly sessions to the subject I was researching, attempting thereby to stimulate interest in the topic and in the methodological problems associated with its study.
Among academic institutions at which I spoke were Tel Aviv University, Bar-Ilan University, Schocken Institute and Ben-Zvi Institute.
In the wider educational sphere, I conducted a seminar in Tel Aviv organised for teachers and their supervisors by the Ministry of Education, and another in Jerusalem for a group of students from the University of British Columbia on an official trip to Israel.
Significant projects concerning the description of Genizah fragments in the fields of poetry, Talmud and midrash are currently being conducted in Jerusalem, and my closest contacts there were with the directors of such projects, Professors Ezra Fleischer and Jacob Sussmann.
Mrs Reif and I were also involved in work of the Institute of Microfilmed Hebrew Manuscripts (through Professor Israel Ta-Shema, Dr Abraham David and Mr Benjamin Richler) and this will lead to the published description of manuscripts.
The media also took an interest in my stay in Jerusalem. I was interviewed by Efraim Gefen for Israel Radio's English programme, participated in a panel discussion on the history of Jerusalem (broadcast on its Radio 2 station), and spoke (in French) on the Genizah for a programme being recorded for the Jewish communal radio of Paris. Features on the Genizah Unit appeared in the Jerusalem Post and in the Jewish World of New York.
The visit was full of interest and activity and I am deeply grateful to the Lady Davis Fellowship Trust for its kind invitation and to the University of Cambridge for enabling me to accept it.
Stefan C. Reif
Director, Taylor-Schechter Genizah Research Unit
---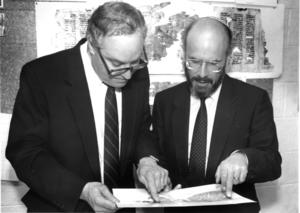 Professor Michael Klein (left), Dean of the Hebrew Union College in Jerusalem, examining photographs of Genizah texts with Dr Stefan Reif
Cairo's dark chamber that remains a monument to life
The Cairo Genizah constitutes a fabulous listening device, a `bug` planted in the heart of time, recording for our edification the loftiest visions and most intimate secrets of the Dark Ages. But how is the scholarly puzzle being solved?
In the Middle Ages, when pirates plundered the seas and brigands stalked the land, Jewish travellers were considered a prize catch, since they were redeemable at full price at the nearest Jewish community, all of which honoured the talmudic dictum that Jews are responsible for each other: kol yisrael `arevim zeh bazeh.
But were they redeemable at any price? The question, raised again in recent days after ransom demands were made for a missing Israeli Army sergeant, is answered decisively on an 800-year-old scrap of parchment lying in the Cambridge University Library.
It was written in Cairo by one of the giants of Jewish thought and Jewish history, Moses Maimonides - the Rambam - in response to a query about whether the community should attempt to meet an exorbitant demand for a Jew being held to ransom.
His answer was that only the going rate should be paid for the captive's release. To pay more might save that person, but would endanger others in the future for whom such an exorbitant sum could not be raised.
This intriguing snatch of mediaeval responsa is culled from the greatest treasure trove of Jewish history ever found, the Cairo Genizah. So rich has it proven that, close to a century after its discovery, it is still producing a torrent of information illuminating the so-called "Dark Ages", showing that period to have been a rich nurturing ground for our own civilization.
"The general historians referred to the period 1,000 years ago as the Dark Ages not because it was a primitive period" says Dr Stefan Reif, director of the Genizah Research Unit at Cambridge, "but because we didn't know anything about it.
"People think that after the collapse of the Roman Empire, the whole world entered the Dark Ages until the Renaissance. But when you look at this part of the world [though the Genizah] in the tenth to twelfth centuries, you find a very enlightened age."
The Genizah collection stems from the Jewish practice of not destroying old prayer-books or other Hebrew writing on which the name of God might appear, including private letters. These are usually stored in a cupboard or other space in a synagogue until they are ceremonially buried in a cemetery.
For reasons that scholars do not fully understand, the genizah (repository) in the Ben-Ezra Synagogue in old Cairo was operated differently. It became a catch-all for every kind of written document, including those in non-Hebrew languages that clearly did not bear God's name in the holy tongue.
In addition, the Cairo Genizah was apparently never emptied in the course of centuries. When scholars finally dipped into this treasure in the last century, they discovered documents ranging from the eighth century C.E. to the nineteenth, a span of 1,100 years. Because of the relatively dry climate, the parchment, paper, papyrus and cloth on which these documents were written survived the long centuries in remarkably good condition.
The Cairo Genizah constitutes a fabulous listening device, a scholarly "bug" planted in the heart of time and recording for our titillation and edification the loftiest visions and most intimate secrets of an age.
These secrets began to leak out last century, apparently when synagogue beadles, realizing that collectors were willing to pay for the musty fragments in the Genizah, began secretly selling them.
Documents of uncommon interest from the Jewish Middle Ages suddenly began appearing around the world, but the source was not known. In 1893, a Jerusalem collector sold Cambridge 30 fragments of unknown origin, including letters from the twelfth century, for £3 sterling.
It fell to Solomon Schechter, a Romanian-born rabbinic scholar at Cambridge University, to find the mother lode. Two scholarly British ladies recently returned from a trip to Egypt sent him copies of old Hebrew fragments they had bought in Cairo from a dealer.
One of these fragments sent Schechter scurrying for his source books. It was from an Apocryphal work, The Wisdom of Ben Sira, written in Hebrew in antiquity but surviving only in Greek.
(Apocrypha refers to works written mainly in the Second Temple period which did not enter the Jewish biblical canon but were later adopted by the Greek Orthodox and Roman Catholic churches.)
The script indicated that this Hebrew version was from the tenth century. It is the sort of discovery that sends chills up a scholar's spine.
Schechter "felt that this tenth-century version was a reliable copy of the original Hebrew version written in the Second Temple period", says Reif. "And it was. He realized he had a missing link with ancient Hebrew literature."
The appearance of the fragment in Cairo was an indication that somewhere in that teeming Middle Eastern capital was also the source for the other fragments that had been appearing around the world.
Schechter approached Charles Taylor, Master of St. John's College, who advised him to travel immediately to Cairo to conduct a search rather than go through the interminable procedures involved in requesting university approval and funding. The expenses would be met by Taylor himself, who was independently wealthy.
Schechter (who later in the trip visited a brother who had recently settled in Eretz Yisrael) arrived in Cairo early in 1897. The Chief Rabbi of Cairo, to whom he presented himself with letters of introduction, suggested that he look at the genizoth of the local synagogues.
The Ben-Ezra Synagogue was in an old part of Cairo, a few miles south of the modern centre of the city, where most of the other synagogues were situated. The genizah of the synagogue was in the women's gallery upstairs.
At one end of the U-shaped gallery was an ordinary room with a door. Paralleling it at the other end of the U was a walled-up chamber with a high, transom-like opening accessible only by a ladder.
Looking inside the chamber with a lamp, Schechter could see it filled with old manuscripts. A brief dip into them was sufficient to tell him he had found what he was looking for.
For reasons unclear to Reif, the Chief rabbi told Schechter to take it all, gratis. "Maybe he had a premonition that it might become necessary to save them."
Schechter spent several days getting the material into sacks and crates. He had to do battle, he wrote, with "the beadles and other infernal scoundrels" who were ripping off fragments to peddle before the genizah disappeared. Schechter managed to buy back some stolen fragments from dealers.
Back in Cambridge, he spent the next five years sorting out 30,000 of the 140,000 fragments he had found.
Some fragments were as small as a few square centimetres; others were entire volumes.
When Schechter moved to New York to head the Jewish Theological Seminary of America in 1902, his assistant continued to work at the sorting for another seven years.
Then, in a curious interlude, the Genizah again fell into a time vacuum, virtually forgotten in a Cambridge storeroom. It was widely assumed that Schechter had skimmed the cream off the collection and that what remained were torn prayer-books and other fragments of little significance.
The two world wars, the depression, the Holocaust and the founding of Israel diverted scholarship in general, and Jewish scholarship in particular, from the unsorted remains of the Genizah.
It was not until the mid-1950s that Genizah research was brought to life again when Professor Shlomo Dov Goitein, of the Hebrew University, advised the Library about the importance of the unsorted crates.
Cambridge began a modest programme for conserving some of the fragments and classifying them, but these made hardly a dent in the piles of material.
The pace changed dramatically in 1973 after the Scottish-born Reif, then a 29-year old scholar teaching Jewish studies at Dropsie University in Philadelphia, responded to an advertisement in the London Times for someone to be in charge of the Cairo Genizah archive.
He appeared for a formal Cambridge interview, sitting at the bottom of a long table lined by formidable-looking scholars dressed in academic gowns.
The job was soon his. But when he got a good look at his "archives" - more than 30 crates stuffed with close to 100,000 unsorted fragments - he fell into a depression that lasted several days. He emerged from it with a head full of plans.
Raising most of the necessary funds himself from philanthropists, he instituted a conservation and classification programme that, inside of eight years, turned the Genizah into a well-ordered document library.
Every paper fragment was brushed off and soaked in water to deacidify it, a process that did not blur the ink used in the ancient documents. After being dried, they were flattened by a slightly warm pressing iron.
Leather fragments were placed in humidifiers to soften them before unrolling. Every fragment was classified by its type - poetry, letters, Bible excerpts - and given a classification number before being microfilmed.
The fragments were then placed in a special plastic cover, sewn on to large plastic sheets, and laid flat for best preservation. The microfilms were sent to libraries around the world, including the Jewish National and University Library in Jerusalem.
In a new phase of the programme, scholars from around the world, including Hebrew University scholars, are providing a succinct description of every fragment so that future scholars can easily reach for those relevant to their expertise, instead of dipping into crates in the hope of finding a treasure as they did just a few years ago.
A seemingly bland document can take on sensational meaning in the hands of an expert who places it in a broader context. These scholars often come to Cambridge to work with the original documents.
In addition to the 140,000 Cambridge Genizah fragments, 60,000 others sold off by the "beadles and other infernal scoundrels" before Schechter's arrival in Cairo are now in collections around the world, especially in New York, London, Oxford and Leningrad.
Microfilm collections of some of the Leningrad and other collections have been available to Western scholars since the 1960s and '70s. But unfilmed Leningrad material may yet hold major surprises. Jerusalem's Rabbi Adin Steinsaltz, in his recent visits to the Soviet Union as a guest of the Soviet Academy of Sciences, received indications that the Soviets are ready to grant Western scholars access to the rest of the material.
Be that as it may, there is a wealth of material still to be extracted from the Cambridge collection, and virtually every department of Jewish studies in the world - with the Hebrew University's probably foremost among them - has scholars working in the field.
Some 50 or 60 examples of letters written in Maimonides' hand have been found in the Genizah. Many of these are responses to personal or religious questions submitted by Jews near and far - some, notes Reif, coming from Yemen, where Maimonides was so idolized that his name was even included in prayers.
"He was nudniked every day by these problems," says Reif. One man wrote that his local rabbi said he could not marry a relative on the grounds that the kinship was too close. He would like a second opinion from the greatest mind of the generation.
"Yes, you may marry her" is the response above Maimonides' signature. Terse it may have been, but the response flowed from his encyclopaedic knowledge of Jewish law and his undisputed moral and religious authority.
Another man writes to complain that the cantor in his synagogue spent too much time singing and kept them at prayers too long every Shabbat. The petitioner notes that Maimonides himself had once written that the Shabbat service should not have too many piyyutim - lyrical embellishments to the standard prayers.
Maimonides wisely chose to avoid the minefield of synagogue politics. Every locality, he wrote, has its own customs regarding the liturgy.
The Cairo Genizah even includes documents in Yiddish, left by travellers from the "lands of Ashkenaz" in Europe. In fact, notes Reif, these are the earliest written examples of Yiddish extant.
Numerous letters from merchants show how business was done, Jewish merchants maintaining an elaborate network of relations with other Jewish merchants along all the coasts of the Mediterranean and as far as India.
Letters to and from wives touch on the most intimate aspects of their lives, including guilt at depriving one's wife of her conjugal rights because of business expeditions to distant lands.
Visitors to Cairo who do not mind taking their lives in their hands can mount the rickety, holed exterior staircase leading to the women's gallery at the Ben-Ezra Synagogue. They can then climb a ladder at the far end of the gallery to peer into the empty black chamber in which an important chunk of their history had lain unnoticed for 1,000 years.
Until the academic world regurgitates the material for us, we might best get a sense of that world simply by looking into that hole and listening for the voices. Monuments to death abound in Europe, but his dark chamber by the Nile is a monument to life.
Abraham Rabinovitch
The Jerusalem Post Magazine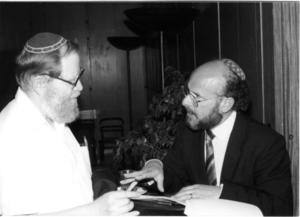 Professor Moshe Greenberg (left), of the Hebrew University, discussing a point after Dr Reif's lecture at the Schocken Institute in Jerusalem
---
Medicine and prayer
As Dr Haskell D. Isaacs, Research Associate in the Unit, recently discovered, medical advice was sometimes sought and offered by correspondence in the Jewish community of Egypt in the mediaeval period.
Although house-calls and attendance at the doctor's consulting rooms were the common practice, Cambridge Genizah fragment T-S AS 152.34 provides evidence of an exchange of notes between patient and doctor.
"How much bread, sir, am I permitted to eat?" is the first question put to the physician, and three others follow in quick succession. "Is a gentle bath recommended? Which beverage is allowed? How much water may I drink?"
In his reply, written on the reverse of the patient's enquiry, the doctor advises against too much bread and suggests a bath on Sunday. "As for drink," he adds, "apple and lemon juices are recommended, as well as sorrel and rose water. Add chalk and purslane seeds to the water, and take small quantities when required."
But the patient's health clearly depended on factors outside the medical expert's control, and the physician cautiously concludes his note with a brief prayer that the Divine Healer should effect a recovery.
---
Schechters visit T-S Unit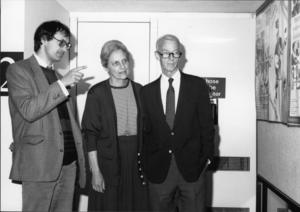 Dr Geoffrey Khan explaining some of the Genizah exhibits to visitors Sally and Daniel Schechter. Daniel, who lives in the USA, is a grandson of Solomon Schechter
---
A gift in season
If you would like to receive Genizah Fragments regularly, to enquire about the Taylor-Schechter Genizah Collection, or to know how you may assist with its preservation and study, please write to: Dr Stefan Reif, Director of the Taylor-Schechter Genizah Research Unit at Cambridge University Library, West Road, Cambridge CB3 9DR, England.
The newsletter has, until now, been sent out free of charge not only to those who contribute their scholarship or their financial assistance to the Genizah Unit, but also to a wider group who may be interested in reading about its progress and the results of its research. There are currently over 1,200 names on the Unit's computerized mailing list.
The cost of producing and dispatching Genizah Fragments has, however, almost doubled since it first appeared in 1981 and the increased pressure on the Unit to find the funding necessary to continue its research projects means that less of its budget is available for public relations.
It has therefore been decided to ask all readers not already supporting the Unit to help ensure the continuity of this publication by making a small, regular gift. The sum of £2 (UK) or $5 (abroad) per annum is suggested, and payment may be made to the Unit's Cambridge office or to the American Friends.
All contributions to the Unit whether for the research programme or its other activities, are made to the "University of Cambridge", which enjoys charitable status for tax and similar purposes.
In the USA, all contributions may be directed to "The American Friends of Cambridge University," c/o its President, Mr Stephen C. Price, at PO Box 7070, Arlington, Virginia 22207, USA. Transfers of such funds are regularly made from the USA to Cambridge.
The AFCU is recognized by the IRS as a charitable organization and contributions are legally deductible for United States income tax purposes. They are similarly deductible in Canada even if made directly to Cambridge.
---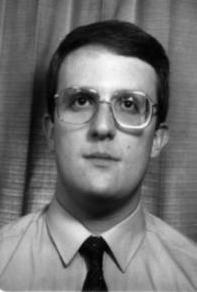 Mr Colin Baker
Baker joins Arabic researchers
The Genizah Unit's research team is strengthened this month by the appointment of Mr Colin Baker as a part-time research assistant.
Mr Baker, who attended the Hasmonean High School in London, studied Hebrew and Arabic at the University of Leeds from 1981 to 1985. He graduated with a BA(Hons.) First Class in Semitic languages and literatures.
The subject of both his MPhil dissertation (University of Cambridge, 1987) and his current PHD research is the manuscript evidence of mediaeval medical treatises in Arabic. This qualifies him to work with Research Associates Dr Geoffrey Khan and Dr Haskell Isaacs on the Arabic and Judaeo-Arabic items in the Collection.
---
Papyrus photo sent to Papua
Requests for photographs of items in the Genizah Collection at Cambridge University Library are a common feature of the Unit's correspondence. It came as something of a surprise, however, when a recent order for such reproductions had to be dispatched to Papua New Guinea.
The Rev. Theo Aerts, of de Boismenu College, was organising an exhibition of biblical material and wished to include good reproductions of a variety of important manuscripts.
With the help of some colleagues in Ireland, items were chosen that included the Nash Papyrus (Or.233) and two Genizah fragments T-S B15.1 and B8.4, containing mediaeval Haftarah and Targum texts.
Bromide prints were soon prepared and sent on their long journey and, to the best of our knowledge, there are now copies of Hebrew manuscripts from the Mediterranean gracing an exhibition in the South Pacific.
---