---
JMC research link
The latest development in the Unit's campaign to win new friends and develop relations with communal institutions is the creation of an association with the Jewish Memorial Council in London,
As part of its expanding interest in academic Jewish studies and higher education the Council has undertaken to support the research into Jewish religious history being undertaken in the Unit and has made £1,000 available as a first commitment. As its current fund-raising campaign gains momentum, more assistance will be provided.
The council was founded in 1919 in memory of Jews who fell on active service during the First World War and is currently presided over by Mr Edmund L. de Rothschild.
Meetings have been held between the director of the Unit, Dr Stefan Reif, and the Council's chairman, Mr Edgar Astaire, its treasurer, Mr Alexander Rosenzweig, and the honorary secretary, Mr T. M. Simon.
A group from the Council has just visited the Unit and details will be reported in Genizah Fragments No. 23.
Dr Reif has agreed to serve on the Council and to chair its University Scholarships Committee.
Also gratefully received in recent weeks have been renewed contributions from the Sobell Fund (£1,250), Mr Cyril Stein (£1,000), the Harbour Charitable Trust (£1,000) and the Corob Charitable Trust (£1,000).
The Unit is pleased to have the continuing support of Mr and Mrs David Lauffer (£600), Heron International plc (£500), Mr and Mrs Conrad Morris (£350), the Lunzer Charitable Trust (£300) and Mr and Mrs Conrad Abrahams-Curiel (£250).
Mr G. T. Kanfer is welcomed as a new supporter (£250), and helpful contributions have again been received from Mr David Pinto (£150), Jeffrey and Naomi Greenwood (£150), Mr Geoffrey Ognall (£125), and Mr R. S. Rubin (£100).
The sale of Maimonides bronzes sculpted by Mrs Hazel Alexander brought the Unit further assistance amounting to £300, and £765 has been forwarded by the American Friends of Cambridge University.
Among American contributors to whom the Unit is particularly grateful are Mr Aryeh Rubin ($500), Mrs Clara B. Laks ($250), Mr and Mrs Ray Levy ($150), and Rabbi R. Kirschner, Professor M. Edidin and Mr Israel Wilenitz ($100 each).
---
Medics visit Unit
Thirty-seven members of the Historical Section of the Royal Society of Medicine visited Cambridge University Library in the early summer to see a selection of books of special interest to them in various areas of study.
Among the items exhibited were manuscripts fragments of medical interest from the Taylor-Schechter Genizah Collection. Dr Haskell Isaacs, currently preparing a catalogue of such fragments, explained their historical importance and discussed their contents with the group.
Other groups that have recently heard lectures by Unit research staff on Genizah material include Madingley Church, Muswell Hill Synagogue, the Leukaemia Research Fund (Cambridge branch), the Manor House Society, and Birmingham Hebrew Congregation.
The Unit has also welcomed a number of individuals, among them Dr Shimon Iakerson and Dr Efim Rezvan, of the Institute of Oriental Studies, Leningrad; Mrs Elisabeth Erdman-Visser, of Brill Publishing Company, Leiden; Dr Zipora Baruchson, head of librarianship studies at Bar-Ilan University, Ramat Gan; Mr Christopher Frederick of Channel Four Television; and Professor and Mrs Shemaryahu Talmon, of the Faculty of Humanities at the Hebrew University, Jerusalem.
Ms Metha Hokke, a postgraduate student of librarianship at the Robert Gordon Institute, Aberdeen, on a visit to gain practical experience, worked with members of the Unit for a few days.
Dr Stefan Reif, the Unit's director, delivered lectures on the Cambridge Genizah Collection and related matters to the 92nd Street "Y" in New York, the Bournemouth Friends of the Haifa Technion, Jewish Book Week, the Southend Hebrew Congregation, the Machzike Hadath Synagogue (as part of its centenary celebrations), and Jews' College, London.
---
Fragments on view in Toledo
Genizah fragments from Cambridge University Library will be among items on display at two major international exhibitions in the coming months.
The Spanish Ministry of Culture is arranging an exhibition on Jewish Life in Sefarad in Toledo from November 1991 until January 1992, while the Berliner Festspiele's theme from January until April 1992 will be Patterns of Jewish Life in the World, sponsored by the Federal Government in Bonn and the City of Berlin.
The Royal Irish Academy has planned a conference on The Aramaic Bible from 14-17 July, 1992, and the John Rylands Research Institute at the University of Manchester will be hosting a congress on The Role of the Manuscript in the Study of Classical Jewish Literature on 28-30 April, 1992. The director of the Unit, Dr Stefan Reif, will lecture at both meetings.
Dr Reif has been elected president of the Jewish Historical Society of England (1991-1992) and of the British Association for Jewish Studies (1992).
The Association's annual conference will be held at Corpus Christi College, Cambridge, on 27-29 July, 1992, and its main theme will be mediaeval Jewish studies. Those interested in giving papers should contact Dr Reif.
---
Baker's Ph.D
Colin Baker, currently deputising for Dr Geoffrey Khan (who is on sabbatical leave in Israel), has been awarded the Ph.D. degree of the University of Cambridge,
Dr Baker devoted his dissertation, supervised by Professor Malcolm Lyons, to an eleventh-century Arabic medical text dealing with conception, pregnancy, birth and child development. Having worked on various manuscripts of this text, he is hoping shortly to publish a critical edition and translation.
Apart from being of considerable assistance to the Unit in general, and to the catalogue of medical fragments being prepared by Dr Haskell Isaacs in particular, Dr Baker has made excellent progress in describing all the Arabic and Judaeo-Arabic fragments in the Cambridge Genizah collections.
During recent months, he has researched some 1,400 items and has entered details on to a computer file. The Unit is hoping to raise the necessary funds to retain his services for the coming year.
---
Dr Robert Brody (left) and Dr Myron Lerner at work on the catalogue of post-talmudic rabbinic manuscripts due to be published by Cambridge University Press in 1993
Publications near completion
In the summer just ended, Dr Robert Brody, of the Hebrew University, and Dr Myron Lerner, of Tel Aviv University, have continued work on the catalogue of the Post-Talmudic Rabbinic Manuscripts in the Cambridge Genizah Collections: New Series.
The research needed for the preparation of this important volume, commenced by Dr E. J. Wiesenberg in 1975, has been partially funded by the British Academy and the Wolfson Foundation and is nearing completion.
Given that the sub-editing process will take another few months, the volume will probably be delivered to Cambridge University Press during 1992 for publication the following year.
Michael Klein's Targumic Manuscripts in the Cambridge Genizah Collection should appear during 1992 as No. 8 in the Genizah Series; and the proceedings of the Third Congress of the Society for Judaeo-Arabic Studies (held in Cambridge in 1987), edited by Joshua Blau and Stefan Reif and entitled Genizah Research After Ninety Years: The Case of Judaeo-Arabic, is with Cambridge University Press in camera-ready copy and will appear shortly as No. 47 in the University of Cambridge's Oriental Publications.
The Unit was also involved in the colloquium on resources for Hebraica in Europe, held at the School of Oriental and African Studies in London in 1989.
The papers presented then have been published by the British Library in a volume entitled Hebrew Studies (London, 1991), edited by Diana Rowland-Smith and Peter Shmuel Salinger. One of the articles, "Hebrew Collections in Cambridge University Library," is by the Unit's director, Dr Reif.
---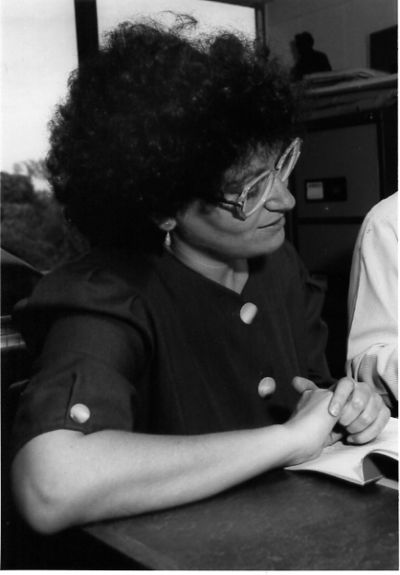 Meira Polliack, studying at the Genizah Research Unit
Scientific tools of Genizah research
I studied Arabic at school in Israel and obtained a B.A. in Hebrew Literature and Bible at the Hebrew University, while also taking extramural Arabic courses.
My intention in coming to Cambridge was to combine my growing interests in Hebrew and Arabic and to concentrate on the period of creative and fruitful interaction between the two cultures in the Middle Ages.
Studying in Cambridge provided an opportunity not only of seeing the original manuscripts and fragments, but also of receiving the generous help and personal guidance of the scholars of the Genizah Research Unit. It was they who introduced me to the basic bibliographical and scientific tools of Genizah research. During my M.Phil. studies, I became aware that the Genizah contains a large portion of anonymous Arabic Bible translations and I was encouraged to continue my studies as a doctoral student at the Oriental Faculty researching these Arabic translations. For this purpose, I was awarded a Harold Hyam Wingate scholarship.
The aim of my dissertation, being supervised by Dr Geoffrey Khan, of the Genizah Research Unit, is the linguistic and literary study of mediaeval Arabic Bible translations produced by Jews.
The most influential of these was prepared in the first half of the tenth century by the celebrated philosopher and exegete, Saadya ben Joseph al-Fayyūmī Gaon (882-942 C.E.). Known as the Tafsīr, it eventually acquired the status of the standard Arabic version of the Bible among Arabic-speaking Jews and even came to be used in synagogal worship.
The Cairo Genizah has been instrumental in the recovery of much of his longer interpretation of the Bible, known as Sharḥ. It also contains many fragments of his Tafsīr that are older and more accurate than existing codices.
The Karaite scholars of the tenth and eleventh centuries were also occupied with the study and translation of the Hebrew Bible. Unlike Saadya's Tafsīr, their work gradually went out of use and now survives only in manuscript form, especially in the Karaite collection of the British Library. The study of this relatively uninvestigated corpus is central to my thesis.
The two great Karaite Bible translators and exegetes to emerge in that period were Yefet ben 'Eli, active in the second half of the tenth century, and Yeshu'ah ben Judah, who flourished a hundred years later. Between them, they represent the written manifestation of a unique and innovative translation activity that formed an integral part of the golden age of Karaite Bible study.
It is of considerable interest that these major scholars, and their Karaite contemporaries who engaged in such study, are associated with a school of learning that operated in Jerusalem during the three consecutive generations between Yefet and Yeshu'ah.
The detailed analysis of the interpretative methodology of these translators, studied comparatively with that of Saadya, will bring about a fuller understanding of the role played by the Karaite academic centre in Jerusalem.
It will also illuminate the didactic process employed and clarify the particular function of translation in the general context of Bible exegesis.
Meira Polliack
---
Cambridge advice on Dead Sea Scrolls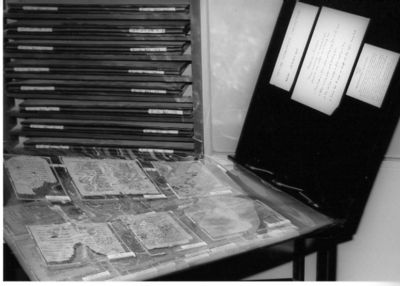 The T-S Unit's storage methods, as illustrated here, are being considered for the Dead Sea Scrolls in Jerusalem
Is research into books and manuscripts worth the money spent on it? Those who doubt the value of such enterprises as the new British Library were soundly taken to task by Philip Howard in The Times Saturday Review of 6 July, 1991.
To talk about "market forces" in such a connection, he argued, was "silly and philistine," and future generations would be amazed "that we could ever pretend to believe such garbage."
What he described as the duty of the British Library should indeed be the aim of the custodians of all great collections of literary treasures: storing, preserving and making them available to readers. Unless this were done, the study of the human race, and any lessons to be derived from it, simply could not be learnt.
While acknowledging that such a task "cannot be a hyper-market or profit-making operation," Howard agreed that the public was entitled to a share in the enjoyment of such treasures.
One may add that such a share may amount to more than merely viewing the contents of libraries and museums. It may also mean the entitlement to an education in their significance.
That the ideal for the curator should be a combination of impeccable scholarship and a flair for its public presentation was a point I made in a letter to The Times on 18 March, 1991, which also called on academic colleagues to encourage such a merger of the scholastic and the popular by introducing ways of properly recognising it within the profession.
Work on the Cambridge T-S Genizah Collection has attempted to meet that ideal over the years, though the same cannot be said for the attention given to the Dead Sea Scrolls.
While it is nonsense to speak of conspiracies to withhold information, it is a sad fact that the basic preservation and description of many items remain to be done, thus denying both scholars and laymen full access to an exciting manuscript resource.
The Israeli Antiquities Authority is conscious of its duty in this respect, and its Scrolls Advisory Committee is now giving careful consideration to the whole matter of conservation, storage and study.
As part of its current campaign, the co-ordinator of the Committee, Mrs Ayala Sussmann, visited the Genizah Unit in April and was given full details, with practical demonstrations, of how the problem has been tackled in Cambridge, where some 140,000 Genizah fragments were still heaped in crates here less than a quarter of a century ago.
In a letter received on 20 August, 1991, Mrs Sussmann acknowledged the usefulness of the Unit's assistance and reported that details had been conveyed to the committee in charge of conservation, together with samples of materials and explanatory photographs.
The Dead Sea Scrolls were featured in the media when the Oxford Centre for Postgraduate Hebrew Studies opened a "Qumran Room" in July to house photographic copies of these documents.
In addition to an exhibition and reception, a lecture was given on "Biblical Paraphrases from Qumran" by Professor Emanuel Tov of the Hebrew University of Jerusalem. Professor Alan Crown is supervising the establishment of the photographic collection and Professor Geza Vermes is directing a research forum.
Manuscript research is a field of Jewish studies that remains relatively neglected in this country and it is to be hoped that the Oxford initiative, as well as the Genizah Unit's own continuing efforts in the vast area of mediaeval studies, will provide the necessary fillip for further research.
Stefan C. Reif
Director, Taylor-Schechter Genizah Research Unit
---
Tragic and turbulent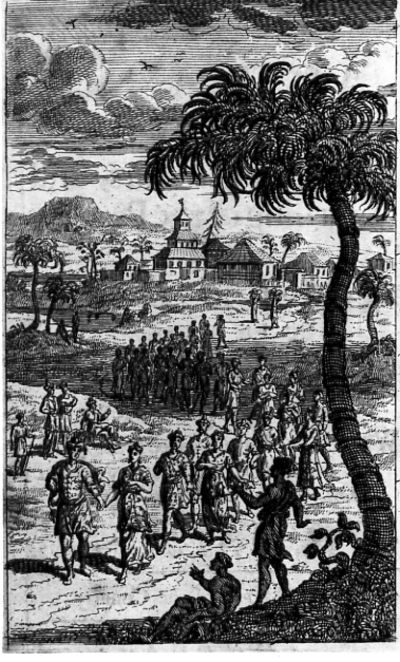 The people of Malabar, as referred to by Dr Amitav Ghosh, of Calcutta, in his article. Malabar had connections with the twelfth-century trader, Abraham Ben Yiju
At Oxford in 1978, when I was a doctoral student in social anthropology, I came across the mention in S. D. Goitein's Letters of Medieval Jewish Traders (Princeton, 1973) of an Indian slave who belonged to the twelfth-century trader, Abraham Ben Yiju. This chance encounter awakened my interest in the historical relationship between India and the Middle East and prompted me to specialise in Middle Eastern studies, eventually leading to a year's fieldwork in an Egyptian village.
Many years after finishing my D.Phil., I returned to my original interest and decided to investigate the life of Ben Yiju's slave in greater detail.
With the encouragement of Professor Mark Cohen, of the Department of Near Eastern Studies at Princeton, and with the guidance of Dr Geoffrey Khan, of the Genizah Research Unit at Cambridge, who gave generously of his time and support, I taught myself enough Judaeo-Arabic to read most of the Genizah fragments that deal with the lives of Ben Yiju and his slave.
Goitein listed several dozen documents concerning Ben Yiju in Shaul Shaked's Tentative Bibliography (Paris, 1964). Since most of these are in the Taylor-Schechter Collection, it was at Cambridge University Library that I did the greater part of my research.
It was the pleasantest possible ambience for a difficult and often frustrating job, and I was greatly impressed by the efficiency of the staff of the Manuscripts Reading Room, and the skill, understanding and good humour with which they met the demands of researchers. I am certain that the Genizah has never had more conscientious beadles.
As an Indian, I began my researches with the assumption that, for me, the most interesting aspects of the Genizah would be those that touched on Indian history. But as my work progressed, I discovered that the truly fascinating part of the story was precisely the diversity of its cast of characters.
Apart from Abraham Ben Yiju and his slave, there were his Indian wife (or mistress) and his relatives in North Africa and Sicily, as well as a whole host of minor figures - Indian and Middle Eastern, Muslim, Jewish and Hindu - who floated in and out of the story. All their lives, no matter how disparate, seemed to knit together into a richly picaresque, intercontinental epic.
By using anthropological methods, I have been able tentatively to establish that Ben Yiju's slave probably belonged to a matrilineal caste of fishermen in the cultural region of Tulunad, around the coastal city of Mangalore in southern India. This is a region in which palm wine is a popular drink.
One of the few details the Genizah provides about the life of the slave is that in 1135, while visiting Aden on a shopping expedition, he got drunk and walked into the office of an august personage, Maḍmūn ibn al-Ḥasan ibn Bundār, the nagid or chief representative of the merchants, and demanded money.
Similarly, it seems likely from chance references in Ben Yiju's accounts that his wife or mistress, a manumitted slave who probably bore the name Ashu, was of the matrilineal Nair caste on the Malabar coast. The accounts suggest that Ben Yiju's dealings with her family implicated him in a complicated financial tangle.
The most interesting protagonist is Ben Yiju himself: scholar, traveller and adventurer, a complex and tragic figure who was witness to an extraordinarily turbulent period in history.
In many ways, his life is emblematic of the Genizah, for it brings together the cultural and economic worlds of the Indian Ocean and the Mediterranean Sea. Let us hope that this rich vein of material will attract the attention it deserves.
Amitav Ghosh
Novelist, and Fellow of the Centre for Studies in Social Science, Calcutta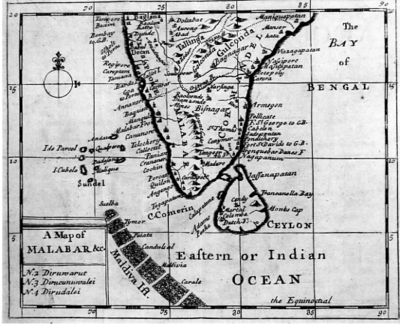 ---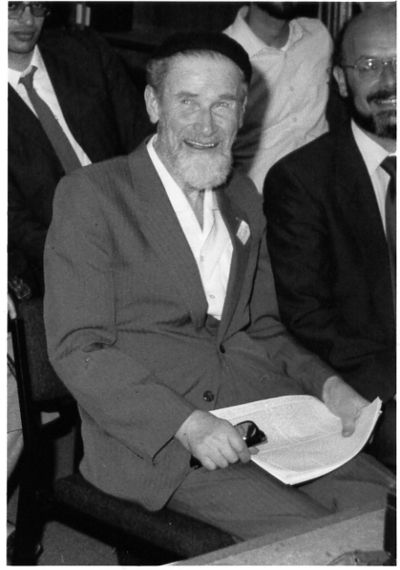 Rabbi Dr Ernest (Ephraim Yehudah) Wiesenberg
Master of rabbinical wisdom
The rabbinical figure with the navy beret, the full grey beard and the sweet smile has become as familiar a sight in Cambridge in recent years as he had been at many conferences devoted to Hebrew, Jewish and Semitic themes around the world over a number of decades.
That Rabbi Dr Ernest (Ephraim Yehudah) Wiesenberg should still be making his way from London to Cambridge once or twice a week to prepare descriptions of Genizah fragments is itself remarkable, given that he retired from his readership in Jewish studies at University College, London, some fifteen years ago.
What is even more impressive is that he continues to lecture, to publish and to fascinate fellow scholars, as well as laymen, with the breadth of his knowledge, much as he has done, in a generous and cheerful manner, since he arrived in Britain from his native Czechoslovakia in 1935.
His mastery of the rabbinic material in the Genizah, whether in Hebrew, Aramaic or Judaeo-Arabic, is hardly surprising in one whose qualifications and experience in the field are so noteworthy.
Having pursued traditional yeshivah (rabbinical academy) studies under distinguished teachers in various central European locations in the 1920s and 1930s, he was more than worthy of the rabbinical diploma he received in 1937 from Rabbi Joseph Horowitz, of Frankfurt-am-Main.
Coming from a Modern Orthodox family, Dr Wiesenberg has never had qualms about the value of secular education, which he pursued for a short time in Vienna before registering at Jews' College, London, and obtaining a B.A. with first-class honours in Semitics, and a Ph.D. for a dissertation on the Pseudo-Jonathan Targum on the Pentateuch from the University of London (1942).
Although he has held rabbinic posts in London, Cardiff and Sheffield and has always been actively involved, together with his wife and family, in Jewish communal life, his first love is clearly Jewish scholarship, and nothing excites his mind more than the discovery of a possible solution to a linguistic or exegetical crux.
Anyone with a problem relating to mediaeval Jewish calendar, astronomy or halakhic literature knows that Rabbi Wiesenberg has something to offer by way of explanation, and his publications have also touched on the field of liturgy.
Perhaps his most important work to date is his annotated edition and translation of Abraham Maimonides' Commentary on Genesis and Exodus (London, 1958), a crucial Judaeo-Arabic source of mediaeval exegesis.
There is, without doubt, more than a minor element of the "absent-minded professor" about his mundane activities, but this only adds the affection and esteem in which he is held by an international group of colleagues for his warm personality and inspiring erudition.
The Genizah Unit is glad to have the benefit of his wisdom.
---