CAMBRIDGE UNIVERSITY LIBRARY
The Taylor-Schechter Genizah Research Unit
---
Genizah Fragments
The Newsletter of Cambridge University's
Taylor-Schechter Genizah Research Unit
at Cambridge University Library
No. 32 October 1996

---
FROM THE EDITOR'S DESK
The spring and summer just ended have been particularly productive and eventful for the Genizah Unit. The results of research have again been prepared for publication and presented to the scholarly world; further progress has been made with computerisation, and new researchers have joined the staff.
The camera-ready copy of Joseph Yahalom's catalogue of vocalised Palestinian poetry has just been delivered to Cambridge University Press, and the first complete proofs of Robert Brody's handlist of post- talmudic rabbinica have been prepared.
Meira Polliack has, with the help and advice of Haggai Ben-Shammai, improved the descriptions of the Judaeo-Arabic fragments compiled by her and Colin Baker and scheduled for publication late in 1997. Erica Hunter has compiled 1,335 entries for the supplement to the 1988 bibliographical volume, Published Material.
Geoffrey Khan substituted for the Director and spoke on the Cambridge Genizah Collection at the Israel Academic Centre in Cairo, and Meira Polliack lectured on fragments of biblical exegesis at a seminar of the European Association for Jewish Studies in Oxford. Papers were delivered by Erica Hunter at the first North American ARAM conference held at Harvard and at the Seventh Syriac Symposium in Uppsala.
The role of Jerusalem in Jewish liturgy, the history of Hebrew studies at Cambridge, and the Genizah fragments of Ben Sira were covered by myself at academic conferences in Jerusalem, Cambridge and Soesterberg, near Utrecht.
Before he moved on to a more permanent University post, Douglas De Lacey updated the computerised systems used in the Unit and provided on-line availability via the World-Wide Web for much Genizah data, including digitised images of some fragments.
This autumn, with the assistance of special HEFCE funding resulting from the Follett Report, we welcome both Avihai Shivtiel and Ellis Weinberger. Dr Shivtiel, a graduate of both Jerusalem and Cambridge, taught and researched here in the 1970s. He has been seconded to the Unit for two years from his senior lectureship at the University of Leeds and will work on a second catalogue of the Judaeo-Arabic fragments.
Mr Weinberger, who has just completed his MSc in library studies at Aberystwyth, had previous library appointments at the School of Oriental and African Studies in London and the Jewish National Library in Jerusalem. He will be engaged on the preparation of a handlist of liturgical fragments in the Cambridge Genizah Collection.
My own participation as professorial fellow in the current research project of the Institute for Advanced Studies at the Hebrew University is about to commence. During the coming months, Genizah researchers around the world should address their enquiries to Dr Shivtiel, who will be functioning as Acting Director.
I shall, however, maintain close contact with the Unit and pay a number of visits during the year. My hope is that my work in Jerusalem will strengthen rather than weaken Genizah research.
STEFAN C. REIF
Director, Taylor-Schechter
Genizah Research Unit
---
Major funding continues to be received from the Higher Education Funding Council for England, but is complemented by important donations from a number of individuals and foundations.
A British charitable trust that has been contributing to Genizah funds on an annual basis has recently decided to reduce its activities and administration. While wishing to remain anonymous, the trustees have voted one final sum of £5,000 to the University of Cambridge for work on the Genizah fragments. This gift is warmly acknowledged, with renewed thanks for the earlier years of assistance.
Funds have also been received from the American Friends of Cambridge University. The latest sum, in the spring of 1996, amounted to over $2,500 from a number of regular supporters. The Canadian Friends have independently channelled gifts to the equivalent of £225.
Other generous contributions received in recent months have been made by the Sidney and Elizabeth Corob Charitable Trust (£750); Mr Felix Posen (£500); and Mr T.H. Reitman (£500).
Among others who have kindly renewed their support for the T-S Genizah Research Unit are Mr Joe Dwek (£150); Sir Sigmund Sternberg (£250); H. Joels Charitable Trust (£150); Mr Stephen Rubin (£150); and Mr Cesare Sacerdoti (£150).
The Genizah Unit is also grateful for the contributions of Mr Geoffrey Ognall (£125), Mrs Judith Samuel (£100) and Mrs Miriam Shenkin (£100).
An additional sum of over £1,000 has been received through smaller and anonymous donations and is deeply appreciated.
An important contribution to the cost of producing this issue of Genizah Fragments has been made by the family of the late David Lauffer, of London. Their generosity both marks his memory and continues the enthusiastic support he gave to Genizah scholarship over a number of years.
---


T-S AS 56.179, one of the more than 350 Hebrew fragments of Jeremiah used in Dr Jack Lundbom's textual study
(Size of full image = 170,055 bytes)
What induced me to consult the Taylor-Schechter Genizah fragments in the Cambridge University Library was an interest in section markings in ancient biblical manuscripts.
Modern critical editions of the Hebrew Bible, e.g. Biblia Hebraica Stuttgartensia, designate these sections open or closed, the former by a symbol(petuha.h), the latter by a symbol (setumah).
Mediaeval manuscripts lack such sigla, simply having blank spaces like those found today in printed texts which set off paragraphs of prose, verses of poetry, or discourses in either genre which are independent literary units.
There are indentations at the beginning of lines, spaces at the end of lines, spaces in the middle of lines, and entire lines left blank when sections cannot be indicated in one of these other ways.
Little attention had been paid to section markings until they turned up in the Dead Sea Scrolls, which predate the mediaeval manuscripts by 700 to 1,000 years.
With the use of sections being much older than previously thought, these devices deserve a fresh look for whatever insights they might contain into the delimitation of units within the biblical text.
In the Prophets, particularly, proper delimitation is essential for getting at texts within the text, and reaching beyond these towards correct meanings and interpretations.
In preparing a forthcoming Jeremiah I-II in the Anchor Bible commentary series, I examined more than 350 Jeremiah fragments in the Cambridge Genizah Collections (9 in the Cambridge-Westminster Collection) for the purpose of comparing section markings with those in Leningrad Codex B19A(ML), the Allepo Codex (MA), and the Dead Sea Scroll fragments of Jeremiah (2QJer; 4QJer).
I was interested primarily in Genizah fragments of the Hebrew Bible, which are generally (but not in every case) distinguishable from Genizah liturgical texts.
Sections in the latter may well represent a different development. But in the great majority of cases, these sections were found to correspond exactly to sections in the Hebrew Bible, which means at the very least that they should not be relegated to a status of insignificance.
There was a high degree of correspondence between the Genizah fragments and the Ben Asher texts of ML and MA, as well as the Qumran fragments of Jeremiah. But there were divergences, a few of which struck me as being significant.
For example, Genizah fragment NS 58.42 has a section after Jer 5:25 where rhetorical analysis and content both indicate closure; ML and MA both lack a section. No Qumran text exists for comparison.
Some Genizah fragments lack a section marking where other manuscripts have one that seems either misplaced or superfluous. This could indicate that the demarcation is unoriginal, or else not that important. A section marking or its absence in a Genizah manuscript - with or without corroboration from a DSS fragment - is at least as good as the judgment of a modern scholar, who, for reasons unexplained, makes or does not make a break in interpreting the larger Jeremianic text.
Jack R. Lundbom
Visiting Fellow, Clare Hall
---


Cambridge chaplain Rabbi Shaul Robinson (centre) viewing a Genizah exhibition with a group of members of the Cambridge University Jewish Society
(Size of full image = 311,476 bytes)
Groups and individuals from a variety of backgrounds, but with a shared interest in the Genizah treasures, have recently visited the Unit.
Among them were a party of nine Polish librarians on a week-long study tour of British libraries, and thirty participants in the Jewish Historical Seminar Group, led by Professor Yomtov Assis, of the Hebrew University of Jerusalem.
A group came from the Centre for Jewish Education at the Sternberg Centre for Judaism in London; and students of Jewish liturgy at the Leo Baeck College, led by Rabbi John D. Rayner, viewed fragments of special interest to their studies.
There was such interest on the part of Cambridge University Jewish Society that two visits had to be arranged to accommodate all the students. The Society's newly appointed chaplain, Rabbi Shaul Robinson, accompanied the students and helped to answer some of the subsequent queries.
Individual visitors included Jerusalem writer Jacob Siman-tov; Professor Raymund Golding, Vice-Chancellor of James Cook University in North Queensland, Australia; Washington journalist Helen Belitsky, accompanied by her husband and sister; Professor Jacob Milgrom and Dr Jo Milgrom of Jerusalem, formerly of Berkeley, California; and the great-grandson of Solomon Schechter, Mr Ralph Alexander, and his family.
Dr Hans van der Meij, of the publishers, E.J. Brill of Leiden, Netherlands, exchanged information with Dr Reif about digital imaging, and Ms Rachel Cockburn, of the Cambridge University Development Office in New York, discussed the possibility of further initiatives in the USA.
Another visitor from New York was Mr Karl Katz, of Muse Film and television, formerly Deputy Director of the Metropolitan Museum of Art.
---


Dr Erica Hunter (left) showing Genizah fragments to Solomon Schechter's great-grandson, Ralph Alexander, and his family, Claudia and Dean, who were visiting from the USA
(Size of full image = 237,116 bytes)
The Cairo Genizah is a veritable treasure trove for scholars working in a host of fields, its wealth being reflected in the burgeoning number of publications which cite manuscripts from this source.
Their research is, without any doubt, aided by the bibliographic work which forms a vital part of the activities of the Taylor-Schechter Genizah Research Unit. The epic efforts by a team headed by Dr Stefan Reif culminated in the publication of Published Material from the Cambridge Genizah Collections: a Bibliography 1896 - 1980 (Cambridge, 1988).
To meet the needs of scholars, the Research Unit is continuing its invaluable bibliographic work. Currently funded by a grant from HEFCE, a volume is in progress that will cite all published works relating to the Cambridge Genizah Collections up to 1995. I am involved in the production of this volume, which should be completed in time for next year's centenary celebrations of the Genizah Research Unit.
Several years ago, in Australia, I was awarded the Borchardt Prize for Bibliography - on the anthropology and archaeology of the aboriginal peoples - at the end of my library diploma course. Little did I realise that I would later combine this discipline with the more Semitic interest that I subsequently developed.
It is a joy to be applying my academic expertise to what is undoubtedly one of the greatest collections of oriental manuscripts in the world.
In 1982-83, after completing my doctorate on Syriac manuscripts of amulets at the University of Melbourne, I went to Jerusalem, where I was privileged to work with renowned scholars at the Hebrew University.
I will never forget when Professor Joseph Naveh, perhaps the most distinguished scholar of Hebrew palaeography, placed an Elephantine letter in front of me. My palaeographic training had truly begun.
This was put to the test between 1988 and 1990 when I went to Baghdad as a Fellow of the British School of Archaeology in Iraq, primarily to study votive incantation bowls written in Syriac, Aramaic and Mandaic.
Real discoveries ensued, for instead of the handful of incantation bowls which were previously known, I stumbled across a vast collection, and was offered the opportunity to examine and publish the entire stock.
Many of these bowls were badly damaged and their texts, written in black ink, had deteriorated - palaeographic dilemmas by the score. Was a particular spot a diacritical point, or merely a fabric stain on the bowl surface?
The difficulties were, however, offset by the excitement. While the texts inscribed on incantation bowls are often themselves described as magic, the magic for me was the very existence of the treasured text.
Working now with the Genizah manuscripts has expanded my palaeographic skills into hitherto unforeseen areas, introducing me to many genres of literature.
Among the styles of writing, there is the cursive hand that wrote a commercial letter indicating that "time and money'' were as vital a consideration in the Middle Ages as now; the dignified hand that composed - with great reverence - the liturgical texts; the scrawled hand of the physician, writing his recipes and reminding us of the foibles of the medical profession; the urgent legal hand, requesting custody of children taken by a husband who has gone off with another woman.
Each manuscript is a unique entity, a treasured unit, shedding light on the web of a society whose heritage, while centred on the Jewish communities of medieval Cairo, is one from which Renaissance Europe derived great inspiration.
Research Associate,
T-S Genizah Research Unit
---
It will be recalled that in my earlier article (Genizah Fragments, No. 30), I wrote about shorthand Targum and began a discussion of targumic Masorah.
Scholars have for some time been troubled over how these masoretic works were produced in a period that preceded not only computers, but also index cards.
Even if they knew the entire Pentateuch, or possibly the entire Hebrew Bible, by heart, how did the Masoretes remember how many times a word was spelt or pronounced in a particular manner?
How did they recall all the translational variants used in the Targum for hundreds of Hebrew words, and produce listings in the exact order of their appearance in the Bible?
Once again, the Genizah manuscripts seem to provide the answers. Among the recently discovered fragments are extracts of Onqelos, from which all masoretically redundant verbiage has been deleted.
What remains is a text about one-third the length of Onqelos, containing only those words and phrases that are relevant to the protective apparatus of the Targum.
I have suggested that these targumic extracts were a type of "proto-masorah,'' an intermediate step that facilitated the composition of the more common masoretic lists.
The purpose of my recent visiting scholarship at St John's College, and daily work at the Taylor-Schechter Unit, was to prepare a new edition of the Masorah to Onqelos.
The only comprehensive edition of this work was published by Abraham Berliner over one hundred years ago. Two additional manuscripts and a number of individual Genizah fragments have been published in recent years. Many more fragments have only lately been discovered.
These masoretic texts hold the key to an accurate text of Onqelos. They record the disputes between the schools of Sura and Nehardea on many targumic renderings.
They also contain instructions to the meturgeman not to translate in public various embarrassing passages of the Pentateuch - for example, the stories of Judah and Tamar, the short-lived victory of Amalek over Israel, and the episode of the golden calf.
They instruct him in matters of theological import, such as the requirement, at times, to paraphrase anthropomorphic descriptions of God contained in the Hebrew Bible.
The time has come to gather in all of the published and unpublished Genizah fragments of the Masorah to Targum Onqelos.
MICHAEL L. KLEIN
Professor of Bible and Targum,
Hebrew Union College, Jerusalem;
Visiting Scholar, St John's College, Cambridge
---
It was in May, 1896, that Solomon Schechter first identified a Genizah fragment, brought to him by Mrs Agnes Lewis, as an important Hebrew text of Ecclesiasticus (Ben Sira). In the subsequent two and a half years, he visited Cairo, brought back some 140,000 items, and began work on classifying and researching these.
He and Charles Taylor, Master of St. John's College in Cambridge, then presented the manuscripts to the University as the Taylor-Schechter Genizah Collection in October, 1898.
As part of the centenary celebrations, transcriptions and reproductions of original documents relating to these years began to appear in the last issue of Genizah Fragments.
In this number, Schechter writes from the Hotel Metropole in Cairo on 12 January, 1897, "c/o Cook's Agency'', to the University Librarian, Francis Jenkinson, about his discoveries and his plans for dealing with them in Cambridge.
Private
Dear Mr. Jenkinson,
I am now here since three weeks. After making the acquaintance of the Chief Rabbi here and the president of the Jewish community I set to work on the "Genizas'' where I spend the most of my time in the dust of centuries.
The beadel & other infernal scoundrels are helping me to clear away the rubbish and the printed matter. I have constantly to bakeshish them, but still they are stealing many good things and sell them to the dealers in antiquities.
I cannot possibly prevent it, but I found out the said dealers and bought from them the fragments which have interest for me.
In the Genizah itself which is dark dusty and full of all possible insects there is no opportunity of examining the content of MSS. My policy is to take as much as I can (for which I have the full permission of the authorities).
I have till now thirteen large bags of fragments, which though not examined, I am sure, contain many most important things.
Now I have a great request on you. I do not consider it desirable to the MSS here and am anxious to send the first lot home to England. Will you give them a place in the University Library till I return?
The MSS will probably belong soon to your Library. I want only to hear first whether you and the Syndics will agree to certain conditions which I have to make.
Money plays no important part in these conditions and I am sure you will find them very fair and just. But till then I want the MSS to be considered as my private property; so that the boxes must not be opened before I have returned. For I am very anxious to be the first to examine them properly.
If you cannot agree to these conditions will you do me the favour to send at once when the boxes arrive for Mrs Schechter (2 Rock Road) and hand her over the boxes, who will bring them into some place of safety till I return p.g.
I repeat again that I do not mean to make a bargain with the University. I have not the least doubt that you will find the terms just and fair. What I am chiefly anxious is that no body would see the MSS before I have examined them. Therefore I want you to consider them as my private property till then.
I feel fairly well and am rather thankful that it is cold. Otherwise it would be unbearable to live in this dus[t] & underground. How are you? PG I intend to stay here another three weeks as the Jews have here so many feasts and fasts in which I cannot work.
With best regards,
yours very truly
S. Schechter
---
If you would like to receive Genizah Fragments regularly, to enquire about the Taylor-Schechter Genizah Collection, or to know how you may assist with its preservation and study, please write to: Dr S. C. Reif, Director of the Taylor-Schechter Genizah Research Unit, at Cambridge University Library, West Road, Cambridge CB3 9DR, England.
The Library may also be reached by fax (01223) 333160, or telephone (01223) 333000. Internet access is at http://www.lib.cam.ac.uk/Taylor-Schechter/.
Readers not already supporting the Unit are asked to help ensure the continuity of this publication by making a small, regular gift. The sum of £5 (UK) or $10 (abroad) is suggested; payment may be made to Cambridge or to the American Friends.
All contributions to the Unit, whether for the research programme or for its other activities, are made to the "University of Cambridge'', which enjoys charitable status for tax and similar purposes.
In the USA, all contributions may be directed to the president of the American Friends of Cambridge University, Mr Stephen C. Price, P.O. Box 9123, JAF BLG, New York, N.Y. 10087-9123, USA. Transfers of such funds are regularly made from the USA.
Contributions in Canada should be made payable to the University of Cambridge and may be sent to the Director of Cambridge University Development Office, Mr David Rampersad, at 188 Eglington Avenue E (Suite 703), Toronto, Canada M4P 2X7.
The AFCU is recognized by the IRS as a charitable organization and contributions are legally deductible for United States income tax purposes. They are similarly deductible in Canada even if made directly to Cambridge.
---
The Etz-Chayim Gallery and Arts Centre at Northwood and Pinner Liberal Synagogue organised an exhibition of Hebrew manuscripts in facsimile during the spring and summer of 1996.
Included in the exhibits were facsimiles of the Zadokite fragment (T-S 10K6); a draft of Maimonides' Mishneh Torah (T-S 10K8.1); a child's Hebrew primer from the tenth century (T-S K5. 13); and a property agreement recording the lease of a derelict part of the Great Synagogue in Ramle in Palestine in the year 1039 (T-S Add.3358).
Dr Stefan Reif addressed a meeting at the exhibition on Jewish family life in the ninth to eleventh centuries and welcomed a group to the Library to see the Genizah Collection and to hear about its importance for scholarship.
Other lectures were given by Mr Alvin Barnett, a member of the Ruislip United Synagogue and US councillor, who is a lay scholar of the origins and history of the Hebrew language; and by Rabbi Frank Dabba Smith, one of the rabbis at the Northwood and Pinner Liberal Synagogue.
Mr Barnett's company, PML Limited, organised the symposium and exhibition and made arrangements for the visit to the Library.
---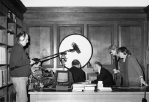 Israeli broadcaster Ehud Yaari and Dr Stefan Reif preparing a television programme on the Khazars
(Size of full image = 224,189 bytes)
A general programme about the Genizah, in which the Taylor- Schechter Research Unit participates, was shown on Israel Television in February and another is scheduled for screening later this year.
It takes the form of a documentary on the Khazar Jewish Kingdom of the 8th century, documented in the Genizah, and includes an interview with Dr Stefan Reif conducted by Israeli broadcaster Ehud Yaari, well known as a political commentator and Arab affairs expert.
---
Two major events in the life of the Cambridge Genizah Collection were marked by the University of Cambridge.
The first was the centenary of the discovery of the Ben Sira fragment by Mrs Agnes Lewis in May, 1896, and its identification by Dr Solomon Schechter.
The second was the appearance on World-Wide Web of a number of digitised manuscripts in the Collection, among the first ancient materials to be available to surfers on the Internet. The news was broadcast and discussed on BBC Radio 4's "Today'' programme as well as on its Radio Cambridge - including interviews with Dr Stefan Reif and Dr Douglas de Lacey - and Radio Wales. Among newspapers reporting the event were the Independent, Daily Telegraph and Jewish Chronicle, while a number of University of Cambridge publications also covered it.
---
Edited by Stefan C. Reif and printed by University Printing Services, University Press, Cambridge
If you have any questions, please e-mail genizah@lib.cam.ac.uk
Return to the Genizah Fragments index.
Return to the Taylor-Schechter Home Page.
Return to Cambridge University Library's Home Page.
---
©University of Cambridge; last updated September 1998