From the Editor's desk
Huge challenge
One of the most challenging tasks confronting those directing and funding Genizah projects in various academic centres around the world is the matter of finding suitably qualified and well motivated staff to undertake the research.
The field of humanities as a whole is not as popular with college students as it once was, and the temptation among young people to specialize in Semitic languages in general, and in medieval Hebrew and Judaeo-Arabic in particular, is not overwhelming.
If one adds to the list of obstacles the fact that the decipherment of manuscripts is an expertise that takes years to perfect, and the awareness that there are few academic posts dedicated to Genizah research, it quickly becomes obvious that the recruitment of the next generation of scholars in this area is no easy matter. It will require a good deal of thought and planning in the coming years.
Given that situation, it is a source of considerable satisfaction, and no small degree of pride, that the Unit is currently blessed with an especially talented, devoted and industrious team.
Not only are they making major progress with the description of thousands of fragments but they are also contributing time and energy - above and beyond the call of duty - to promoting many other aspects of the Unit's activities, popular as well as scholarly.
The messages of support and approval that the Unit has gratefully received on its thirtieth anniversary are a tribute to them and, indeed, to their predecessors.
I earnestly hope that funding and facilities will continue to be available to make possible the successful completion of all the important projects to which they have so keenly devoted themselves.
Stefan C. Reif
Director, Taylor-Schechter Genizah Research Unit
---

Stefan and Shulie Reif with a facsimile of a tenth-century Eretz Israel birkat ha-mazon (grace after meals) presented to them by colleagues in the Library to commemorate the thirtieth anniversary of the Genizah Unit's founding
Tribute volume
The volume presented to Professor Stefan Reif by his colleagues in the Taylor-Schechter Genizah Research Unit to celebrate thirty years of the Unit (see below) is entitled The Written Word Remains: The Archive and the Achievement, edited by Shulie Reif, with a cover designed by Sarah Sykes (ISBN 0-902205-59-5).
It opens with ''An anniversary address to Stefan C. Reif'', by the Regius Professor of Hebrew, Robert Gordon, who dwells nostalgically on his early professional relationship with Reif and outlines the director's subsequent achievements within the Genizah Unit.
The first article, ''The Genizah and its roots'', by Dr Avihai Shivtiel, explores several languages for the origin and use of the word ''Genizah''.
''Thirty years of the Taylor-Schechter Genizah Research Unit'', by Rebecca Jefferson, is a concise history of the Unit, its staff and its activities, from inception to the present day.
Dr Fred Niessen's essay ''The impact of a hole on the interpretation of a Genizah document: a second look at the teacher's notes (T-S 8J28.7)'' offers an alternative rendition of a published fragment and, among other topics, demonstrates that the physical condition of a manuscript can have surprising implications for its reading.
In ''Work in progress - the research of medical knowledge in the Cairo Genizah - past, present and future'', Dr Efraim Lev summarizes the potential areas for future research among the medical fragments in the Genizah collections.
Dr Ben Outhwaite's essay, ''In the language of the Hagri: the Judaeo-Arabic letters of Solomon ben Judah'', examines the Gaon's reasons, from a sociolinguistic perspective, for writing some of his correspondence in Judaeo-Arabic.
The volume ends with ''Computers and the Taylor-Schechter Genizah Research Unit'', by Ellis Weinberger, which assesses the role that technology plays in today's Genizah research.
Copies of the commemorative book are available from the Genizah Research Unit at a cost of £8 ($15) each. Cheques should be made payable to the University of Cambridge and orders sent to the Unit at the University Library, West Road, Cambridge CB3 9DR.

Dr Avihai Shivtiel (right) presenting Professor Stefan Reif with a leather-bound copy of the collection of essays
---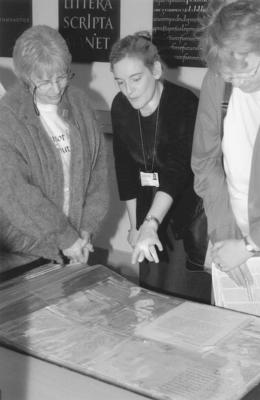 Rebecca Jefferson (centre) with visitors to the Unit
Unit's anniversary celebration
Consider the problems we faced four months ago when planning a surprise party for Professor Stefan Reif to celebrate thirty years of the Taylor-Schechter Genizah Research Unit.
First, there was the challenge of finding a spare date in his diary. Then, having spotted a single window of opportunity, we faced the problem of how to get him to the venue without his knowing of the event, but with his full co-operation.
We considered every possibility (including kidnap!), but it took his close friend and squash partner, Dr Julius Lipner, to appreciate that the only way to get a man like Professor Reif away from work was to put the man to work. And so a plot was hatched to have him meet a visiting academic to discuss the building of a research unit, and - like a charm - the professor was hooked and booked.
During these four months, we, the present members of the Unit, set ourselves the task of preparing an informal collection of essays to present to Professor Reif on the day. This, too, was no mean feat, for not only did we have to think about topics - and find spare time to write and edit - but we also had to print our work in secret.
Luckily, the busy professor did not notice the sudden dashes to the printer, the hushed voices, significant looks and hurried concealment of papers - either that, or he put them down to normal academic eccentricity.
By the end of January, the room was booked, the guests invited, a slide show about the Unit created, and sixty copies of our ''mini-Festschrift'' printed. In short, between November and February, the Unit was ablaze with the type of covert activity not witnessed since the days of Bletchley Park.
Finally on Tuesday, 10 February, the day of the surprise event was upon us. In the Wordsworth Room at St John's College, tension was high. At first, the slide projector refused to work but by 5pm everything was running smoothly and the guests were starting to arrive. At 5.15pm, a familiar voice was heard on the staircase (''Julius, I smell a rat!'') and a somewhat astonished Professor Reif opened the door to spontaneous applause.
Ellis Weinberger opened the proceedings with a panegyric to Professor Reif based on a Genizah fragment. Dr Andrew Macintosh, Fellow of St John's College, followed with a warm, personal message and congratulations from St John's and I offered a tribute to Shulie Reif for her role in helping to build the Unit alongside her husband.
Dr Avihai Shivtiel paid homage to his friend of thirty years and his many achievements. He presented Professor Reif with a framed facsimile of a tenth-century Palestinian birkat ha-mazon (grace after meals) and a copy of our collection of essays, hand-bound in leather and boxed by Robert Jefferson. And then the Unit's director had his say.
Though claiming to be frustrated by the fact that the surprise element in the organization of the party had prevented him from preparing a suitable response, Professor Reif was nevertheless able to achieve a polished performance in offering his words of thanks.
He paid tribute to successive University Librarians for encouraging his initiatives, to Library staff for their co-operation, and to faculty colleagues for providing an important educational context for his scholarly work.
Professor Reif was grateful for the close connection with St John's College, dating back to Charles Taylor, Master during Schechter's time. He was deeply indebted to his wife, Shulie, for also being a professional support and companion, and to his colleagues in the Unit, without whose efforts he felt that little would have been achieved over a thirty-year period.
Among others offering their congratulations were past and present University Librarians, heads of Library departments and other Library staff, current and former members of the Unit still in Cambridge, members of the Oriental and Divinity faculties, academic colleagues and other friends. We now eagerly await the fortieth anniversary.
Rebecca Jefferson
Research Assistant, T-S Genizah Research Unit
---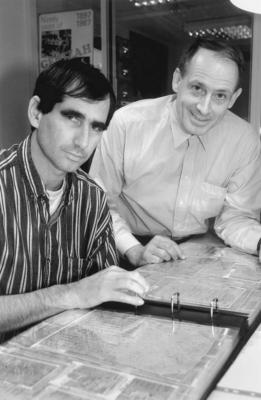 Dr Efraim Lev (left) working with Dr Fred Niessen on the medical and pharmacological manuscripts in the Cambridge Collections
New research on medical fragments
Writing forty years ago about the medical material in the Cairo Genizah, Shelomo Dov Goitein (1900-85), one of the best known of Genizah scholars, stressed that considerable work was needed in the field.
He observed in 1963 that ''only a special study can do justice to this subject'', and some years later (1967 and 1971) he noted that, ''with regard to ... medicine and culinary plants, there is enough material for a PhD dissertation on each'', and that ''these prescriptions have to be examined by experts in the history of medicine''.
Four decades after these sentiments were expressed, my academic career and personal curiosity have brought me from Israel to Cambridge, partly to fulfil Goitein's wish.
My training in this field began with my doctorate on the medicinal substances of the medieval Levant. This led to a project with Dr Zohar Amar of the department of Land of Israel Studies at Bar-Ilan University, on twentieth-century traditional medicine.
Now in Cambridge, I am spending the current year as an overseas visiting scholar at St John's College, researching the materia medica in the Cairo Genizah.
Although excellent catalogues, such as the Medical and Para-Medical Manuscripts in the Cambridge Genizah Collections by Haskell Isaacs and Colin Baker, have been published, the materia medica, and the fields of pharmacy and medicine as major subjects of research, have not received their due attention.
Previous studies have tended to rely on published works of medicine and pharmacy as their main sources, whereas the Genizah material provides clear evidence of the practical application of these medicinal substances in everyday life.
My work is based on a combination of personal research and collaborative projects with other scholars.
During the ten years since the publication of the Isaacs catalogue, more than 150 additional fragments dealing with medical and pharmacological matters have been identified. These have recently been studied in depth by Dr Fred Niessen and myself and will be published together in one work, as well as individually in certain cases.
Another collaborative project is with Mrs Leigh Chipman, a doctoral student at the Hebrew University of Jerusalem, with whom I am comparing the medicinal substances found in a book by a thirteenth-century Jewish pharmacist with the inventory of Genizah substances.
A third project is with Dr Amar for a major book detailing the Genizah materia medica.
This will identify and detail more than 250 medicinal substances, 28 of which are mineral in origin, 17 of animal origin, 3 mixed, and the remainder from plant parts and products.
The materials used for medicine were brought to Egypt from the Maghreb (North Africa), the West (Sicily and other European lands), Israel, Lebanon, Syria, India and the Far East.
The Jewish community of Fustat had an important share in this international trade and played a major role in its commerce, largely due to the sheer number of Jewish physicians, pharmacists and druggists in the area.
Reconstructing the materia medica of the medieval eastern Mediterranean and transforming the results into an academic tool (semi-encyclopedia) will benefit researchers in the history of medicine as well as providing interest for the general reader.
In a wider context, the information may lead to future interdisciplinary research on modern uses for ancient medicinal plants.
Efraim Lev
Visiting Research Associate, T-S Genizah Research Unit; Overseas Visiting Scholar, St John's College
---
Bibliography project in great demand
One of the first points of access to the Cambridge Genizah collections is by way of the Unit's internal bibliographical database and its published format.
The sheer volume of Genizah material has meant that a description of every single manuscript is not yet available. In the meantime, the bibliography serves as the main tool for Genizah navigation.
At first glance, the bibliography seems uninspiring with its dry lists of classmarks, authors and publications, but these lists contain a wealth of information vital to the individual scholar and to Genizah research as a whole.
Today, the Genizah source is used in the context of so many fields of scholarship that the demand for guidance and information is enormous. The first task of bibliographical research, therefore, is to track down the thousands of relevant books and articles published in a vast number of places and in many languages.
After this material has been uncovered, the bibliographer isolates the Genizah references and compares them to the original manuscripts. This process is vital to the provision of comprehensive information about the manuscripts and to ensure the accuracy of the references.
Errors naturally abound, presenting a challenge to the academic bibliographer who uses a range of skills to track down the right manuscript.
In the first volume alone, 1,727 wrong citations were correctly identified. This painstaking research means that scholars are not left to guess, for example, that ''T-S Talmud 4'' actually refers to ''MS T-S F3.14a''. It also means that such errors are (it is hoped) not repeated.
Given that Cambridge has some 70 percent of all the world's Genizah material, there are few books and articles on the subject that deal exclusively with non-Cambridge items. The Cambridge Genizah bibliography is consequently a guide to a large proportion of all existing Genizah references.
The bibliography project has attracted such interest that scholars from around the world regularly contact the Unit to request up-to-date information. Indeed, their support for the project is such that they freely send offprints of their latest articles for inclusion and readily supply additional data upon request.
Furthermore, a number of these prestigious scholars have at one time worked on the project themselves.
Already in its thirtieth year, the Unit's comprehensive bibliography project continues apace. The second volume has been sent to the press, and work on the third is well under way, with seventy-five titles currently being processed. Truly, an academic bibliographer's work is never done.
---
Major grants aid T-S Unit's work
The most substantial funding received in recent months for the Unit's projects - amounting to some £66,000 - has been provided by the Friedberg Genizah Project, the University of Pennsylvania, and the John S. Cohen Foundation.
Important support has also come through ''Cambridge in America''.
Mr Ivan Berkowitz kindly arranged for a contribution of $10,000, and the Georges Lurcy Charitable and Educational Trust renewed its award of $5,000.
There was also generous assistance from Professor Benjamin Friedman ($500), Professor Joel Kraemer ($218), Mr James Cook ($250), and Mr Daniel Schechter ($200).
In the United Kingdom, major assistance of £5,000 (for a future publication) was received from the family of the late John and Hazel Alexander in their memory, and £3,000 was kindly donated by the Lauffer Family Trust. There were welcome renewals of support, amounting to £500 each, from J. Davies Charities, the H. Joels Charitable Trust, the Kohn Foundation, and the Cyril and Betty Stein Charitable Trust.
The Unit also acknowledges with thanks the contributions of Mr David Sofer (£300), the F. and D. Worms Charitable Trust (£300), Diana and Anthony Rau (£150), Mr Geoffrey Ognall (£120), Mr Henry Knobil (£100), Sir Sydney and Lady Lipworth (£100), Dr A. Oppenheimer (£100), Ingrid and David Sellman (£100), and Mr Leo Sterling (£100), as well as £100 donated in memory of Dr Haskell Isaacs by his family and friends.
Over £2,000 was received in the form of smaller and anonymous gifts, and the Unit is grateful to all those who provide continuing interest and support.
---
Web-site's value
The web-site of the Taylor-Schechter Genizah Research Unit (www.lib.cam.ac.uk/Taylor-Schechter/) exists both to serve scholars and to provide for the general public a survey of the breadth of research made possible by the documents in the Genizah Collection.
The site has been available since 1996 and is continually being improved and expanded. New pages are included, old pages brought up to date, and images added to the search engine for on-line catalogues in the ''Genizah On-Line Database'' (www.lib.cam.ac.uk/Taylor-Schechter/GOLD/).
Every six months, a recent edition of the Genizah Fragments newsletter (www.lib.cam.ac.uk/Taylor-Schechter/GF/) is mounted, and early editions of the newsletter are being regularly added.
Images are produced as a result of the digitising project being carried out in co-operation with the University of Pennsylvania at Philadelphia. These images are added to the catalogues' search engine in GOLD at a rate of around fifty a week.
Over seven hundred images are available through the search engine. The results of the engine are thus able to include both images and scholarly descriptions.
An average of 17,350 pages on the Genizah web-site are viewed each month, with some 5,760 pages viewed in the Genizah Fragments section, and around 7,390 in the GOLD section.
---
Insight into lives of Sicily's Jews
The Genizah Research Unit has recently received a handsomely produced catalogue volume, entitled Ebrei e Sicilia (''The Jews and Sicily''), from the organisers of a 2002 exhibition on Jewish life and culture in Sicily.
The month-long exhibition, in the historic surroundings of the newly restored Magione Convent (Convento della Magione) in Palermo, Sicily, featured a wide range of Jewish books, documents, inscriptions and artefacts from many museums and libraries around the world, including Cambridge University Library.
The Library contributed a facsimile of the Genizah document T-S Misc.35.26, a fascinating account in Hebrew, by thirteenth-century Jewish travellers, of messianic excitement and seemingly miraculous events that they had witnessed in Sicily.
The exhibition volume contains some thirty articles on various aspects of Sicilian Jewry. Two of these, published in the original English and translated into Italian, employ materials from the Genizah for a fuller understanding of the history of Jewish life in Sicily.
The first, by David Abulafia, is entitled ''The Jews of Sicily under the Norman and Hohenstaufen Rulers''. It describes the important role played by the Jewish merchants of Sicily in the network of Mediterranean trade, and the Jewish community's resulting prosperity, before the cessation of Muslim rule on the island brought their exclusion from international commerce.
The second article, by the Unit's Ben Outhwaite, assesses the importance of the Genizah texts for the history of Jewish Sicily.
Genizah finds have once again demonstrated the cosmopolitan nature of the medieval Jewish community and its significant role in international affairs.
---
Warm welcome in New York

Stefan and Shulie Reif (right) with Jim and Mary Ellen Rudolph at the Shearith Israel Synagogue on New York's Upper West Side
New York never sleeps, and neither did we. A long weekend in Manhattan sounded like a good idea, and it certainly lived up to expectations.
The welcome Stefan and I received from Shearith Israel - the ''Tiffany'' Synagogue on the Upper West Side - was as warm as the weather was cold.
An audience of more than two hundred Genizah enthusiasts braved the sub-zero temperatures of a February evening to hear about ''Some Unexpected and Intriguing Discoveries among the Genizah Documents'', and their devotion was such that many of them returned to hear other talks over the weekend.
''We are starved of this kind of intellectual stimulation'' was one comment after a lecture of Stefan's, followed by pleas for a speedy return to New York.
Stefan's busy schedule included discussions with ''Cambridge in America'', lunches with helpful contacts, and meetings with Genizah supporters.
One interesting meeting took place at the home of a serious collector of rare books whose apartment is filled with a variety of treasures ranging from rare Burmese prints to a unique collection of Baedeker travel guides in several languages.
He showed us his latest acquisition - a beautifully written Torah scroll from pre-expulsion Spain - about which he wanted to hear Stefan's opinion.
Jim Rudolph (President of the Shearith Israel League) and his wife Mary Ellen, were most generous with their hospitality and ensured that we had a little time off by inviting us to join them at a musical evening in support of a local community centre.
Shulie Reif
Publications sub-editor, T-S Genizah Research Unit
---
How you can help
If you would like to receive Genizah Fragments regularly, to enquire about the Taylor-Schechter Genizah Collection, or to know how you may assist with its preservation and study, please write to: Professor S. C. Reif, Director of the Taylor-Schechter Genizah Research Unit, at Cambridge University Library, West Road, Cambridge, CB3 9DR, England.
The Library may also be reached by fax (01223) 333160, or by telephone (01223) 333000. The Internet access is at http:// www.lib.cam.ac.uk/Taylor-Schechter. Enquiries by e-mail should be addressed to @lib.cam.ac.uk.
All contributions to the Unit, whether for the research programme or for its other activities, are made to the ''University of Cambridge'', which enjoys charitable status for tax and similar purposes.
In the USA, ''Cambridge in America'' supports the Taylor-Schechter Collection with its unfunded grant number 7/78. If you are interested in supporting this project, please contact the Director of the Annual Appeal at: 309 West 49th Street, New York, NY 10019-7399 (tel: 212-984-0960).
''Cambridge in America'' is recognized by the IRS as a charitable organization, and contributions are legally deductible for USA income tax purposes. Contributions are similarly deductible in Canada even if made directly to Cambridge.
---
Much of the cost of producing this commemorative issue of Genizah Fragments has kindly been defrayed by the family of the late David Lauffer. David was intrigued by the manner in which the Genizah could illuminate history's dark corners. He is fondly remembered in the Genizah Unit as a generous supporter over a number of years.
---
Thirty years of the Genizah Unit
Commemorative Supplement to Genizah Fragments Newsletter No. 47, April 2004, Cambridge University Library
---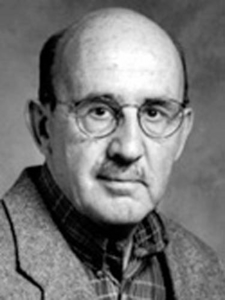 Joel Kraemer
John Henry Barrows Professor of Jewish Studies, University of Chicago
"A total world in an age that was formative for Judaism"
A precious deposit in Cambridge
I first visited Cambridge in November, 1987. I had never done Genizah research, but my interest in Maimonides, and S. D. Goitein's suggestion that I write about his life, made it imperative.
Although it rained every day that November, the Cambridge experience was memorable. The walk to the Library was glorious.
Once, I stood on the Clare College bridge with Joshua Blau, discussing Judaeo-Arabic. I interrupted the discussion to remark on the beauty of the willow trees. Professor Blau replied, "What a beautiful world God has given us, where we have - Judaeo-Arabic" [my translation].
The Manuscripts Reading Room was close to scholarly paradise. One filled out slips of paper, and folders duly appeared, with marvellous surprises.
Superintendent Godfrey Waller, always helpful, watched like a hawk lest someone use a pen. Even a mechanical pencil brought him flying from his perch.
When I found a promising document, how was I to know whether it had been published? Sometimes there were scholar's initials, staking a claim. The Reif bibliographical volume, Published Material, was not yet available.
I would betake myself to the Genizah Research Unit, and Shulie Reif would tell me from her notes whether the document had been published and where. Without that help, it would have been virtually impossible to work.
The first place I presented myself upon arrival was at the office of the Unit. Stefan Reif was always welcoming and hospitable. He took an interest in one's research, and even in one's practical arrangements. His knowledge of the Taylor-Schechter Collection was invaluable.
I once worked on a letter to Maimonides from the philosopher's sister (T-S 10J18) that Goitein had published. He had read the word uhtuka ("your sister") at the end of the first line. The document now lacks the word, but it appears in the microfilm.
Perplexed, I turned to Stefan, who explained that the word may have flaked off when the document was being moved into its Melinex folder.
Stefan attracted great scholars to the Unit. I was there after the time of Simon Hopkins and Paul Fenton. However, there were Rabbi E. J. Wiesenberg, a man of a kind of Sufi piety, and Dr Haskell D. Isaacs, an Iraqi physician from Manchester.
Dr Isaacs helped me with some of Maimonides's medical manuscripts. Geoffrey Khan was then with the Unit. I would ask Geoffrey for help when I had to decipher challenging Arabic squiggles.
The other joy was meeting colleagues in the Manuscripts Reading Room. Mark Cohen, Menahem Ben-Sasson, Haggai Ben-Shammai, Mordechai Friedman, Joseph Yahalom, Avraham Grossman, Moshe Gil, and Michael Klein were frequent visitors when I was there.
In addition, my colleague Norman Golb came and stayed at Clare Hall. If it is fun to decipher Genizah manuscripts, it is even greater fun to work with other scholars.
In this age of digital information, there will come a time when everything will be on the Internet and it will seem that we do not need to view the actual manuscripts. If that happens, there are many things we shall miss, apart from Cambridge itself. It is thrilling to see the actual manuscript - and also sometimes necessary.
D. H. Baneth, working from a photostat, once published a letter to Maimonides together with his reply (T-S 16.290), and observed that the reply was blurred and difficult to decipher. Examination of the original document shows that many words are not blurred but eroded, probably by oxidation.
This accounts for the odd formations that Baneth detected and tried to unravel. Stefan referred me to the conservation experts, who elucidated the matter for me and gave me a pile of books on ink to read.
Often we find things by serendipity. A colleague showed me something in an old folder. As usual, I looked through all the documents, and the last was an unpublished letter to Maimonides from a friend (T-S 10K8.14).
It was clear that Stefan loved what he was doing and knew that the Lord had placed a precious deposit in his hands. He has devoted himself conscientiously to the study, organization and conservation of these documents and to making them accessible to scholars under optimal conditions.
He and his colleagues in the Unit have helped us immeasurably to bring to life the Genizah people, their careers, their travels, their nostalgia for loved ones, their marriages, divorces, bequests, business letters, the books they read - a total world in an age that was formative for Judaism.
---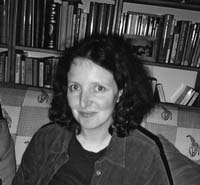 Judith Olszowy-Schlanger
Ecole Pratique des Hautes Etudes, Paris
No difficulty about miracles
In his memoirs, the famous Egyptologist, Sir William Flinders Petrie, recounts a meeting with Solomon Schechter:
"After packing, I left March 14, 1897, and sailed on the 20th with Dr. Schechter, the Rumanian, who was active over his clearance of Jewish MSS. in Cairo.
"He had humour, and said: 'There is no difficulty about miracles. I come from a country where miracles happen every day'" (Seventy Years in Archaeology, London, 1932, page 166).
This humorous reference to miracles may relate to the voyage, for their steamer ran aground just before reaching Marseilles.
But was Schechter himself then aware that it would require almost a miracle to care for, and edit, this "treasure trove" of 140,000 Hebrew manuscript fragments he had "cleared" from the Genizah in Old Cairo?
Several generations of scholars and librarians have since then been working on this daunting task which, through painstaking dedication and broad-ranging erudition, rather than through miracles, is now being completed by the Genizah Research Unit at Cambridge. It is difficult to imagine today what research on Genizah manuscripts would be like without the Unit.
When I commenced my own research on medieval Hebrew manuscripts, the Unit had been in existence for almost twenty years.
This is not a long time, considering the bulk and diversity of the fragments in the various Cambridge collections, yet the first encounter with the manuscripts by scholars of my generation was very different from that of the pioneers in the field.
Instead of uncatalogued boxes of fragments, only partly sorted according to their general subjects, and in urgent need of conservation, we had at our disposal a perfectly organised collection where each individual fragment was carefully preserved and shelf-marked in a protective plastic wrapping.
Moreover, added to the handlist of parts of the Old Series compiled at the beginning of the twentieth century, several volumes of catalogues in the "Genizah Series" were already available for consultation.
A Guide to the Taylor-Schechter Genizah Collection, by Stefan Reif, and the excellent bibliography Published Material from the Cambridge Genizah Collections (1896-1980), edited by him and a team of researchers in the Unit, were indispensable aids for those navigating in this "ocean of manuscripts".
The subsequent ten years were even more prolific, with new catalogues covering biblical fragments, Arabic boxes, medical material, rabbinic manuscripts, targumic items, Palestinian vocalized piyyut, Arabic legal and administrative documents, and Karaite Bible transcriptions.
Together with this impressive publication record, the Unit has acted during the past thirty years as a veritable meeting place for Genizah scholars, the focus and forum of information for Genizah projects across the globe.
Genizah Fragments, the Unit's newsletter, regularly published since 1981, has played an indispensable role in disseminating information about the most spectacular discoveries, as well as about recent projects and future developments.
Out of its many activities that are significant for scholarship, I would single out those relating to the history of Hebrew script and of book-making.
The importance of Genizah fragments for Hebrew book culture, codicology and palaeography has been well recognized, notably by Colette Sirat and Malachi Beit-Ariť, who have shown that the Genizah contains as many fragments of Hebrew codices as all other collections combined - estimated at 40,000 to 50,000.
The documentary Genizah, including over 1,000 precisely dated legal documents from the ninth to the thirteenth centuries, has been particularly important for the typological study of Hebrew script.
When all the relevant fragments are carefully described and evaluated, even more thorough palaeographical comparative study will become possible.
The work of the Unit therefore promises much not only for historians, biblical and rabbinic scholars and linguists, but also for palaeographers, for whom the global and statistical appraisal of the contents of a manuscript collection can be as important as the detailed description of each document.
In anticipation of these and many other future projects, we wish the Genizah Research Unit many happy returns of the day.
---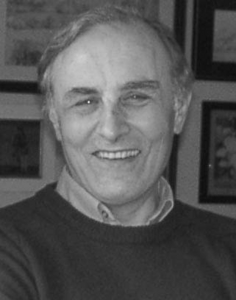 Angel Saenz-Badillos
Director of the Real Colegio Complutense, Cambridge, Massachusetts
"One of our richest sources of study"
New perspectives on many fields of Jewish studies
It is impossible to exaggerate the importance that the Genizah manuscripts at Cambridge University Library have had over the past century for every branch of Judaic studies. Our knowledge of Hebrew language and literature, and our perception of Jewish history, have dramatically changed since the fragments from the Cairo Genizah began to be studied and published.
In my own main field of interest - the language and literary works of medieval Spanish Jewry - the Cambridge Genizah Collections undoubtedly represent one of our richest sources of information.
For many years, the Genizah was like a totum revolutum, where none but the privileged were able to find a range of interesting documents. Not a few brilliant scholars of Jewish studies spent a good part of their lives working at Cambridge with these precious materials.
But the fragments lacked adequate protection, were in complete disorder, and had little guarantee of survival for future generations. There was no clear classification, no catalogue of the materials, and scant information about other scholars working there.
All this changed dramatically with the creation of the Genizah Research Unit thirty years ago.
Since my first visit to Cambridge, I have always found in the Unit, directed by Stefan Reif, constant and exemplary help in my field of research. Its staff have ensured the order and preservation of the fragments, willingly assisting researchers to find their required materials and to obtain appropriate reproductions.
The conservation, the cataloguing, and the promotion of the different areas of studies have been truly impressive, and the Unit's publications have been of inestimable value to researchers. From my own standpoint, none of the critical editions of medieval Jewish-Spanish writings that I and my students have published would have been possible without their assistance.
We now have accessible bibliographical information, catalogues of notable material, and new perspectives on numerous areas of Jewish studies, as well as regular information, all of it made possible only through the efforts of Reif and his colleagues.
Although many of the Unit's goals have been fully achieved since 1974, the work is far from finished. It is to be hoped that the Unit will continue to have a decisive role co-ordinating research, promoting the publication of catalogues, updating bibliographical studies, and helping researchers worldwide with the same generous spirit that it has shown until now.
The completion of the digital photographic reproduction of the fragments is also a desideratum for researchers, despite the major effort and cost it would entail.
---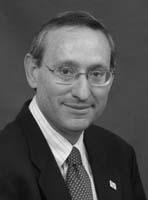 Menahem Ben-Sasson
Director of the Ben-Zvi Institute, Professor of Jewish History and former Rector, Hebrew University of Jerusalem
Opening up historical treasures
A generation is generally taken to mean about thirty years. Now that the Genizah Research Unit at Cambridge University Library has completed its first generation, it is an appropriate time to look back and assess its activity.
Given that the Genizah material has been at Cambridge for three generations - over a hundred years - such an assessment may be relevant to a broader analysis of the whole Cambridge Genizah experience.
The overall aims of the Unit are by this time well known. Its director carefully outlined the mission at an early stage and has often expanded on it. It has set itself the task of maintaining the physical state of the collection and widening its accessibility. It has opened up its treasures, drawn attention to them, and made them available to all interested students.
This is in stark contrast to earlier periods when unconserved material was in crates and when some scholars allotted to themselves exclusive rights to the study of particular groups of fragments.
As a result of these more efficient and democratic principles, studies that had remained in the realm of the private have been completed and published, new researchers have been encouraged, and a chain of academic productivity has been established.
Another important development was the arrival in Cambridge of leading scholars of Jewish studies from around the world to participate in these co-operative ventures that proved to be so fundamental to their fields of interest.
Initially, such scholars assisted with the sorting and classification of the material. At a later stage they were involved in the challenging task of describing the fragments.
This led to the creation of two indispensable reference tools - preliminary handlists and professionally prepared and produced catalogues of exemplary standards. Bibliographical information was not only issued in published form. It was also made available before publication in response to individual enquiries.
The Unit was one of the first of such centres to take advantage of developments in computer technology. It thus positioned itself at the crossroads of international scholarly communication and information exchange.
Young scholars, too - many now in their more mature years - spent sabbatical periods and research leave engaged in Cambridge on post-doctoral projects. They were often provided with financial support but, even more importantly, they learned much from the Unit's working and emerged as the new generation of Genizah specialists and teachers, in some ways more sophisticated and adept than their predecessors.
The Unit's efforts to bring a knowledge of the Genizah to the wider intellectual world and to those with the wherewithal to assist with its budget also led to important changes in institutional and individual understanding of the work being done at Cambridge and of Genizah research as a whole. For many with an interest in the subject, the name of the Unit's director has become synonymous with the activities of the Cambridge project and with Genizah research in general.
Among the future challenges facing the Unit are the need for updated bibliographical data, additional catalogues and the provision of guidance to other Genizah collections. The Unit will also have to make further progress with its digitization project and the expansion of its Internet facilities. In many of these areas, the projects are already more than halfway towards completion.
Fortunately, the Unit and other similar projects are currently benefiting from the major funding being provided by important benefactors. They also have the advantage of a new and more numerous generation of Genizah scholars around the world that has followed the Unit's example in combining the best of scholarship and bibliography.
If the success of the Unit is to be measured simply by its overall degree of activity, there is no doubt that it has passed the test with flying colours since it was innovatively established in 1974. Its achievements, however, may also be assessed from various other perspectives and I have expanded on these in a second contribution scheduled to appear in a future issue of this newsletter.
---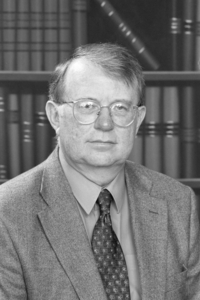 Philip Alexander
Professor of Post-Biblical Jewish Literature and Co-Director of the Centre for Jewish Studies, University of Manchester
Hub of Genizah scholarship
The manuscripts from the Cairo Genizah are arguably the greatest single hoard of primary sources for the study of Judaism and Jewish history ever uncovered. Their only rival would be the Dead Sea Scrolls.
The latter have gained huge publicity because they are earlier in date (the older, the more interesting!) and because they throw light on Jesus and the origins of Christianity, and so evoke more media interest.
But the Cairo Genizah texts are much larger in bulk and more varied in content, and they illuminate the "mainline" rather than a sectarian "branchline" of Judaism, as is the case with the Scrolls.
Thanks to the efforts of Charles Taylor and Solomon Schechter, Cambridge acquired the largest collection of Genizah manuscripts in the world. With that acquisition came responsibilities: how Cambridge handled its Genizah material was bound to have repercussions for the whole field of Jewish studies.
The work of the Genizah Research Unit at Cambridge, under the direction of Professor Stefan Reif, has been exemplary, and has established Cambridge in its rightful place as the hub of Genizah studies worldwide.
The fragments have been cleaned and preserved; catalogues, articles and monographs have appeared in a steady stream; countless scholars have been assisted in exploring the treasures of the collection.
I would like to mention, briefly, two areas where the Genizah material has made a difference to my own research. The first concerns the Targumim, the translations of the Tanakh into Aramaic.
Scholars of Jewish studies had long known the "official" Targumim, Onqelos to the Torah and Jonathan to the Prophets (printed in the great Rabbinic Bibles), as well as some Fragmentary Targums and Targumic Toseftas.
The wealth of variant Targums revealed by the Genizah (many of them apparently of Eretz Israel origin) took everyone by surprise, and showed that Targumism was a much more complex phenomenon, and survived longer as a vibrant tradition than we had supposed.
The other area is Jewish magic. The Cairo Genizah is full of magical material of all kinds, including fragments of an unusual book of Jewish black magic, Sefer Ha-Razim.
This throws light on an area of great interest for the social history of Judaism, and bridges the gap between the Jewish magic of late antiquity and Jewish magic in modern times. Almost every area of Jewish Studies has been affected by the Cairo Genizah finds.
The Cambridge Genizah Unit is associated in the minds of all Judaica scholars with Stefan Reif.
He has tirelessly raised funds for it, organized the conservation and cataloguing programme, and selflessly made his immense knowledge and learning available to visiting scholars. He has attracted over the years to work in the Unit some of the most brilliant young researchers of their generation.
Reif is not only a scholar in his own right, with major publications, especially in the field of Jewish liturgy, to his name, but also a research leader - someone with the gift, comparatively rare among humanities academics, of being able to manage to fruition large research projects.
As we look back, it is with gratitude and pleasure that we salute his and the Unit's achievements. They have enriched all our work.
---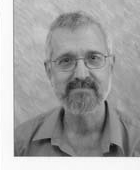 Mordechai A. Friedman
Joseph and Ceil Mazer Chair in Jewish Culture in Muslim Lands and Cairo Genizah Studies, Tel Aviv University
Vision and practicality
Having been engrossed in Genizah studies for forty-two years, since serving as the late Professor S. D. Goitein's research assistant in 1962, I see myself as a Genizah person.
Before first visiting Cambridge in 1971, I had already inspected large portions of most Genizah collections on microfilm and examined the original manuscripts of the E. N. Adler Collection at the Jewish Theological Seminary of America in New York.
But Cambridge University Library is the Mecca of Genizah studies, and I approached that edifice with exhilaration and trepidation. Like one who had embarked on a religious pilgrimage, I felt a spiritual uplift, drawing near to the sanctum sanctorum.
Some of that original excitement still enthuses me with every new visit to the Library, but much has changed over the last thirty-three years. Genizah research has flourished and achieved recognition for its revolutionary contribution, past and potential, to Jewish, Islamic and medieval studies, as well as to the humanities at large.
It is impossible to imagine the revitalization and momentous achievements that have characterized the field over the past generation without the crucial role played by the Taylor-Schechter Genizah Research Unit.
The establishment of the Unit and its organization, as well as the support garnered and the accomplishments recorded, reflect a rare combination of extraordinary vision and practicality.
I confess to missing the excitement, experienced when I first visited Cambridge, of separating with my fingers the shapeless clumps of Genizah fragments that were still clinging to one another in some of the boxes of the New Series, as they had been since Schechter found them.
That excitement has been replaced with the satisfaction of knowing that this treasure-trove of manuscripts has now been preserved with professional expertise for present and future generations. The bibliographies and other indispensable research tools and publications generated by the Unit have transformed Genizah studies.
Thanks to the insightful professionalism of Stefan Reif, to his and Shulie Reif's congeniality and hospitality, and to the unfailing co-operation of the staffs of the Unit and of the reading rooms for rare books and for manuscripts, a visit to Cambridge University Library remains a most pleasant, inspiring and rewarding experience.
Genizah research, moreover, has come of age and looks forward to a bright future.
---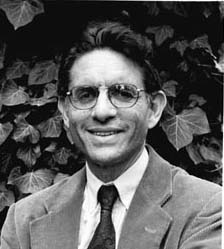 Mark R. Cohen
Professor of Near Eastern Studies, Princeton University
Model for other collections
I made my first trip to the Taylor-Schechter Genizah in the summer of 1974, soon after the Research Unit was established with Stefan Reif as director. I study the history of the Jews in the medieval Islamic world, and the Genizah is my chief source.
It always turns out that Cambridge houses a large proportion of the documentation I use for my work. For a project just completed - two books on poverty and charity in the Jewish community of medieval Egypt - more than 35 per cent of the material comes from Cambridge alone.
Emblematic of the changes I have observed over the years, I remember particularly the "glasses," those fragments originally preserved between thick plates of glass. How cumbersome they were and how easy it was to damage them. In 1974, Reif had yet to secure the resources needed to preserve the collection and make it more "user-friendly."
My first Genizah article (AJS Review 1, 1976, pages 1-40), featured two letters from Egypt addressed to the Nagid of Qayrawan (in modern Tunisia), concerning a well-known conflict over the Palestinian Gaonate, 1038-1042.
The letters, one in Hebrew and the other in Judaeo-Arabic, were written on each side of a sheet of paper. A torn section of this sheet, from the Taylor-Schechter Collection, had been published by Jacob Mann in 1922.
Fifty-three years after Mann's publication, I discovered the remainder of the sheet in the Elkan Nathan Adler Collection in New York. Combined and re-united, the letters provided fascinating details of the conflict, previously unknown.
In another discovery (Studies...Presented to...Goitein, Jerusalem, 1981, pages 123-54), I rejoined two Taylor-Schechter fragments of an important letter from around 1107, describing a conflict between the members of a provincial Jewish community in Egypt and their appointed religious and administrative leader. The two parts of the letter had been known to Professor Goitein, but he had not realized that they belonged together.
After I confirmed the join in Cambridge, the conservation staff at the University Library removed one of the pieces from its binder so that it could be photographed with the other. The photography is so good that the facsimile published with the article completely obscures the tear-line, which runs through the letters of one sentence.
Less spectacular but equally profitable are the instances at Cambridge in which I have succeeded in reading and deciphering a word or phrase that was illegible on microfilm, thereby resolving a perplexing problem.
Once, working in New York on a Cambridge fragment, I guessed at a word that was effaced on the microfilm. Later at Cambridge, I discovered that the lacuna was covered by a flap and was not an erasure or a blank space.
Responding to my request, Reif had one of the conservators uncover the flap; how excited I was to find that my guess about the missing word had been correct.
The re-unification of dispersed fragments, as described here, is a major desideratum of Genizah research, which will be further facilitated when the digitized imaging of all the collections has been accomplished.
The Princeton Geniza Project (www.princeton.edu/~geniza), which I have directed for almost twenty years, and which is currently being funded by the Friedberg Genizah Project, offers an additional tool for this and other research tasks.
It provides online, full-text transcriptions of historical documents from the Genizah, searchable via classmarks or keywords in the text, or short English catalogue-headers.
Cambridge and Princeton have initiated a pilot project, which I hope will progress further, linking Cambridge's digitized images of original manuscripts with Princeton's transcriptions.
As a thirty-year veteran user of the Taylor-Schechter Collection, I appreciate enormously the accomplishments of the Unit under Stefan Reif's direction. Its work stands as a model for other collections around the world.
---
Achievements of the Unit, 1974-2004
140,000 fragments have been sorted, conserved and microfilmed.
32 crates of neglected material have been classified and made available as the Additional Series.
80,000 fragments in the Collection have undergone scholarly description.
16 volumes in the Genizah Series have been published by Cambridge University Press for Cambridge University Library.
15 visiting scholars of world repute have worked in the Unit on various parts of the Collection.
13 young researchers have been trained in the Unit and have gone on to important posts in oriental faculties and libraries in Britain, France and Israel, three of them to full professorships.
$2.9 million has been raised from external sources for Genizah research at Cambridge and the results have been brought to the wider public through more popular publications, media involvement, and major international exhibitions.
47 issues of the Genizah Research Unit's newsletter, Genizah Fragments, have appeared and the publication is sent to almost 2,000 readers. Information is provided about the Unit's research projects and funding initiatives, and details are given of individual fragments.
175 static HTML pages of text, 524 images of people, places, and manuscripts, and about 700 images viewed through the zoomer or letterbox software are available on the Unit's website and are accessed by thousands of viewers every month. The Unit's web-site is included in the British Academy's selective Portal directory.
---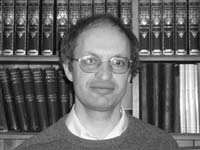 Geoffrey Khan
Professor of Semitic Philology, University of Cambridge
Launchpad for academic careers
The Jews of the medieval Near East, who spoke Arabic as a vernacular language, used Arabic widely as a written form of expression. A significant proportion of the manuscripts from the Cairo Genizah is in Judaeo-Arabic, that is, Arabic language written in Hebrew script. The Genizah Collection at Cambridge University Library, the most extensive in the world, contains a large amount of such material.
The Genizah is unique in the range of Judaeo-Arabic material preserved from the Middle Ages. It is no exaggeration to say that all types of writings produced and used by the Jews in medieval Egypt have come down to us in abundance in the Genizah. These encapsulate the world of the Jews of the medieval Near East.
The Judaeo-Arabic manuscripts include a diverse range of literary and documentary texts. Many of the great Jewish scholars of the Middle Ages, among them Sa`adya Gaon and Maimonides, wrote, for the most part, in Judaeo-Arabic, and the Genizah contains fragments of many of their writings, some even in their own hands.
It also preserves countless fragments of texts written by other medieval scholars, many of them anonymous, or unknown from other sources.
The Judaeo-Arabic documentary texts, unique to the Genizah, include legal deeds, letters, accounts, wills, orders of payment and many others. They constitute the richest source available today for the socio-economic history of the Jews of the Near East.
They are also of considerable importance for our knowledge and understanding of the wider society of the medieval Mediterranean in general.
When Stefan Reif founded the Taylor-Schechter Genizah Research Unit in 1974, he ensured that one of the researchers employed on the project took responsibility for the Judaeo-Arabic material in the Genizah.
At that time, there were no Judaeo-Arabic specialists in academic positions in British universities and students had no opportunities to be trained in this discipline, which is of paramount importance for Jewish studies.
The Genizah Research Unit came to fill this gap, offering numerous young scholars (including myself) the chance to develop a knowledge and expertise in Judaeo-Arabic language and texts.
This was entirely due to Professor Reif, who has over the years worked tirelessly to raise funds that have enabled young scholars of Hebrew and Arabic to continue in academic research after completing their PhD theses.
Promising students of Hebrew and Arabic in British universities who wish to follow an academic career have few other post-doctoral opportunities.
By working closely with the original medieval manuscripts in the Unit, researchers have been able to develop an expertise and scholarly reputation that have allowed them to pursue permanent careers at universities around the world.
This applies also to the researchers employed by the Genizah Research Unit who are principally Hebraists, rather than Judaeo-Arabic specialists. In numerous cases their appointment in the Unit has launched them on an academic career.
Under Professor Reif's direction, the Unit has nurtured a generation of leading scholars, including a group of Judaeo-Arabic specialists who could not have received their training at any other academic institution in Britain.
---
Publications of the Unit, 1978-2004
1. The Cambridge Genizah Collections: Their Contents and Significance, edited by Stefan C. Reif (2002)
2. Hebrew Bible Manuscripts in the Cambridge Genizah Collections
Volume 1: Taylor-Schechter Old Series and other Genizah Collections in Cambridge University Library, by M. C. Davis, incorporating material compiled by H. Knopf (1978)
Volume 2: Taylor-Schechter New Series, and Westminster College Cambridge Collection, by M. C. Davis (1980)
Volume 3: Taylor-Schechter Additional Series 1-31, by M. C. Davis and Ben Outhwaite (2003)
Volume 4: Taylor-Schechter Additional Series 32-225, with addenda to previous volumes, by M. C. Davis and Ben Outhwaite (2003)
3. Miscellany of Literary Pieces from the Cambridge Genizah Collections, by Simon Hopkins (1978)
4. Vocalised Talmudic Manuscripts in the Cambridge Genizah Collections
Volume 1: Taylor-Schechter Old Series, by Shelomo Morag (1988)
5. A Hand-list of Rabbinic Manuscripts in the Cambridge Genizah Collections
Volume 1: Taylor-Schechter New Series, by Robert Brody (1998)
6. Published Material from the Cambridge Genizah Collections: A Bibliography 1896-1980, edited by Stefan C. Reif (1988)
7. Palestinian Vocalised Piyyut Manuscripts in the Cambridge Genizah Collections, by Joseph Yahalom (1997)
8. Targumic Manuscripts in the Cambridge Genizah Collections, by Michael L. Klein (1992)
9. Karaite Bible Manuscripts from the Cairo Genizah, by Geoffrey Khan (1990)
10. Arabic Legal and Administrative Documents in the Cambridge Genizah Collections, by Geoffrey Khan (1993)
11. Medical and Para-medical Manuscripts in the Cambridge Genizah Collections, by Haskell D. Isaacs, with the assistance of Colin F. Baker (1994)
12. Arabic and Judaeo-Arabic Manuscripts in the Cambridge Genizah Collections, Arabic Old Series, by Colin F. Baker and Meira Polliack (2001)
13. Published Material from the Cambridge Genizah Collections: A Bibliography 1980-1997, compiled by Rebecca J. W. Jefferson and Erica C. D. Hunter (2004)
14. Arabic and Judaeo-Arabic Manuscripts in the Cambridge Genizah Collections, New Series, by Avihai Shivtiel and Friedrich Niessen (forthcoming, 2004)
Copies of the most recent of these publications are available from Cambridge University Press and some of the earlier volumes may be ordered from Cambridge University Library.
---