Vital apparatus
The sheer volume of Genizah manuscripts in the Cambridge Collections, and their use in the context of so many fields of scholarship, mean that the demand for a tool of navigation is great.
The Unit's bibliography project, which systematically collates all bibliographical references to Cairo Genizah manuscripts in Cambridge, provides this vital apparatus.
Scholars use the bibliography to concentrate their searches for source material. The bibliography enables them to know who has been working in any particular field and highlights the potential for further research.
It also provides important information about the subjects receiving wide coverage and those areas still requiring attention.
A second instalment of this project - No. 13 in Cambridge University Library's Genizah Series - was recently published by Cambridge University Press, covering published material from the end of the first volume in 1980 up to, and including, 1997.
Published Material from the Cambridge Genizah Collections: A Bibliography 1980-1997 (Cambridge, 2004. ISBN: 0 521 75086 5) is available from Cambridge University Press at £100.
In structure, the second volume closely adheres to the first, with minor modifications and the addition of a section containing addenda and corrigenda. Entries were compiled mainly by Rebecca Jefferson and Erica Hunter, incorporating material prepared by Geoffrey Khan, standardized and edited with the assistance of Shulie Reif.
The classmark section supplies researchers with a further 25,000 items of information relating to Genizah manuscripts, testifying to the massive growth in Genizah research over a period of seventeen years.
Major areas of research include liturgy, magical texts, medicine, philosophy, poetry, targum, and the abundant documentary material, most of it in Judaeo-Arabic, from the Jewish communities of Babylonia, Egypt and the Syro-Palestinian area.
The work features material from parts of the Collection, including the New and Additional Series, previously overlooked by researchers.
The compilers have aimed for a high degree of comprehensiveness, incorporating as many works as possible and numerous references to the latest academic journals and collective volumes.
---
Medical project
Dr Efraim Lev, of Haifa University, returned to the Unit during February to continue his project of reconstructing, on the basis of Genizah discoveries, the medical library of Mediterranean society a thousand years ago.
His work was greatly enhanced by meetings with Dr Nikolaj Serikoff, Oriental curator at the Wellcome Library for the History and Understanding of Medicine, who has developed powerful computerized tools for identifying medical books by their chapter headings.
Last year, some forty Genizah fragments were newly identified, including eight fragments in Arabic script. A further five fragments - originally in Judaeo-Arabic but transliterated into Arabic letters for this purpose (reversing, as it were, the process performed by the Genizah writers) - have been identified by the same process.
Further work on the Judaeo-Arabic fragments is continuing with the help of Leigh Chipman, now back in the Unit after the birth of Shaul to her, Dr Ariel Chipman (a developmental biologist) and brother Amos.
---
With the aid of Genizah Fragments and other material, Debbie Patterson Jones (left) and Aniela Shuckburgh, of Cambridge University's Development Office, plan a fund-raising drive in the United States
Friedberg gift
External support, on which the Genizah Research Unit depends for its financial viability, has once more been substantial in recent months.
The most generous benefactor has again been Albert D. Friedberg through the Friedberg Genizah Project, which has contributed almost £30,000 towards research staff salaries.
Other major gifts were £10,000 from the John S. Cohen Foundation; £3,000 from the Lauffer Family Charitable Trust; $5,000 from the Georges Lurcy Charitable and Educational Trust; £1,000 from Sophie Cohen; and £1,000 from the R. M. Burton Charitable Trust.
Important contributions came from the Sidney and Elizabeth Corob Charitable Trust (£500); the Kohn Foundation (£500); Mary Ellen and James Rudolph ($1,000); the F. & D. Worms Charitable Trust (£300); and an anonymous Canadian foundation ($500).
The Unit acknowledges with thanks the donations of the R. and M. Phillips Charitable Trust (£250); Diana and Anthony Rau (£150); Daniel Schechter ($250); Professor Joel Kraemer ($218); David Sellman (£150); Henry Knobil (£100); Dr Arnold Oppenheimer (£100); Norman Shelson (£100); and Frank Ridge ($100).
A number of smaller and anonymous gifts have also been gratefully received.
---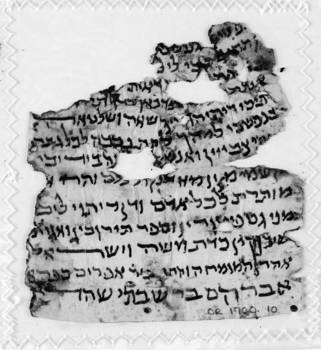 Or.1700.10, a bill of divorce signed by Aaron ben Ephraim and Abraham ben Shabbetai, one of the Hebrew and Arabic fragments discovered among the Coptic manuscripts donated to Cambridge University Library by Sir Herbert Thompson
Library yields surprise find
Genizah fragments can surface in the most unexpected places. Recently, I was called to the Manuscripts Reading Room at Cambridge University Library by its superintendent, Godfrey Waller, to look at a number of interesting manuscripts that a reader had come across.
Professor Stephen Emmel had been examining some Coptic manuscripts prior to their conservation. These had been given to the Library by the great Demotic and Coptic scholar, Sir Herbert Thompson. In the same storage box (Or. 1700), he was surprised to discover several fragments in Hebrew and Arabic script.
At first sight, despite their small size and poor state of preservation, these looked to me like Genizah fragments, the Hebrew script being written in oriental square and semi-cursive hands of the eleventh and twelfth centuries, on vellum prepared in the oriental fashion.
Further examination reinforced this view, for among them was a bill of divorce signed by Aaron ben Ephraim and Abraham ben Shabbetai, both well-known figures from the Genizah.
The latter was a leading citizen of the Egyptian port town of Minyat Zifta, while the former was a frequent signatory to legal documents preserved in the Genizah.
Among the twenty or so items were fragments of calligraphically written Bible texts, provided mostly with Tiberian, but also with supralinear Babylonian, vowels and accents. These contained portions of the books of Genesis (the Joseph story), Ruth, Song of Songs, Nehemiah (with Babylonian vocalization), and Jeremiah.
One printed paper fragment turned out to be from an early copy of Rashi's commentary on the Babylonian tractate of Qiddushin. Other oddments included paper leaves in Arabic script.
These contained the text of a dialogue with the biblical Adam and, as Muslim writings, may not have originated in the Genizah. Such an origin is not, however, implausible, since the Genizah preserved not only Jewish texts but also Christian and Muslim works.
Quite how the fragments ended up among Sir Herbert's Coptic collection is unclear. The acquisition of the Thompson manuscripts was announced in the Cambridge University Reporter of 14 November, 1939, page 244, in the following terms:
"Sir Herbert Thompson, Bart, formerly of Trinity College, presented a number of manuscript fragments written in the Sahidic dialect of the Coptic language. The Syndicate are indebted to Mr C. R. C. Allberry, of Christ's College, for the following description of them:
"'They come ultimately from the famous White Monastery in Upper Egypt. The collection is more than usually representative of the disjecta membra of Sahidic literature and is a very valuable addition to the Oriental manuscripts owned by this University.'"
No mention was made of Hebrew and Arabic texts among the items. It is possible that Thompson acquired them at the same time as the Coptic fragments, since Genizah fragments were available on the open market in Egypt, and internationally, before Solomon Schechter's famous visit in 1896-97.
It is also feasible that their current location is a result of the rather chaotic organisation of some oriental items at the University Library in the early years of the last century.
These fragments have surfaced from time to time over the years. They were apparently conserved in "Melinex" in the 1970s-80s and, probably at the same time, brought to the attention of scholars working at Cambridge, since the divorce deed is noted in two of Elinoar Bareket's publications on the Jews of Egypt, and Israel Yeivin has described the single fragment containing Babylonian vowels.
The fragments do not, however, appear in any of the Library's handlists of Hebrew manuscripts, and consequently did not obtain an entry in Hebrew Manuscripts at Cambridge University Library compiled by Professor Stefan Reif.
They also escaped the eye of M. C. Davis, who was responsible for cataloguing biblical manuscripts in the Collection, for none of the Bible fragments included under the classmark Or.1700 appears among the 24,326 classmarks described in his recently-completed four-volume catalogue, Hebrew Bible Manuscripts in the Cambridge Genizah Collections.
Most of these interesting little pieces have therefore yet to be described and I plan to publish full details of them in the near future.
Ben Outhwaite
Research Associate, T-S Genizah Research Unit
---
How you can help the T-S Unit
If you would like to receive Genizah Fragments regularly, to enquire about the Taylor-Schechter Genizah Collection, or to know how you may assist with its preservation and study, please write to: Professor S. C. Reif, Director of the Taylor-Schechter Genizah Research Unit, at Cambridge University Library, West Road, Cambridge, CB3 9DR, England.
The Library may also be reached by fax (01223) 333160, or by telephone (01223) 333000. The Internet access is at http:// www.lib.cam.ac.uk/Taylor-Schechter. Enquiries by e-mail should be addressed to genizah@lib.cam.ac.uk.
All contributions to the Unit, whether for research or other activities, are made to the ''University of Cambridge'', which enjoys charitable status for tax and similar purposes.
In the USA, ''Cambridge in America'' supports the Taylor-Schechter Collection with its unfunded grant number 7/78. Please contact the Director of the Annual Appeal at: 100 Avenue of the Americas, New York, NY 10013-0271 (tel: 212-984-0960).
''Cambridge in America'' is recognized by the IRS as a charitable organization, and contributions for the benefit of the Genizah Research Unit are legally deductible for USA income tax purposes. Contributions are similarly deductible in Canada even if made directly to the Development Office at the University of Cambridge.
---
Word-lists uncovered
'Medieval interest in languages'
A number of talmudic sages seem to have favoured the learning of languages, since the Talmud records several statements to the effect that this was a skill to be encouraged among scholars.
An early and important midrash claims that God gave the Torah to Israel in four languages - Hebrew, Latin, Arabic and Aramaic (Sifrey, Ve-Zot Ha-Berakhah).
Another source states that a father is allowed to teach his daughter Greek because it can adorn her like a piece of jewellery (Talmud Yerushalmi, Shabbat 6.1; 7d and Sotah 9.16; 24c). It was also permitted to translate the Torah into Greek and Aramaic, as was clearly done from as early as the Second Temple period.
The Jews of the Genizah world knew at least three languages - Hebrew, Arabic and Aramaic; some even understood Coptic, Greek and Persian. That there was an eagerness to learn even more is now documented in two word-lists that I have recently discovered among the Genizah treasures.
T-S NS 38.79 contains twenty words and phrases written in Judaeo-Arabic and Judaeo-Armenian: "bread", "meat", "water", "wine", "rose", "apple", "pear", "woman", "virgin", "mother", "father", "beautiful face", "female singer", "white", "black", "tax collector", "come in", "go on", "sit down" and "how are you".
T-S NS 163.57 features ninety-one phrases written in Judaeo-Arabic and Judaeo-Spanish. The list includes nouns, names of food products, colours, and adjectives concerning taste ("sweet", "bitter", "salty", "hot") but is unfortunately incomplete, with only around half of the Judaeo-Arabic words offering their Spanish equivalents.
Since we know neither the identity of the compilers nor their location or period, we may only assume that they were businessmen who needed some such phrases to help cope with linguistic requirements.
The choice of words in the Armenian list suggests that it was more likely prepared in a social context, while the Spanish phrases seem aimed at fulfilling business needs, with the addition of a few general words such as "love", "hatred", "praise", "beating", and "killing".
Although the phrases in the Armenian list are arranged more or less by subject, those in the Spanish list are more clearly methodical.
The latter contains no verbs or particles but a few verbal nouns, such as "eating", "drinking", "standing", "sitting", "giving", "taking", "selling" and "buying".
While trading in spices was a popular Mediterranean activity in the Middle Ages, neither list refers to any known spice. And although both contain useful words for daily communication, they lack many expected practical expressions.
That the Spanish list is incomplete suggests that the compiler had only begun his linguistic project but, for unknown reasons, never finished it. It is always possible, however, that other folios will one day be discovered, an eventuality not unheard of in Genizah research.
One way or another, the lists testify once again to a medieval Jewish interest in foreign languages and a related enthusiasm for cultures other than the Jewish and Muslim.
Edited texts of both lists will shortly be published in the Journal of Semitic Studies.
Avihai Shivtiel
Senior Research Associate, T-S Genizah Research Unit
---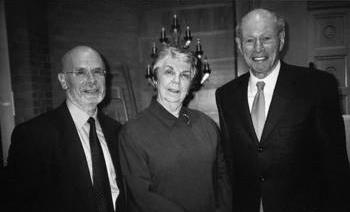 Communal philanthropist Herschel Blumberg (right), recipient of the 2004 Yad Torah Award, with Clara Gordon, Director of the Washington Foundation for Jewish Studies, and Professor Stefan Reif, at the Bnai Israel Synagogue, Rockville, Maryland
Unit busier than ever
From the Editor's desk
In the early days of these editorials - which began in 1981 - the six months between each of them left some time for reflection. These days, however, it seems that no sooner have I seen one published than the time has arrived to prepare another.
Perhaps this relates to the growing number of activities that fill the days and weeks of all of us in the Unit. Or perhaps it says something about the age of the newsletter's editor today relative to that when the publication was launched.
What is unarguable is that the Unit is busier than ever. In addition to its usual projects and commitments, it has seen some notable developments in recent months.
These started with my visit to Greater Washington in October and November, as Scholar in Residence of the Washington Foundation for Jewish Studies and Visiting Scholar at George Washington University.
That visit gave me the opportunity not only of advancing a number of pieces of personal research but also of lecturing to academic, rabbinic and public audiences on a variety of topics relating to Genizah studies.
Two of the lectures were given in the context of special awards - to Herschel Blumberg, for communal philanthropy, and to Professor Marc Saperstein, for outstanding teaching.
Since my return, the Unit has made arrangements - together with the University's Development Offices in Cambridge and in New York - for a major fund-raising drive in North America, and progress towards (with full sponsorship) the digitization of all material in the Cambridge Genizah Collections.
Equally exciting is the prospect of forging a productive relationship with the Royal Botanical Gardens at Kew, aimed at drawing scholarly and public attention to the importance of hundreds of Genizah fragments for understanding the medicinal use of plants through the centuries.
Those who have long hoped that the Mosseri Collection of Paris might be professionally conserved, digitally reproduced and newly accessible to scholars may soon hear some good news.
The Genizah Research Unit is currently in discussion with members of the Mosseri family about the best way of realizing these hopes.
And it will undoubtedly be no time at all before another six months have passed and I am reporting further such developments in Genizah Fragments.
Stefan C. Reif
Director, Taylor-Schechter Genizah Research Unit
---
The Lauffer Family Charitable Trust has again provided funding to help meet the costs of producing this issue of Genizah Fragments. Its generous assistance comes in memory of David Lauffer, who was a keen student of Jewish history. Appreciating the Genizah's importance for understanding the medieval Mediterranean world, he was happy to be a regular supporter of the Unit.
---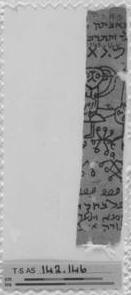 T-S AS 142.146
Magical recipes in Genizah
The study of the many types of magical, astrological, alchemical and divinatory fragments found in the Cairo Genizah was largely spurned by earlier scholars, most notably by Solomon Schecher, whose disparaging reference to "the fool and his amulet" has often been quoted.
It was only in the late 1960s, with Mordechai Margaliot's publication of Sefer Ha-Razim, that scholarly interest in these texts began to rise, and only in the 1980s and 1990s that serious efforts were devoted to the publication of some of the relevant fragments.
Such publications, and especially those by Joseph Naveh and Shaul Shaked, by Larry Schiffman and Michael Swartz, and by Shaked and Peter Schaefer, have laid the groundwork for a closer look at the many different types of Genizah fragments relating to magic and the occult sciences.
In my own work, I focus especially on one type of material - magical recipes and recipe-books - of which the Cairo Genizah preserved many hundreds of fragments, the majority of them now in the Taylor-Schechter Collection.
My research project, currently funded by the Israel Science Foundation, seeks to identify, transcribe and analyse as many Genizah magical fragments as possible, in order to provide a basis for further studies of Jewish magic in late antiquity and the medieval period.
At the heart of my project lies a preliminary list of Genizah magical texts, painstakingly compiled by Professor Shaked (see Genizah Fragments, 8 [October, 1984], 9 [April, 1985] and 17 [April, 1989]), and kindly put by him at my disposal.
My own work includes the identification of additional fragments, the inclusion of additional information on each fragment, and the transcription of those fragments that contain magical recipes.
In all this, I am assisted by several research assistants and, apart from a recent visit by me to Cambridge, we work mostly from the microfilms available at Tel Aviv University.
The Genizah magical recipes range from a single recipe scribbled on the margins of a non-magical text to fully-fledged recipe books, some of which are dozens of folios long. Unfortunately, as is the case with many Genizah texts, the folios of such booklets have often been dispersed throughout the Genizah, so that two originally consecutive folios or bifolia have ended up in different corners of the world.
Worse still, many of the magical recipe books have been deliberately cut (usually from top to bottom, with each folio cut into two, three, or more strips), and these pieces have come to be dispersed to different places.
Collecting the strips (as shown above, T-S AS 142.146) and trying to re-assemble the original folios, and then larger collections, are arduous tasks, but the potential benefits of such a study make the effort more than worthwhile.
The importance of these recipe books is that they provide us with the best entry-point for the study of the magical aims and techniques of pre-medieval and medieval Jewish practitioners.
The recipes' aims range all the way from aggressive to erotic, and from protective to divinatory, and provide much evidence about the beliefs, desires, fears, and values of ordinary Jews at the time.
Techniques involved include the use of written and oral spells, the invocation of divine and demonic forces, and the manipulation of materials, symbols, and the forces of nature.
The magical recipes also display a wealth of foreign elements that entered the realm of Jewish magic first from the Graeco-Egyptian magic of late antiquity and then from the world of medieval Muslim magic. They were also influenced by medieval Christian magic in its Coptic, Latin, and Byzantine-Greek varieties.
In many cases, these texts provide a perspective on the Jews and Judaism of their day that no other sources can provide, a perspective that has, until recently, mostly been neglected.
It is to the thorough analysis of these texts, and of the people behind them, that my current project is devoted.
Gideon Bohak
Department of Jewish Philosophy and Program in Religious Studies, Tel Aviv University
---
'FRAGMENTS' NUMBER 50
The October 2005 issue of Genizah Fragments will include an extended section featuring articles to mark the fiftieth issue of this newsletter, tracing through its columns the development of Genizah research at Cambridge University Library over the past twenty-five years
---
A number of prominent visitors have recently been shown some of the Genizah Collection's most outstanding items.
They included Professor Sir Peter Crane, Director of the Royal Botanical Gardens, Kew; Dr Ori Fragman-Sapir, Head Scientist at the Jerusalem Botanic Gardens; Peter Mimpriss, Charities Advisor to the Prince of Wales; and Professor Klaus Koch, Professor Emeritus at Hamburg University.
Cambridge University's new Jewish chaplain, Rabbi Ori Fish, and his wife Yona, also visited, as did twelfth-grade students from Immanuel College, Bushey, Hertfordshire.
---