---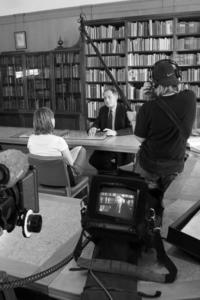 German film
A team from Group 5 Film Production, preparing a programme on the history of the Jewish people for one of the major German television channels, visited Cambridge University Library and interviewed Research Associate Dr Fred Niessen about the Genizah's importance for medieval Jewish history and culture. The documentary is scheduled for broadcasting over the next two years.
---
Major plans in motion
From the Editor's desk
The academical year now commencing will see some interesting developments in the Unit's plans and projects.
For over twenty years, under an agreement between Cambridge University Library and Cambridge University Press, the descriptive catalogues of Genizah material at the Library have been published by the Press in its "Genizah Series".
The final volume - on the Arabic and Judaeo-Arabic manuscripts in the New Series, compiled by Avihai Shivtiel and Friedrich Niessen - is scheduled to appear within a few months.
This will bring to seventeen the total number of volumes in the series.
Cambridge University Press is now moving away from the production of such highly specialized catalogues, with small print-runs and a limited readership. A decision has therefore been reached by both the Press and the Library for future volumes in the series to be undertaken by a company more geared to this kind of publication.
From next year, the "Genizah Series" will be produced by Archaeopress in Oxford, a publishing house which is headed by Dr David Davison and already responsible for the appearance of the British Archaeological Reports.
As a first venture involving the Research Unit, the plan is to reprint those items in the "Genizah Series" that have been unavailable for some years but for which requests are still being received.
Also towards the end of the current academical year, the Friedberg Research Project's first set of goals will have been achieved, and proposals for the next stage of its generous and well-organized involvement in Genizah research around the world are well advanced.
Scholars of these remarkable medieval documents are looking forward to seeing the plans and to participating in the new arrangements.
Things will also be changing on a personal level. As I move forward in my sixties, I am planning to spend more time on my own research, publication and lecturing, and shall not myself oversee the completion of these exciting new projects.
I hope, however, to see responsibility for the Unit pass into the hands of a younger generation and have every confidence that, with some guidance and assistance, they will not only successfully deal with these fresh challenges but will also maintain, and even surpass, the achievements recorded until now.
Stefan C. Reif
Director, Taylor-Schechter Genizah Research Unit
---
Growth in American aid to Unit
Following a spring exhibition of Maimonides autographs at Christie's auction house in New York, a similar event took place in Chicago, hosted by Margot and Tom Pritzker.
At the Field Museum in the "windy city", Professor Stefan Reif outlined the Genizah's background and importance, and introduced a select audience to the autographs. A "question-and-answer" session at the subsequent dinner party was devoted to the historical and cultural significance of the Genizah documents.
As a consequence of these gatherings, interest in the Cambridge Genizah and its needs has been considerably enhanced, resulting in additional support for its various projects. Over the past few months, almost $40,000 has been sent to the Research Unit by supporters of Cambridge in America, whose staff were prominent in arranging these events.
The Unit warmly welcomes among its new supporters Dr Henry Kressel ($10,000) and Richard Elden ($5,000), and is most grateful for the generous contributions of Mrs Victoria Elenowitz ($2,000), Roger and Julie Baskes ($1,000), Mrs Emilia Cohenca ($1,000), Donald Lubin ($1,000), Daniel Edelman ($500), Professor Joel Kraemer ($360), Professor Ben Friedman ($250), and James Cook ($250).
Genizah research at Cambridge has also been kindly assisted by Mrs Hélène Alexander and members of her immediate family with a gift of £4,000 towards the cost of the Mosseri Project; and by the Samuel Sebba Charitable Trust with a grant of £2,500.
Other helpful contributions have come from the H. Joels Charitable Trust (£500), Mrs Gina Samuels (£500), the Cyril and Betty Stein Charitable Trust (£500), the Goldberg Family Charitable Trust (£400), the Ruth and Jack Lunzer Charitable Trust (£250), the Sternberg Charitable Foundation (£250), and Mrs Miriam Shenkin (£200).
It is also encouraging to have the support of the Harbour Charitable Trust (£150), Alec and Anne Nacamuli (£100 for the Mosseri Project), Elliot Philipp (£150), the Rubin Foundation Charitable Trust (£150), the Rofeh Trust (£100), and the Sterling Charitable Trust (£100).
The birthday of Mrs Ruth Isaacs - whose late husband, Dr Haskell Isaacs, published important research during his years in the Unit - was celebrated by her family and friends with a gift of £475.
All these contributions, and many others, are much appreciated.
---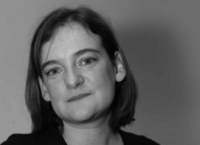 Genizah fragments at fifty: three-page special feature
Through the columns of this newsletter, Research Associate Rebecca Jefferson traces the development of Genizah scholarship at Cambridge University Library over the past quarter-century
Genizah Fragments is one of those rare publications that fulfils both parts of Benjamin Franklin's time-honoured recommendation to "write something worth reading or do something worth writing." Indeed, it is a testament to its success that only one person seems antipathetic to its biannual appearance. That nebach, Sarah Sykes, has the unenviable task of stamping, stuffing and sealing over two thousand envelopes with copies of the newsletter to send to as many names on the mailing list.
Yet the scale of the task is itself striking. For what other newsletter can claim, as Genizah Fragments can, to travel to such disparate places as Melbourne and Moscow, Tel Aviv and Toronto, and to land on the doormats of royalty, statesmen, academics and interested members of the public alike? How many university journals have reached their fiftieth number while continuing to broaden their appeal to both specialist and layman?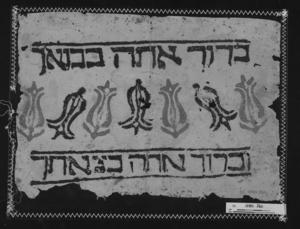 A fourteenth-century block-print (Or.1080 J50) discovered in the Genizah Collection by Dr Paul Fenton and believed to have been created 100 years before the generally accepted date for the rise of Hebrew printing in Europe (GF 5:1)
Popular account
Launched in the same month of 1981 as the first space shuttle, GF promised to be a far-reaching publication, offering a "popular account" of the Taylor-Schechter Genizah Research Unit's activities, to be "circulated free and freely to all who may be interested".
The Unit's director, Stefan Reif, intuitively understood that in order to raise the funds needed for vital research on the collection, more people had to be made aware of its appeal and significance. To this end, he enlisted the ongoing help of Jewish Chronicle features and arts editor Meir Persoff, who matched Reif's talent for editing and public relations with a flair for presentation and design - and who had, that same year, launched the JC's first-ever dedicated "Judaism" section.
For the newsletter's layout, Reif and Persoff decided against the usual three-column arrangement in favour of four columns. In terms of planning, this layout is complicated and takes longer to produce, but the result is a newsletter that looks more like a newspaper: each page is provided with a unique appearance, lending an impression of activity without clutter, of substance without stuffiness.
Consequently, throughout its twenty-five years, GF has never suffered from dull symmetry, managing, at one and the same time, to uphold the three "Cs" of good newsletter writing: consistency, conservation and contrast.
Readers who have grown comfortable with its look and content will not have been discomforted by its steady evolution. Indeed, only when comparing early issues with the latest editions can one discern significant improvements to the design, and pronounced shifts in the focus of its interests.
Design modifications over this period include the use of more white space around the masthead and body of the newsletter; subtle increases to line spacing; a shift to bolder type; the use of catchy headlines like "Development of historic proportions" (36:3); and the application of coloured banners and boxes to highlight the editorial, contents panel, sidebars, pull-quotes, and other items requiring special emphasis.
In addition, the quality of computer imaging has noticeably improved, enabling readers to see, for example, how Unit researchers were able to reconstruct a complete page in Maimonides' handwriting out of two fragments from separate libraries (48:1). The overall result is greater readability and increased marketing potential.
With a plethora of material, the editorial team has deployed great skill in matching content to design; in this way, no two issues are alike. But a breakdown of the pages reveals some basic themes. These can be roughly categorized as general news and comment, publicity items, funding achievements, book reviews, scholarly articles and discoveries, obituaries, and editorials.
As one might expect from a publication whose main purpose is to garner public support, most editions contain articles of general interest. Often penned by Genizah specialists, these commentaries evince a fine spirit of romance; indeed, the newsletter itself seems to engender this response.
As early as the second issue, the Executive Director of the Office of the Chief Rabbi observes that "The whole of the Genizah Project is precisely the stuff to stir the imagination" (Moshe Davis, 2:3). In later issues, Genizah enthusiasts "vividly remember the clouds of dust" and scholars who "hurried from fragment to fragment like bees moving from flower to flower" (E. I. J. Rosenthal, 4:3).
On first encountering the Genizah, they experience an "excitement equal to Solomon Schechter's" (Naomi Greenwood, 5:2), and discover manuscripts that "sparked... a wish to be...a cautious and knowledgeable interpreter of them" (J. S. Schechter with E. J. Lippitz, 26:2).
Genizah scholars describe the enjoyment of "sifting through treasures" (Maaravi Perez, 14:2), and the "thrill" of identification (Leigh Chipman, 48:3), while others muse on a reading room that is "close to a scholarly paradise," and folders that "duly appeared, with marvellous surprises" (Joel Kraemer, 47:i).
Genizah Fragments has frequently recorded the happy moments when the results of the Unit's research reach publication. It has reported on joyful events held to mark distinguished scholars' birthdays (see the GF cake in 27:1!), and celebrated notable milestones such as the Genizah centenary, an historic chair in Medieval Hebrew Studies for the Unit's director, and the Unit's thirty years of academic and conservation achievement.
It has also been a vehicle for publishing notices of the deaths of major Genizah supporters and scholars, and to eulogize their work. And, in addition to items of a broader nature, GF provides news of visits from the good and the great which generates further publicity and interest.
Important tool
The newsletter has proved an important tool for acknowledging and crediting the generous help the Unit receives from individuals, trusts, personal foundations and public bodies, which, in turn, provides a welcome boost to further funding. It also serves as a record of broadening interest in Genizah research - noting, for example, shifts in support from Britain to the United States.
Genizah Fragments monitors the progress of research methodology and, in particular, the rise in computer technology as a research tool. The very first issue describes how the computer is being used to edit catalogues, and hails it as "a great time-saver" (1:4).
In 1984, it reports that the Unit has gained a "new element of mechanization" with the arrival of its own computer terminal and VDU. The Unit's computer (note: singular!), it suggests, will assist the compilation of cataloguing records, enabling "the researcher to gain swift access to his specific subject of interest" (8:3).
Four years on, as commercial e-mail through the internet is first sanctioned, GF announces that the Unit is making use of recent advances in electronic mail, allowing "an international exchange of messages" in which scholars can gain "speedy responses" to their queries (16:2).
By 1995, closely following the launch of Microsoft Internet Explorer, it declares that the Unit "may become [the] envy of the world" with its plans to mount material on the internet (30:1). And just one issue later, Cambridge University Library launches GOLD (the Genizah OnLine Database), giving people across the globe access to its priceless manuscripts (31:1).
Over the years, news reports and features have imparted fascinating information on manuscript preservation. Special conservation techniques are described in the first issue, including the use of a relatively new material called Myler or Melinex (1:3).
Issue nine relates in greater detail how this "space-age technology" is adapted for use in the Library, leading to the successful preservation of all 140,000 Genizah fragments (9:2). And some seven years later, the editor reports on how the Unit has counselled the Dead Sea Scrolls Advisory Committee on methods of document preservation (22:3), and how the newsletter itself helps to inform the Freer Gallery of Art in Washington on conserving its Genizah collection (23:1).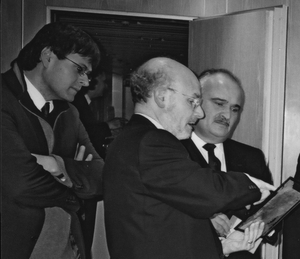 Prince El-Hassan bin Talal (right), of Jordan, and Professor Stefan Reif discuss a Genizah document at Cambridge University Library as Dr Edward Kessler looks on (GF 41:1)
Lively debates
Every issue of GF contains a summary of scholarly research, bringing the latest ideas and interpretations to the attention of an ever-widening readership. A truly international collaboration, contributors to the newsletter have come from a score of academic institutions around the world.
Their specialist fields range from Bible, Talmud, Jewish history, Hebrew literature, Arabic language and literature, to materia medica, magic, palaeography and commerce. The Jewish National and University Library's Index of Articles on Jewish Studies (RAMBI) provides references to twenty-nine of these.
Genizah Fragments thus provides a serious vehicle for scholarly interaction and debate. Nor does it shy away from controversy.
Take, for example, Paul Fenton's dating of a block-print (5:1-2), and its refutation by Shelomo Dov Goitein (6:4); or Avihai Shivtiel's discovery of a Maimonides autograph fragment (44:1), subsequently disputed by Joel Kraemer (45:1-2).
It has also fostered the talents of young scholars in the field. Cambridge graduates Meira Polliack and Judith Olszowy-Schlanger, among others, are able to use GF to introduce their work, while the newsletter itself is employed to advertise for new recruits (46:1).
Contributions by regular staff and visiting researchers, together with reports on their activities, have consistently charted the Unit's development. In the opening issue, Reif details nine distinct research projects he proposes to publish as part of a "Genizah Series" (1:4).
But by the very next issue, the Unit has broadened its plans by adding medical fragments to its list of interests, following the appointment of Penelope Johnstone to survey the collection. This work yields exciting finds, such as copies of medical text-books used in the Middle Ages (3:2). A year later - with the appointment of Haskell Isaacs - a full-scale cataloguing project is launched (5:2).
A Semitics scholar, Geoffrey Khan, is appointed in 1983 (6:4), and the Unit's attention turns to the 7,000 or so items in Arabic script, including previously unseen Fatimid chancery documents (10:2 and 11:2).
In 1989, Khan adds Karaite Bible manuscripts to the Unit's list of research projects (17:2), as well as a corpus of Arabic legal documents (19:4). More Arabic scholars join over the next two years, and work begins on a project to catalogue the Arabic and Judaeo-Arabic fragments in the collection's Old Series (22:2-3).
By 1995, ideas about expanding access to the collection begin to germinate as the Unit makes use of the advances in computer technology. Douglas de Lacey is sponsored for a pilot preservation project and to explore the creation of "an unprecedented electronic archive" (30:1).
Ellis Weinberger joins in 1996 to prepare a handlist of liturgical fragments (32:1). He subsequently develops an interest in the Unit's computing needs and is soon reporting on digitization projects (36:3).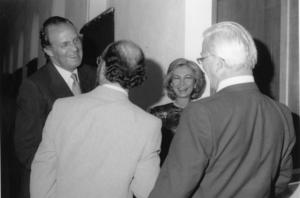 King Juan Carlos and Queen Sofia of Spain during a 1988 visit to the University Library during which they viewed priceless treasures - including an autograph letter of Cordova-born Moses Maimonides - from the Taylor-Schechter Genizah Collection (GF 16:1)
Global ventures
In 1999, the recently formed Friedberg Genizah Project is announced, marking another development in the Unit's research objectives (38:1-2). Henceforth it will continue its separate interests under the auspices of a global plan involving all the Genizah collections.
From this point on, Genizah Fragments carries regular reports on the Unit's joint ventures with Princeton University and Ben-Gurion University (38:2), the University of Pennsylvania (43:1-2), and the Institute of Microfilmed Hebrew Manuscripts in Jerusalem (44:2). Latterly, it has noted that a handlist of Hebrew letters is being prepared by Hebrew scholar Ben Outhwaite (48:1).
In the last issues of Genizah Fragments, the Unit has come full circle, with renewed attention to the medical fragments by visiting scholar Efraim Lev, who specializes in materia medica (47:2), and Leigh Chipman, who is hired to assist him reconstruct the medical library of the medieval Mediterranean society (49:1).
Reports reveal how particular research interests have supplanted old projects - the edition of philological manuscripts was never brought to fruition - and how some are eventually modified. Introduction to the Cambridge Genizah Collections is published by Curzon Press as A Jewish Archive from Old Cairo, and a volume of collected essays on Genizah research, The Cambridge Genizah Collections and Their Significance, takes its place in the "Genizah Series".
One constant feature throughout the fifty issues of this newsletter is its leader column. Each item "From the Editor's Desk" is distinct, but, in terms of general content and character, they can be roughly divided into six broad themes: promotion (1981-86), fundraising (1986-90), scholarship (1991-93), significance (1994- 98), expansion (1999-2003), and reflection (2003-05).
In the early issues dealing with publicity and promotion (1-11), an optimistic tone is set by the young editor, dictaphone in hand, imagining the endless possibilities for Genizah research "if only financial assistance were forthcoming" (1:1).
Just four editions later, he is able to report that "The Unit's success in attracting such popular support is perhaps one of its most significant achievements" (5:1). In fact, so successful is this publicity drive that "Genizah tourists" are beginning to turn up unannounced. Reif is forced to concede that "The Unit has apparently become a victim of the success of its campaign to publicize the importance of the Genizah fragments" (8:1).
By the eleventh issue, a number of the Unit's projects are close to completion, enabling the editor's attention to switch more closely to questions of funding for the future.
Between editions twelve and twenty, the leader column displays a more confident tone. With clear purpose of mind, Reif urges joint academic ventures (12:1) and co-operation between industry and education (13:1), and writes on the benefits of fund-raising functions (15:1).
Two issues on, he does not hesitate to use the newsletter to ask for financial help to produce the Davis Bible catalogues (17:1); and a year later, he boldly asks his readers: "If you feel that the work of the Genizah Unit is worthwhile, are you playing an active part in ensuring that its success will continue?" (19:1).
The twentieth editorial marks a further shift in focus. Assessing the changing face of academic life, the director pronounces on the necessity of combining research and teaching with administration and public relations, and the next six editions deal with questions of scholarship.
The commentary is assured, and almost polemical. With over twenty years of academic experience behind him, Reif stresses the importance of presenting to the public the fruits of scholarship (22:1), highlights the dangers of succumbing to research fashions (23:1), and deals with difficult questions of intellectual property rights (25:3).
Thereafter, there is a return to optimism, as he reports on the success of the Unit in inspiring new discoveries, and leading other institutions to care for their collections in similar ways. A buoyant tone prevails over the next nine issues (27-35) as attention turns from battling bureaucrats, technocrats and antediluvian academics to preparations for the centenary celebrations of Solomon Schechter's great discovery.
Reif uses these events as a platform from which to promote the Unit's work, concluding that "Hebrew manuscript research is currently receiving the wide attention that it undoubtedly deserves" (33:3). After a year in Jerusalem, he reports that "the Unit's work over the past quarter-century has made a major impact on those with a will to understand its central significance for Hebrew and Jewish studies" (34:3).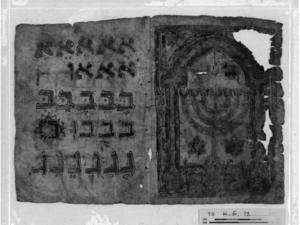 T-S K5.13, a 10th-century children's alphabet primer (GF 15.3)
Exciting times
The discernible excitement of this period reaches its apogee in the Genizah centenary exhibition in Jerusalem. Exuberantly, the editor writes that "at the growing and widening rate of interest currently being shown, sound but readable books and articles on the Genizah manuscripts will be among the most popular in the field" (35:3).
Subsequently (38-45), the emphasis shifts to matters of international collaboration. On receiving microfilms of Goitein's archive, Reif notes that "it undoubtedly speeds up and simplifies the scholarly process if the hand of co-operation can regularly be extended" (40:3).
New library facilities with "various philanthropic opportunities" are announced (42:1); joint ventures in which "the theme continues to be research co-operation on the widest possible scale" are described (43:3); and the inclusion of the Unit's website on the British Academy portal is acclaimed (44:3).
By the end of a period of considerable progress, Reif observes that the expansion of Genizah studies has been such that what was once "an exclusive domain... has undoubtedly been altered beyond recognition by the developments of recent years" (45:3).
An element of introspection pervades the last four leader columns (46-49). One senses that a momentous period is drawing to a close, as the achievements of thirty years are celebrated and assessed, and the future considered.
Reflecting on the past three decades, Reif hopes that "it will not require anything like another thirty years to see the last of the fragments satisfactorily described" (46:1-3). He later pays tribute to past and present researchers with the wish that "funding and facilities will continue to be available to make possible the successful completion of all the important projects to which they have so keenly devoted themselves" (47:1).
The following editorial recommends "thoughtful plans about how best to continue the work in the coming generation" (48:2). And finally, the seasoned professor - with "no time for reflection between issues" - ushers in a new era, perhaps, with a hint concerning the future of the Mosseri Genizah Collection (49:3).
The success of Genizah Fragments is due in great measure to the spirit of co-operation among interested scholars. No examples of refusals are to be found in the private letters of the newsletter archives, and every contributor has expressed satisfaction with the editorial decisions taken.
Reader reaction is equally enthusiastic. Immediately following the first issue, the editor receives letters of praise from institutions in the United States, Britain, France, Germany, and Israel (2:4). In 1990, Philip Howard, Literary Editor of The Times, on receiving copies of GF, writes: "Very many thanks for sending me the fascinating information about your research. It is something that The Times ought to keep an eye on." The newsletter has also received commendation from within the University. The Library Syndicate, in its 1995 report, notes that "the newsletter Genizah Fragments, which has a large international following of both scholars and lay people, appeared with customary promptness and contained important articles".
In 1997, the press awards of the Board of Deputies of British Jews observe that "This oddity among community newsletters belies its high quality and professional touch... A unique publication on a unique, even obscure, subject, a 'must' for all self-respecting Genizah aficionados!" (34:1).
Further afield, the newsletter continues to make a corresponding impact. The bibliography on the Global Project on the History of Leprosy database (http://www.leprosyhistory.org/english/bibsd_ik.htm) lists an article by H. D. Isaacs noting a medical certificate for a Jewish leper.
Genizah Fragments is also listed, between journals on Genitourinary Medicine and Genome Research, on a database (http://www.rlg.org/en/page.php?Page_ID=194#G) describing itself as "the definitive international bibliography for the history of science, technology, and medicine".
Growing success
But perhaps the greatest testimony to this newsletter's popularity and success is its readership figures. By 1985, circulation has reached 985, with "562 copies being sent to the UK, 275 to the USA, 96 to Israel, and 52 to other places abroad," and with a "print run in the region of 1,500" (10:3).
Four years later, the mailing list contains over 1,200 names, leading the editor to ask readers to contribute to its continuity by making "a small, regular gift" (18:4). Today, circulation exceeds 2,000, while others access GF online. In May of this year, the newsletter receives 11,487 "hits".
Twenty-five years on from its launch, Genizah Fragments, unlike the troubled shuttle programme, has much mileage left. As readership continues to flourish, so, too, does the quality and quantity of material for inclusion. Where just one container suffices to store the archives of the first eight issues, the material for the next edition barely fits into a single box.
It is with great confidence, therefore, that the Unit looks forward to producing the next fifty issues of Genizah Fragments. Poor Mrs Sykes!
---
Mila Ginsburskaya at work in the Genizah Research Unit
Genizah journey of discovery
When I first arrived at the Genizah Unit a year ago, for an introductory session with Research Associate Rebecca Jefferson, I had never held a medieval Hebrew manuscript in my hands.
In October 2004, when she took maternity leave, I continued her project of preparing a bibliography of published items from the Cambridge Genizah collections.
Having gained several months' experience and confidence in the work I am doing, I can now confess to an initial feeling of apprehension. Although I know modern Hebrew and some biblical Hebrew, and have a modest acquaintance with rabbinical writings, I had never before dealt with medieval Hebrew, to say nothing of Judaeo-Arabic.
The lines jumped before my eyes, the scholarly descriptions often seemed confusing, and for a while I did not even attempt to read the manuscripts, confining myself to the task of identifying single words or phrases.
Researchers Ben Outhwaite and Fred Niessen faithfully and kindly helped me through the trial. At first, I felt embarrassed to ask for guidance, fearing to reveal my ignorance, but being encouraged by their readiness to help, I dared to ask questions, and the mist (or mystery?) began to dispel.
It is a rare pleasure to work in a team with scholars who feel enthusiastic about what they are doing. Research is, to a large degree, a lonely job, and I treasure the precious moments of common search for clues that allow us to reconstruct the mosaics of the past.
Among the diversity of Genizah material, it is the personal letters that I find most fascinating. In our age of swift communication, it is difficult to imagine the nature of correspondence in the Middle Ages.
Writing a letter was an important event, and people undertook it with a sense of responsibility. Although materials were expensive, so that the same piece of paper, parchment or vellum was often reused, it is not uncommon to find drafts of letters, especially of philosophical or religious content.
Business letters are also fascinating. How could one entrust the management of a fortune to wandering merchants and pilgrims, who could be robbed, drowned or lost on their journeys? When I contemplate that, I think that the mentality or mindset of such people must have been different from ours. They paused during the daily rush to compose a message, and they were - indeed, must have been - more trusting, more rooted in their faith in God and destiny, and also in other human beings.
Thus I return to the theme of trust. The Genizah experience will always remain, for me, a landmark in a journey of discovery of worlds past and present, within and without, in which trust and faith are the binding elements.
Mila Ginsburskaya
T-S Genizah Research Unit
---
Establishing reliability of texts
Three recently published books, presenting critical editions of two Jewish works, demonstrate the significance of ninth- and tenth-century Genizah manuscripts in establishing reliable texts of post-biblical and geonic literature.
Two of the titles deal with the same work, the so-called Aramaic Levi Document. They are An Aramaic Wisdom Text from Qumran: A New Interpretation of the Levi Document (Brill, Leiden, 2004), by Henryk Drawnel; and The Aramaic Levi Document: Edition, Translation, Commentary (Brill, Leiden, 2004), by Jonas C. Greenfield, Michael E. Stone and Esther Eshel.
The Aramaic Levi Document is an apocryphal work of the Second Temple period, existing only in fragmentary form in a scattering of manuscripts. Purporting to recount the life and times of the biblical Levi, son of Jacob, it is a piece of wisdom literature presenting the image of a model ruler and priest.
The Greek Testament of Levi - part of the Testament of the Twelve Patriarchs - is an evolution of the earlier work, but, as Drawnel stresses, the product of a very different time and background, and should not be used to understand the thought and purpose behind Aramaic Levi.
Like the Damascus Document, Aramaic Levi - published by Arendzen and Pass in the Jewish Quarterly Review in 1900 - first came to light in the Genizah, before subsequently being identified, by J. Milik in 1955, among the Dead Sea Scrolls at Qumran.
As with the Damascus Document, the existence of Aramaic Levi in the Genizah may indicate that medieval Jews made their own discoveries at the Dead Sea, a thousand years before the Qumran finds, or that such works continued to exist among sects who followed traditions recorded at Qumran.
The Genizah fragments of this work, described in detail on pages 29-30 and 38-43 of Drawnel's work, and on pages 1-4, 56-59, 70-88 and 94-105 of Greenfield, Stone and Eshel's book, derive from the same - probably late ninth-century - codex, but are now to be found split between the Taylor-Schechter Collection (T-S 16.94) and the Bodleian Library in Oxford.
Using these manuscripts, as well as the Qumran fragments and additional Greek and Syriac material, both works present as complete an edition of the text as is currently possible.
Michael Stone and the late Jonas Greenfield have long been associated with Aramaic Levi, having produced the definitive edition of the Qumran fragments for the "Discoveries in the Judaean Desert" series (Clarendon Press, Oxford, 1996).
Their new book aims not merely to reproduce their work on the Levi text of the Dead Sea Scrolls, but "to present [the Aramaic Levi Document] as a single literary work with a translation and commentary" in its entirety.
Drawnel reveals similar intentions, and his lengthy interpretative commentary appears satisfyingly comprehensive. According to him (page 4), previous scholarship on Aramaic Levi has been "casual and fragmentary". This is an accusation that certainly cannot be levelled at either of these works.
The third book, A. Peter Hayman's Sefer Yesira (Mohr Siebeck, Tübingen, 2004), takes as its subject a more esoteric Jewish work and attempts to bring order out of the "textual chaos of the manuscript tradition".
"The Book of Creation" first appears in the early tenth century (although it may be much older) and was the subject of a commentary by Sa`adya Gaon, among others. Sa`adya points out that the text suffers from spurious additions, and today three recensions are recognized - the long, the short, and the Sa`adyan.
One of the best witnesses to the Sa`adyan text is a scroll from the Taylor-Schechter Collection, made up of T-S K21.56, T-S 32.5 and T-S 12.813 and probably dating to the tenth century.
Based on this, and some twenty other manuscripts, Hayman gives critical versions of the three recensions, with a textual commentary. In addition, through a comparison of all the recensions, he attempts to present "the earliest recoverable text" of the work.
The three books under review indicate the importance of some of the Genizah's earliest manuscripts for the recovery of reliable texts of works either lost or virtually unknown, or well-established works that have been subject to scribal interference over the centuries.
Ben Outhwaite
Research Associate, T-S Genizah Research Unit
---
Nancy and Albert (Dov) Friedberg at the Maimonides exhibition in New York, where visitors were told of the close co-operation between the Friedberg Genizah Project and the T-S Research Unit at Cambridge University Library
Friedberg sets new goals
Albert (Dov) Friedberg, who founded and funds the Friedberg Genizah Project, was the host at a reception and private exhibition of Maimonides autographs held at Christie's auction house in New York in April. The events were organised jointly by Cambridge in America, Cambridge University Library's Genizah Research Unit, and Christie's.
Introducing the main speaker - the Unit's director, Professor Stefan Reif - Mr Friedberg referred to the "remarkable nature" of the Genizah texts and of the work being done on them. He told the guests that they had a "unique opportunity of viewing a number of documents written over eight hundred years ago, in the hand of one of the greatest Jewish scholars of all time - Moses Maimonides." The manuscripts, he said, had been discovered in the Ben Ezra synagogue at Fustat, Egypt, and were "part of what the world commonly calls the Cairo Genizah. They are made available through the good offices of the University of Cambridge, the world's largest repository of Cairo Genizah material."
Precious material
Explaining how he and his wife, Nancy, came to be at the event, Mr Friedberg said that some eight years ago, while attending an Association for Jewish Studies conference, he had heard Professor Neil Danzig, an expert in Geonic literature, lament that "although over a century has elapsed since the discovery of this material, little has been done to bring to light all its hidden treasures." The trove of material was at the time uncatalogued, and only a few experts - among them Professor Reif, "the curator of this marvellous collection at Cambridge" - had any idea of what it contained.
"Scholarly articles had been written over the years, scattered through a multitude of extant and no longer extant journals, and written in many different languages. Yet much precious material remained abandoned in the boxes and basements of museums and libraries.
"To give you an idea of the immensity of the find, consider that there are some 210,000 Genizah items, representing over 700,000 folios, spread around the world, 140,000 of them in Cambridge, 17,000 in the Jewish Theological Seminary in New York, and the rest in various other institutions, in such places as Paris, Oxford, Budapest, London, Manchester, St Petersburg, Jerusalem, and Philadelphia." The subjects covered included the Hebrew Bible and its commentaries, the Talmud and its commentaries, midrash, halakhah, aggadah, prayer, liturgical poetry, responsa, philosophy, theology, grammar, contracts - commercial and ketubbot - letters, medicine, astronomy, kabbalah, and magic.
These works, said Mr Friedberg, were written primarily in Judaeo-Arabic, the language used by Maimonides to compose all his major works except the Mishneh Torah. Much of the rabbinic material was found in the language in which it was originally written - Hebrew or Aramaic - as well as in Arabic, Judaeo-Spanish and Yiddish.
"Having heard of the sorry state of affairs in which this invaluable cultural treasure was found, we decided to bring together a group of leading scholars in the field to co-ordinate work on the Genizah.
"The mandate was to catalogue the entire corpus; to provide scholars with the resources and tools to continue research; and eventually to make available to the world at large all the documents, either in hard copy or in electronic form. Professor Reif was, and still is, in the original group. That is how the Friedberg Genizah Project was born." Mr Friedberg noted that the project was being administered by his friend, Rabbi Reuven Rubelow, who had done "a truly extraordinary job of co-ordinating the efforts of fifteen teams of scholars around the world.
"In this connection, we have had the pleasure of working closely with the Genizah Research Unit at Cambridge. We are delighted to see the excellent progress achieved there, not only in making descriptions of the manuscripts widely available - a crucial aspect of the overall project - but also in disseminating information about their contents. Needless to say, their efforts deserve major support.
"Six years on, I am pleased to report that some two-thirds of the material has now been catalogued, and that enormously complex and versatile software has been created to help scholars interface with each other and compose catalogue entries. In addition, a number of important works have begun to be published.
Important revival
"Of particular interest to me are studies on previously unknown halakhic midrashim, and a fascinating edition and translation of a draft commentary by Maimonides on Mishnah Shabbat, where one can follow the train of thought - the work in progress, so to speak - of this great jurist.
"This is only a sample of what is to come, now that we have been successful in identifying an increasing number of fragments and more complete manuscripts." Mr Friedberg announced the imminent release of the first volume of an annual publication devoted to Genizah research, appropriately entitled Ginzei Qedem - a nostalgic throwback to the series edited, in the early 1900s, by the eminent scholar B.M. Lewin.
"Perhaps even more importantly," he added, "we have been able to encourage an important revival in the field of Genizah studies. Many young scholars are entering the field, armed with the necessary inter-disciplinary tools to decipher and publicize their findings."
Mr Friedberg expressed confidence that rabbinic studies would be revolutionized in the decades ahead, as new and more faithful texts came to light. "The same will be true for every aspect of Jewish culture and history, and its close relationship with the Muslim world."
---
How you can help
If you would like to receive Genizah Fragments regularly, to enquire about the Taylor-Schechter Genizah Collection, or to know how you may assist with its preservation and study, please write to: Professor S. C. Reif, Director of the Taylor-Schechter Genizah Research Unit, at Cambridge University Library, West Road, Cambridge, CB3 9DR, England.
The Library may also be reached by fax (01223) 333160, or by telephone (01223) 333000. The Internet access is at http://www.lib.cam.ac.uk/Taylor- Schechter. Enquiries by e-mail should be addressed to genizah@lib.cam.ac.uk.
All contributions to the Unit, whether for research or other activities, are made to the ''University of Cambridge'', which enjoys charitable status for tax and similar purposes.
In the USA, ''Cambridge in America'' supports the Taylor-Schechter Collection with its unfunded grant number 7/78. Please contact the Director of the Annual Appeal at: 100 Avenue of the Americas, New York, NY 10013-0271 (tel: 212-984-0960).
''Cambridge in America'' is recognized by the IRS as a charitable organization, and contributions for the benefit of the Genizah Research Unit are legally deductible for USA income tax purposes. Contributions are similarly deductible in Canada even if made directly to the Development Office at the University of Cambridge.
---
An important contribution towards the cost of producing this fiftieth issue of Genizah Fragments has been made by the Lauffer Family Charitable Trust. In the tradition of the late David Lauffer, the family has taken a close interest in Genizah research and has generously offered its support for disseminating information about its importance and progress.
---