---
T-S Research Unit Head Ben Outhwaite formulates his plans
Research Unit's new head
Dr Ben Outhwaite, who has succeeded Professor Stefan Reif as Head of the Taylor-Schechter Genizah Research Unit, traces his journey from classical Chinese to medieval Hebrew as he takes on the task of guiding one of the world's great collections of Jewish manuscripts to new heights
Little did I imagine, when I came up to Cambridge in the early 1990s — intent on learning Chinese (having fallen in love with Cao Xueqin's masterpiece, The Story of the Stone), and with vague thoughts of a career in the diplomatic service — that, fifteen years later, I would be appointed head of a research unit dedicated to one of the world's great collections of Jewish manuscripts.
But it's funny how things work out. A sojourn in Israel, marriage to a sabra, and an interest in the classical Chinese novel developed into a fascination with medieval Hebrew language.
Taking time off from my Chinese studies, I spent a year on Kibbutz Nachshonim, where I met my future wife, Smadar. Having picked up a fair amount of Hebrew — admittedly, mostly the earthy idiom of the refet (cowshed) — I decided on my return to Britain to change direction and take a degree in Hebrew studies.
This brought me into contact with two great teachers at Cambridge — Dr Risa Domb, who nurtured my appreciation of Hebrew literature, and Dr Geoffrey Khan, a former researcher at the Genizah Unit and now Professor of Semitic Philology, who introduced me to the wonders of philology and, crucially, to Genizah manuscripts.
It was he who recommended I examine the language of the Hebrew letters in the Genizah for my PhD dissertation. And so, for several years, I immersed myself in these medieval documents and the lives of their writers — for the most part ordinary people who would have been utterly unknown to history but for the Genizah's fortunate preservation of their abundant correspondence.
My initial interest in the grammar of their language broadened into a greater appreciation of the manuscripts themselves, of the story they have to tell about the people around them and the — at times tumultuous — age they lived in.
My overriding interest in the manuscripts led me to apply to Professor Reif for a research post in the Unit. An opportunity was available and I have not looked back.
The past seven years have been spent working on several different research projects, as well as on other essential tasks — preparing exhibitions, hosting visitors, public education, and fund-raising.
When Stefan unexpectedly announced his retirement, I did not hesitate in applying for the post — not out of ambition, but out of a belief that the Unit and the Collection should be in the charge of someone with a genuine love for the manuscripts and an understanding of their significance.
The new position brings challenges, of course. It was not without trepidation that I stepped into Stefan's shoes, and, after just a few short months, my appreciation for the job he has done over three decades has risen ever higher.
I have the excellent support of a very professional team here in the Unit. My colleagues in the Library are always ready with advice and assistance, and they number among them Professor Reif, in his new post of part-time Project Consultant to the Library.
I plan, like Stefan, to continue my own programme of research (a book should be finished next year), and, already a regular visitor to Israel, I shall hope for more opportunities to return there.
The transition from Unit researcher to Head of the Unit has been a profound one, but, while the workload is tremendous, the ultimate satisfaction of working with such an important collection is greater.
---
The Unit's former director, Professor Stefan Reif, who retired in March, is to launch a regular column in the next issue of Genizah Fragments on the importance of Genizah texts for the history of Jewish liturgy. The column will tie in with his volume of collected articles on Jewish liturgy, Problems with Prayers, due for publication later this year by Walter de Gruyter (Berlin and New York).
---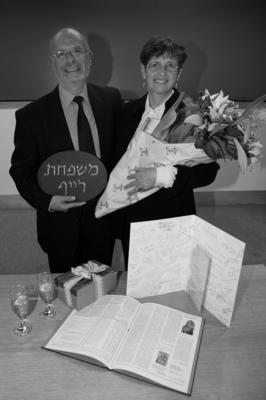 Stefan and Shulie Reif with some of their parting gifts
Farewell to the Reifs
After thirty-three challenging and productive years — creating and expanding the Taylor-Schechter Genizah Research Unit; collating and conserving hundreds of thousands of fragments; producing a Genizah Series of seventeen acclaimed catalogues; raising much-needed funds from institutions, individuals and academic bodies; and bringing the Cambridge Genizah Collection to world attention — Professor Stefan Reif confronted his colleagues (and the wider Genizah family) last summer with the unexpected news of his impending retirement.
His colleagues were perplexed. Reif leaving the Unit? But Reif is the Unit! How would it fare without his professional and organisational talents?
Such thoughts were soon dispelled, for Stefan spent the next eight months working hard to ensure the stability of the Unit he had so tirelessly created.
These steps included applications for major grants (the AHRC award was one happy outcome), arranging with the Library to assist as a part-time consultant, offering advice and guidance to his successor, and, by conducting "business as usual," imbuing his colleagues with the confidence and assurance necessary to build on his pioneering work.
Sadly, we were losing not just one good man. Shulie Reif planned to retire alongside her husband, following thirty years at the Unit as his helpmeet and fellow scholar.
We knew that, with her departure, we would be deprived of a talented editor and skilled researcher, a person of warmth and good-heartedness whose outstanding contribution to the family atmosphere of the Unit was truly unsurpassed.
At the same time, Dr Avihai Shivtiel decided to step down from his part-time position as Senior Research Associate, precipitating the loss of a researcher with expertise in Arabic, an encyclopaedic knowledge of Jewish sources, and, not least, an unlimited supply of jokes.
Avi's retirement was marked in March with a lunch at which he was presented with a framed facsimile of a cheque from the Cairo Genizah.
The University Library's retirement party for Stefan and Shulie, a few days later, heard Peter Fox, the University Librarian, pay tribute to them both for their matchless contribution to the Library.
Gifts from friends and colleagues included a slate address-plate for their new home, commissioned from the renowned Cardozo Kindersley workshop, with the Hebrew words mishpachat Reif — "Reif family" — engraved in gold, and a bound copy of a commemorative in-house edition of Genizah Fragments produced in Stefan's honour.
In his response, Reif mentioned the talmudic rabbis' reference, in discussing the destruction of the Temple, to the one offering that could never be dispensed with: the offering of thanksgiving. With that in mind, he proceeded to thank, on behalf of Shulie and himself, the many people with whom he had worked over the years.
His future, he affirmed, would be spent not in front of the television, but in his ongoing research and in continuing to help the Unit and the Library. Indeed, he promised to haunt the Library until no longer able to distinguish the Manuscript Reading Room from the Tea Room!
Rebecca Jefferson
Research Associate, Genizah Research Unit
---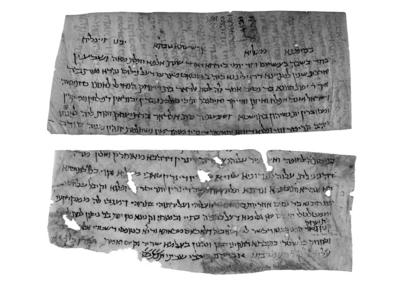 MS Halper 339 (Penn) and T-S 20.124 (Cambridge) — matching fragments of a 1063 Egyptian ketubbah (marriage certificate)
Matching pieces of a vast jigsaw
The Cairo Genizah is comparable to a vast jigsaw in which one finds pieces of the same codex, letter or other document scattered worldwide among the numerous collections. One of the most gratifying aspects of Genizah research is that of matching the pieces of this diaspora of fragments.
Typically, such matches are identified and registered in the printed literature — books, articles and catalogues. But gratifying though this may be, keeping track of the literature can be difficult.
Updating the information requires uncommon diligence, and those seeking additional matches and relations found after a catalogue's publication must suffer in silence to await a revised edition — costly to prepare and limited in distribution.
Researchers come to expect such legwork; many even enjoy the hunt. But it cannot be denied that the time and energy devoted to the pursuit of already known matches can be better dedicated to the actual study of fragments.
In a perfect world, such matches, and other bibliographic information, would be readily available. Now, the libraries of the Universities of Cambridge and Pennsylvania have developed a pilot project to help realise this.
Librarians at Penn and at Stanford University have devised a program facilitating the online search for matches. During the cataloguing of Penn's collection of Genizah fragments, Ezra Chwat — of the Institute of Microfilmed Hebrew Manuscripts in Jerusalem — carefully researched each of its 498 fragments and identified all currently known matches.
Seth Jerchower, at Penn, and Heidi Lerner, at Stanford, developed a cataloguing template that specifies a field into which information regarding matches and relations is entered. This is displayed in each bibliographic record, and users can perform keyword searches within the field.
The term "Cambridge" results in 27 Penn fragments that have matches with 58 of Cambridge's fragments; and a search for the term "Pennsylvania" reveals eight records for fragments crossmatching Penn's holdings.
As matches are discovered, the information is entered into the database and made available to anyone with internet access.
The library of the Jewish Theological Seminary of America recently joined the CUL-Penn Genizah initiative, contributing 17 images of its fragments that match Penn fragments. Because the cataloguing records are linked to the scanned images, users can discover matches through the records and also by comparing the images.
This successful pilot project, and its proof of concept, may be viewed online at the Penn/Cambridge Genizah Fragment Project site (http://sceti.library.upenn.edu/genizah/), hosted by SCETI — the Schoenberg Center for Electronic Text & Image site at the Penn Library.
Not only may one search for a fragment, view, zoom in on and rotate it online, but it is also now possible to compare it to its matches anywhere in the world.
Thanks to this technology, the Genizah can be reunited — and reconstructed — under a "virtual" roof and provide scholars and the general public with an access to its collections that was once the stuff of dreams and prophecy.
Seth Jerchower
Public Services Librarian, Center for Advanced Judaic Studies Library, University of Pennsylvania
---
Reif fund receives strong support
To commemorate Professor Stefan Reif's important contribution to Genizah studies, and to ensure the continuation of his work, the University of Cambridge established the Stefan Reif Genizah Fund earlier this year.
The Fund has already attracted enthusiastic supporters, including the Margot and Thomas Pritzker Family Foundation ($10,000); Mr David Cashdan (£1,000); the Phillips & Rubens Charitable Trust (£1,000); Mr Kenneth Bernard Alberman (£500); Sellwell Properties Ltd (£500); the Cyril & Betty Stein Charitable Trust (£500); the Manifold Trust (£300); Mr Alec Nacamuli (£256); the R. M. Burton 1998 Charitable Trust (£250); Mr Jonathan Djanogly (£250); the H. Joels Charitable Trust (£250); Mr R. Lipworth (£250); the Rofeh Trust (£250); the Fairfax Trust (£200); the N. & J. Greenwood Charitable Trust (£200); the Sloane Street Trust (£200); Dr Sebastian Brock (£192); Mr Stephen Massil (£192); Mrs L. Wiesenberg (£180); Sir Elihu Lauterpacht (£150); Mr Austin S. Burton (£128); Mr Raphael Cantor (£128); Mr Alan Kaye (£128); Mrs Judith A. Samuel (£128); Mrs J. Dent (£128); Professor George Brooke (£100); the Exilarch's Foundation (£100); the Sacerdoti Charitable Trust (£100); Mrs Miriam Shenkin (£100); and the Sternberg Centre for Judaism (£100).
Other smaller and anonymous gifts have also been received, bringing the current total of the Stefan Reif Genizah Fund to £16,000.
The Research Unit offers its sincere gratitude to present and potential contributors for their kind and generous support.
---
£50,000 from Friedberg
The Research Unit gratefully acknowledges the continued support of the Friedberg Genizah Project, which amounted to more than £50,000 this academic year.
Major funding over the same period was also received from the Arts and Humanities Research Council and, through the British Library's Endangered Archives Programme, the Lisbet Rausing Charitable Fund.
Other substantial assistance received in recent months includes £5,000 from the R. and S. Cohen Foundation; £1,000 from the Lauffer Family Charitable Trust; and £1,000 from the R. M. Burton 1998 Charitable Trust.
Genizah research at Cambridge has also been supported by the R. & M. Phillips Charitable Trust (£250); the Rubin Foundation Charitable Trust (£150); the Sterling Charitable Trust (£100); and Mr Charles Landau (£100).
Important donations were received from USA supporters through Cambridge in America, including Mr James R. Cook ($250); Mr Daniel S. Schechter ($250); Mr Thomas L. Drucker ($180); Ms Evelyn Berezin ($150); and Mr Milton B. Adesnik ($100).
We thank all our contributers for their ongoing support, which is much appreciated.
---
Future plans
In the very first issue of Genizah Fragments (April 1981), Stefan Reif confided to his readers that, on taking over responsibility for the Taylor-Schechter Genizah Collection, he was almost driven to resign by the immensity of the task.
Twenty-five years later, I am in an altogether happier position, thanks to the magnificent work done by Professor Reif, his team of researchers, and all the generous supporters of the Unit's work over the years. Nevertheless, the Collection is vast, and there is plenty that demands our attention.
The recently acquired Jacques Mosseri Collection must be conserved, digitised and described. Tens of thousands of fragments from the T-S Collection remain to be comprehensively catalogued. We intend to deliver the third volume of the Bibliography into the hands of our new publisher, Archaeopress, before the end of this year, and more volumes are planned.
While microfilm has proved an adequate medium in the past, digital imaging has opened up a wealth of possibilities for the archiving, sharing and display of manuscripts.
It is hoped soon, through the generosity of the Friedberg Genizah Project, to digitise the entire T-S Collection — a stunning achievement that, only a year ago, would have seemed too impractical even to be considered. It is also a good opportunity for us to examine the way we work and the service we provide to the academic community and the interested public alike.
The information we produce is of the utmost importance to users of the Collection, but are we disseminating it in the most effective way? Should we be paying more attention to developing our online catalogues? How can we best develop our website? Could the field benefit by greater collaboration with other Genizah collections?
I hope to be able to elaborate on our future plans in later issues of this newsletter and would welcome readers' comments.
Sadly, the Unit says goodbye to Dr Leigh Chipman, who has returned to Israel to take up a post-doctoral fellowship at Ben-Gurion University. We congratulate her on her new position and wish her well.
Two researchers have meanwhile joined the team: Esther-Miriam Wagner, who will be working with Dr Friedrich Niessen on the description of Arabic and Judaeo-Arabic documents; and, to fill the post left vacant by my promotion, Dr Siam Bhayro.
Building on the excellent foundations laid by Professor Reif, we look forward to advancing the Unit in new and exciting ways.
Ben Outhwaite
Head of Genizah Research Unit
---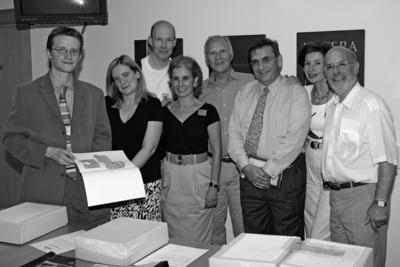 Members of the Mosseri family join Genizah staff in the exhibition room at Cambridge University Library
Mosseri visitors
Relatives of the Mosseri family, Brian and Hana Smouha, and Sonia Shalam, together with their friend Stephen Bacon, were recent visitors to the Genizah Research Unit — in the company of Jacques Mosseri's great-nephew, Jeffrey Mosseri — to witness the conservation of the Jacques Mosseri Genizah Collection at Cambridge.
Regular supporters Beth and Jonathan Lauffer also visited Cambridge with their friends, Professor Harold Stern, Judy and Charles Landau, and David and Susan Lew. They were introduced to members of the research team, who discussed aspects of their work, and were shown an exhibition of Genizah manuscripts.
Dr Mimi Gardner Gates, Director of the Seattle Art Museum, was accompanied by Faith Thompson on a visit to the Library, where they viewed manuscripts relating to trade with India, and met members of the conservation department.
The Library also welcomed Jason Kravitt and his wife, Beverly, who viewed a number of Library treasures, including Genizah material. Members of the John Rylands Genizah Project — Professor Philip Alexander, Dr Renate Smithuis and Carol Burrows — visited the Unit and engaged in an exchange of ideas.
T-S researchers met with groups from Wembley Synagogue, Norwich Traditional Congregation, the Jüdische Schule Knaben Zürich, Ort, the Heidelberg Church Exchange, and the Cambridge Summer Ulpan. In early July, Unit Head Dr Ben Outhwaite addressed members of the Cambridge Library Group.
---
The T-S Unit is organising a conference on Genizah studies in honour of Professor Stefan Reif's 33 years of achievement in the field. The event will be held on August 20—22, 2007, at Westminster College, Cambridge, the spiritual home of Mrs Lewis and Mrs Gibson. The Unit is planning to invite a wide range of speakers and to publish the proceedings. Further information may be found on our website, http://www.lib.cam.ac.uk/Taylor-Schechter/conference.html
---
BAJS conference on primary sources
"Primary Sources in Jewish Studies" was the theme of the British Association for Jewish Studies' annual conference, held during July at Wolfson College, Cambridge, and convened by the current president, Geoffrey Khan, Professor of Semitic Philology in the Faculty of Oriental Studies.
Since its inception in 1975, the BAJS has been at the centre of scholarly activity in Jewish studies throughout Britain and Ireland. Most members involved in the field hold positions in a variety of non-specialist departments, such as history, religious studies and anthropology.
The conference featured explorations of non-written primary sources, such as interviews with native speakers of modern Egyptian Judaeo-Arabic, photographic evidence, and the relationship between text and illustration in Jewish illuminated manuscripts.
A number of scholars discussed archives relating to Jewish history. In addition to the enormous potential for research they represent, problems of preservation and access were also addressed. It was therefore appropriate that an afternoon session was held at Cambridge University Library and hosted by the Genizah Research Unit.
Complementing a display of the Unit's treasures were papers relating to Genizah studies presented by Professor Stefan Reif (post-talmudic prayer); Dr Ben Outhwaite (vulgar Tiberian vocalisation); Dr Friedrich Niessen (a Karaite commentary on Hosea); Dr Rebecca Jefferson (the Mosseri Collection); Esther-Miriam Wagner (Judaeo-Arabic letters); and Dr Efraim Lev (medical texts).
Next year's BAJS presidency will be held by Professor Michael Berkowitz, who will host the annual conference at University College London on the theme of "Jews, the Arts, and Scholarship: Production and Reception."
---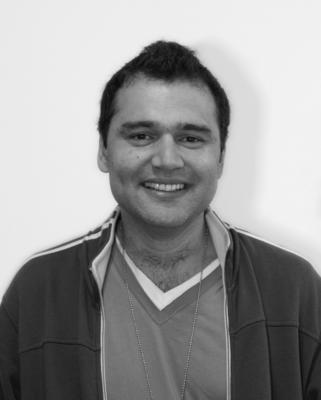 After gaining my PhD at University College London in June 2000, I spent two years working on the Dictionary of Classical Hebrew at the University of Sheffield. This was followed by three years as Lector of Semitic Languages at Yale's department of Near Eastern Languages and Civilisations, and a year as Wellcome Trust Visiting Lecturer in the department of Hebrew and Jewish studies at UCL.
My integration into Cambridge's Genizah research family this June was greatly assisted by Dr Rebecca Jefferson, with whom I had studied as an undergraduate at UCL, and by Dr Friedrich Niessen, who — with eight years' experience at the Unit — is proving to be a valued mentor.
My primary role involves identifying and describing the Hebrew and Aramaic documentary fragments in the Taylor-Schechter Collection. I am also working on a joint project, with Dr Uri Ehrlich, of Ben-Gurion University of the Negev, on a catalogue of liturgical items.
In addition to these tasks, there is a wealth of other activities to organise, including visits to the Collection by groups and individuals. It is safe to say, therefore, that no two days at the Unit are ever the same.
It is an immense privilege to be working on the T-S archive, and the experience I am gaining from working with primary sources in Hebrew, Aramaic and Judaeo-Arabic will certainly make me a much better scholar.
Siam Bhayro
Research Associate, Genizah Research Unit
---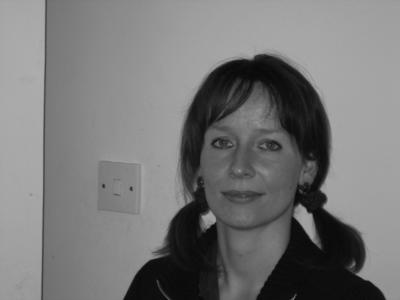 I graduated in 2001 with an MA in Semitic philology, Islamic studies and Indo-European studies from the Friedrich Schiller University of Jena, Germany. My first contact with Genizah material came later, however, when I studied Yiddish syntax as part of a German-Israeli Foundation project jointly with the Hebrew University.
My research focused on the language used in documentary material and involved close examination of a small corpus of Genizah letters from 1567 between a mother in Jerusalem and her son in Cairo. These fascinating Yiddish documents, part of the Cambridge collection, discuss illness, poverty and bankruptcy, motherly anger and marital love, and paint a vivid picture of life in plague-stricken Jerusalem.
When I embarked on my doctoral research into the language of medieval Judaeo-Arabic letters, under the supervision of Professor Geoffrey Khan, I was understandably excited at having an opportunity to work on a daily basis with the Cambridge Genizah collections. Being subsequently offered a chance to join the Research Unit, with its tradition of outstanding scholars, I felt doubly honoured.
Under the guidance of Dr Friedrich Niessen, I am now working on the Judaeo-Arabic documentary material — letters, court records and testimonies — but also on more mundane sources, such as accounts, lists of goods, and receipts.
These documents bring us close to the everyday life of their writers. They are not written for posterity, but are full of scribbles, crossed-out lines, and random thoughts. Their very imperfections make them exciting and authentic sources.
Esther-Miriam Wagner
Research Assistant, Genizah Research Unit
---
How you can help
If you would like to receive Genizah Fragments regularly, to inquire about the Taylor-Schechter Genizah Collection, or to learn how you may assist with its preservation and study, please write to Dr Ben Outhwaite, Head of the Taylor-Schechter Genizah Research Unit, at Cambridge University Library, West Road, Cambridge CB3 9DR, England.
The Library may also be reached by fax (01223) 333160 or by telephone (01223) 333000. The internet access is at http://www.lib.cam.ac.uk/Taylor-Schechter. Inquiries by email should be addressed to genizah@lib.cam.ac.uk.
All contributions to the Unit, whether for research or other activities, are made to the "University of Cambridge," which enjoys charitable status for tax and similar purposes.
In the USA, "Cambridge in America" supports the Taylor-Schechter Collection with its unfunded grant number 7/78. Please contact the Director of the Annual Appeal at 100 Avenue of the Americas, New York, NY 10013-0271 (tel: 212-984-0960).
"Cambridge in America" is recognised by the IRS as a charitable organisation, and contributions for the benefit of the Genizah Research Unit are legally deductible for USA income tax purposes. Contributions are similarly deductible in Canada even if made directly to the Development Office at the University of Cambridge.
---
The production of this newsletter was facilitated by continued support from the Lauffer Family Charitable Trust, in memory of David Lauffer. David took a great interest in Genizah studies and was fascinated by its relevance to so many areas of Jewish history. He was warmly regarded in the Unit, and his family's generosity is much appreciated.
---