---
Treasure trove
In 1909, Jacques Mosseri, a leading member of the Cairo Jewish community, explored the Ben Ezra Synagogue and the Bassatine cemetery. Of that visit, Mosseri wrote: "There still existed a few documents in the Genizah at Old Cairo, which was thought to have been utterly ransacked."
During the next two years, Mosseri continued his hunt for Genizah manuscripts. These searches, he reported, "led to the complete emptying of the genizot, and to further discoveries both at Bassatine and at Old Cairo."
Mosseri's hoard of manuscripts (some 7,000) includes material from both the classical Genizah period and the modern period of Egyptian Jewry. Like the T-S Collection, all manner of written material is represented there, including Bible fragments, rabbinica, liturgy, medicine, documents and belles-lettres.
After Mosseri's death in 1934, the manuscripts remained in the possession of his family. Israel Adler, then director of the Jewish National Library in Jerusalem, was granted access to the Collection in 1970 to microfilm the manuscripts. A brief hand-list in Hebrew, edited by the Institute of Microfilmed Hebrew Manuscripts, was compiled on the basis of the microfilm.
Recently, the Mosseri family loaned the Collection to Cambridge University Library. Now a range of experts experienced in conserving Genizah material are busy digitising and describing these treasures so as to expose their exciting contents to the world of scholarship.
---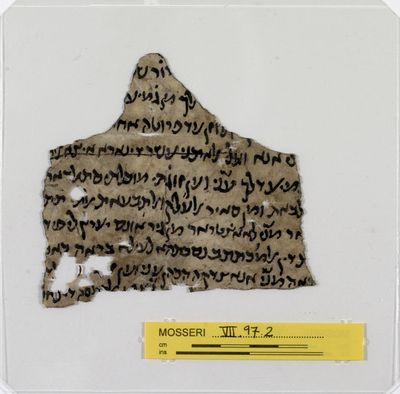 Mosseri MS VII.97.2 before (below) and after conservation (above): a twelfth-century court record from Old Cairo in the hand of the court clerk Ḥalfon ben Menasseh ha-Levi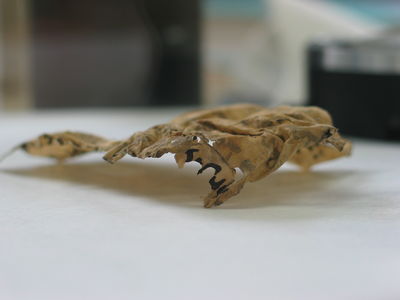 Mosseri collection's challenge
To the conservator, the Jacques Mosseri Genizah Collection – now in the care of Cambridge University Library – presents a fascinating challenge. Both the number of fragments and the fragility of their condition have proved to be significantly greater than originally thought.
Inside its 58 boxes, the fragments are housed between folds of paper, groups of which are enclosed in four-flap folders, affording temporary protection. It has been vital to inspect each individual fragment, to assess its size and physical condition, and to count the exact number of items within the Collection.
Inspecting each folder has been like opening a parcel: sometimes a pleasure, sometimes a portent, depending on the prize within. The range of conservation challenges has been wide, with every degree of creases, folds, cockling and distortion.
Damp among some of the fragments has caused stains and embrittlement, while others are hardly recognisable as paper, so frail and sticky have they become. On drying, they are welded to adjacent fragments – sometimes capturing several pieces – to form a tangled mass.
Unlike the Taylor-Schechter Collection, parts of the Mosseri Collection were once buried, leaving deposits ranging from fine silt or gritty mud to encrusted lumps, obscuring the text. The removal of these deposits has been one of our greatest challenges so far.
During conservation, the fragments are cleaned, mud and other deposits removed (if this can be done safely), creases and folds eased out, and repairs made. As they are to be digitised, and finally housed, in high-visibility archival sleeves – made of inert polyester – the repairs are only basic, enough to stabilise each of them to allow handling during rehousing.
The support provided by the polyester, although in itself far from glamorous, goes well beyond any strengthening that could be done directly to the document, keeping intervention to a minimum while maximising access.
Treatment may become more complicated when one form of damage limits the options of treating another. A typical example is mud covering flaking ink that is itself on paper showing signs of advanced degradation.
Such paper may be brittle, soft and spongy, or very fragile. Risk of damage to both ink and substrate can be high if dirt is removed mechanically.
An alternative treatment that works well is the use of moisture to remove the deposit. This method, however, may also pose a threat to the ink – this time on a chemical level – for recent scientific research has raised concerns over the long-term effects of humidification and wetting on the stability of iron-gall inks.
One of the challenges of conservation is that remedies for such problems are rarely easy or "right." Solutions must be sought that seek to balance the need for access to the text with the safety of the document.
Preservation of both text and structure also requires careful attention to each fragment and the evidence it may contain, and at times calls for the development of creative options that satisfy scholars of both text and artefact.
Jan Coleby and Ngaio Vince-Dewerse
Conservation Department, Cambridge University Library
---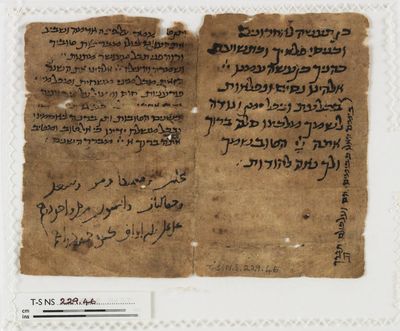 T-S NS 229.46 verso, an early copy of the 'al ha-nissim prayer with evidence of the phrase "These days as in those days"
How Genizah sheds light on liturgy
I am grateful to the editor of Genizah Fragments, Dr Rebecca Jefferson, for kindly inviting me to contribute a regular column on aspects of the impact made on the study of Jewish liturgy by the discovery and analysis of Genizah texts.
I have chosen to open the series with a phrase that occurs at the end of the first sentence of the 'al ha-nissim prayer included in the 'amidah on the minor festivals of Hanukkah and Purim. The prayer thanks God for the variety of blessings given to the Jewish people's ancestors בימים ההם ובזמן הזה, "in those days and at this time."
This formulation occurs widely in the medieval liturgies, with no more than minor variations. One of these is the absence of the conjunctive waw ("and"), the significance of which is not immediately obvious.
Since the second benediction for the kindling of the Hanukkah lights ends with the same phrase, it may assist our inquiry if we examine how this text appears in some versions dating from the eighth and ninth centuries.
In one case, there is no mention of any time factor, God simply being thanked for "having done wonders for our ancestors," while in others there is only part of the phrase בזמן הזה, "at this time."
Cambridge Genizah fragments T-S H2.124 and T-S H2.152, which contain the benediction as it occurs in the Passover Haggadah, also have only this first part of the four-word phrase, while another such fragment, T-S NS 89.36, has only the alternative בימים האילו, literally, "in these days."
I suggest that an early version of the phrase consisted of these two words alone, referring in such a rabbinic Hebrew form to the events that occurred "in these days." Those two words on their own were ambiguous and were capable of being understood either as "at this time [of the year]" or "in those days [many centuries ago]." An alternative for the former could have been בזמן הזה, "at this time."
It is not uncommon in medieval Jewish liturgy for two alternative texts to be joined together and retained as an expanded form. Here, too, all four words were adopted in some versions and there was then a choice as to how to understand the entire phrase.
It could mean that God performed miracles "in those far-off days, at this time of the year," thus justifying both readings; or it was possible to interpret God's actions as applying to both then and now – that is, "just as then, so also now."
In the case of the latter interpretation, it would clarify matters if a waw ("and") were inserted between the two halves of the four-word phrase to indicate a reference to "both in those days and in our own time."
This would be particularly appropriate for those who saw the opportunity here of mentioning the current situation and even including, at the end of the 'al ha-nissim prayer, an entreaty to God for miracles to occur for the Jewish people in the present as they did in the past. Sa'adya Gaon cites it as an optional addition.
There is early manuscript evidence (including Genizah fragments such as T-S NS 148.6 and 229.46) of such an entreaty ending with the phrase בימים האילו כבימים ההם, "these days as in those days," spelling out, with the use of the comparative preposition כ "as," a wish for current blessings to match ancient ones.
Those who preferred to limit the prayer to gratitude for past events appear to have opted to include neither the waw nor the comparative preposition in the form of the phrase they employed in the opening section of 'al ha-nissim. They understood it as a reference to what occurred "in those far-off days, at this time of the year."
Further details appear in my recently published volume, Problems with Prayers (Walter de Gruyter, Berlin and New York), pages 304–5 and 311.
Stefan C. Reif
Emeritus Professor of Medieval Hebrew; Project Consultant, Cambridge University Library
---
New books of benefit
The past six months have seen the arrival at the Taylor-Schechter Unit of a number of fascinating books based on Genizah manuscripts, among them two volumes of history.
Miriam Frenkel's The Compassionate and Benevolent: The Leading Elite in the Jewish Community of Alexandria in the Middle Ages (Ha-ohavim ve-ha-nedivim; Ben-Zvi, Jerusalem, 2007) is an extensive study of the Alexandrian élite; while Roxani Eleni Margariti's Aden and the Indian Ocean Trade: 150 years in the Life of a Medieval Arabian Port (University of North Carolina Press, Chapel Hill, 2007) is a wide-ranging examination of the Yemeni port of Aden.
Michèle Dukan's codicological study of Hebrew Bible manuscripts, La Bible Hébraïque: Les codices copiés en Orient et dans la zone séfarade avant 1280 (Brepols, Turnhout, Belgium, 2006), includes a paleographic dating of over two hundred Bible fragments from the T-S Collection.
The poet Peter Cole has edited and translated a comprehensive anthology of medieval Hebrew poetry, The Dream of the Poem: Hebrew Poetry from Muslim and Christian Spain 950–1492 (Princeton University Press, Princeton and Oxford, 2007); and Joshua Blau's long-anticipated and monumental Dictionary of Mediaeval Judaeo-Arabic Texts (Academy of the Hebrew Language and Israel Academy of Sciences and Humanities, Jerusalem, 2006) will be of enormous benefit to those working closely with Judaeo-Arabic fragments.
---
Archaeopress in Oxford, the new publishers of the T-S Unit's Genizah Series, has reprinted two of our most requested out-of-print catalogues.
The first reprint is the superb catalogue by the late Michael L. Klein, Targumic Manuscripts in the Cambridge Genizah (1992). The second is the much-acclaimed Arabic Legal and Administrative Documents in the Cambridge Genizah Collections (1993), by Geoffrey Khan.
Both volumes are printed in softcover, priced affordably at £60 and £30, respectively. Further details are available from the Unit or from Archaeopress at bar@archaeopress.com.
---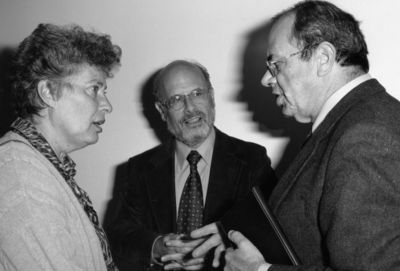 Dr Risa Domb with Professor Stefan Reif (centre) and Professor Jacob Sussmann at the Genizah centenary celebrations at Cambridge University Library
Rapid progress
Entering on the second year of our major programmes funded by the Arts and Humanities Research Council and the Friedberg Genizah Project, the Unit is hard at work describing the myriad fragments that make up the spectacular T-S Genizah Collection.
Progress on the recently-arrived Mosseri Collection, on loan to the University Library for twenty years, is also rapid, with hundreds of fragments now conserved and digitised.
To maintain the pace, we have taken on a new part-time member of the research staff, Dr Daniel Davies, who worked on his doctorate on Maimonides in the Faculty of Divinity at Cambridge and is now turning his hand to manuscripts.
Later this year, we shall be welcoming two visiting scholars from Israel. It is gratifying to be able to host such experts in their field.
Professor Shmuel Glick, Director of the Schocken Institute, will be joining us for six months to begin work on cataloguing the extensive selection of medieval responsa in the Collection. Dr Gideon Bohak, of Tel Aviv University, is planning to spend a year here, completing a catalogue of magic, divination, astrology and alchemy in the Genizah.
Following the launch of his latest book at Jewish Book Week in London in February, the poet and translator Peter Cole will be spending a month at the Unit as our first resident poet. He will be working with some of the thousands of poetry fragments in the Collection and deriving inspiration from their tattered pages for a work of his own.
Peter has just translated a comprehensive selection of medieval Hebrew poetry from Spain, The Dream of the Poem, and the Unit is eager to see the fruits of his stay in Cambridge.
A memorial was held at Jewish Book Week for a stalwart of the event, Dr Risa Domb, who died in January. Risa was Senior Lecturer in Modern Hebrew at Cambridge and founder of the Centre for Modern Hebrew Studies.
An ardent supporter of the Genizah Unit's work and a member of the steering committee for many years, she was a wonderful teacher and a popular colleague, and will be greatly missed by those who had the privilege of studying and working with her.
Ben Outhwaite
Head of Genizah Research Unit
---
Cambridge Genizah material on display at the Smithsonian Institution, Washington. Entitled In the Beginning: Bibles Before the Year 1000, the exhibition comprised more than seventy early biblical artefacts. Image courtesy of the Arthur M. Sackler Gallery, Smithsonian Institution, Washington, D.C.
Inventory project
The Genizah Collection at Cambridge University Library was, until recently, estimated at 140,000 classmarks accounting for roughly 250,000 leaves, since a primary classmark could split into secondary divisions, while a single classmark may have been assigned to a manuscript consisting of tens of folios.
In terms of simple counting, these estimates turned out to be quite adequate. Nevertheless no authoritative list of all valid shelfmarks in the Collection – one that would also give basic data such as the number of folios and bifolios in each classmark – was available. Certainly, no such computerised file, a necessary first step in any contemplated computerised framework was at hand.
To compile such a file for this vast Collection seemed an almost impossible task. Yet, thanks to exciting and fruitful co-operation between the Genizah Research Unit (GRU) at Cambridge and the Friedberg Genizah Project (FGP), initiated and funded by the latter, such a scheme has now been achieved.
The Cambridge Inventory Project (including the Genizah Collection at Westminster College), begun in October 2005, was carried out by the GRU researchers under the guidance of Shulie Reif, and was finished on schedule in April 2006.
The inventory compilers physically examined every manuscript in the Collection and recorded on spreadsheets the number of folios, bifolios, blank versos and other relevant information, such as whether a manuscript had been relocated or renamed or whether it was, in fact, missing.
Certain sections, such as the AS series, with its large quantities of small single folios, were processed at a speedy pace, while others, such as the Arabic, Misc. and Or. folders, were more problematic, with multiple folios, bifolios, columns and blank sides, as well as missing or renumbered items.
The data were passed on to Genazim, the FGP Computerisation Unit, located in Israel, where they were collated and carefully analysed, using a set of advanced computerised tools produced by a team of scientists and programmers there.
This analysis enabled the GRU researchers to detect and correct any errors, omissions or inconsistencies that crept into the data, thus producing what appears to be a comprehensive and accurate database.
This database will prove a valuable (in fact, indispensable) preliminary tool for the planning and implementation of the task of digitising the entire Collection, now under study.
Thanks to this computerised file, it is now possible, for the first time in the history of the Cambridge Genizah Collection, to provide – among other information – accurate data regarding its size and classmark content (138,108 classmarks and 192,844 folios).
Moreover, these figures may be used to break down the Collection into its various components, also facilitating estimates about its contents (for example, the extent of biblical material).
Yaacov Choueka
Chief Computerisation Scientist, Friedberg Genizah Project
---
Professor Ezra Fleischer working with Professor Stefan Reif at the Taylor-Schechter Genizah Research Unit in the 1970s
Farewell to Fleischer
The world of academic Jewish studies in general, and the study of medieval Hebrew poetry in particular, was deprived of one of its most distinguished representatives with the passing, last August, of Ezra Fleischer.
His decipherment, analysis and historical assessment of many hundreds of Genizah fragments (and other Hebrew manuscripts), relating to liturgical poetry, as well as to the statutory medieval Jewish prayers themselves, were models of scientific methodology, transcriptional precision and scholarly application.
As founding director (1967–2006) of a project – funded by the Israel Academy of Sciences – to describe, systematically and comprehensively, all the poetry to be found in the various Genizah collections around the world, Fleischer amassed a wealth of important data.
Just as importantly, he trained a number of young scholars to exploit these literary riches by way of critical editions and was generous in making the information available to those who approached him in the course of their research.
Author of hundreds of publications, he made perhaps his most significant and lasting impact through his close study of manuscripts containing rare or otherwise unknown texts, on the one hand, and his historical analysis of various aspects of liturgy and liturgical poetry, on the other.
In the former category are his volumes, The Poems of Shelomo Ha-Bavli (1973), The Pizmonim of the Anonymus (1974), and The Proverbs of Sa'id ben Babshad (1990). The latter category includes Hebrew Liturgical Poetry in the Middle Ages (1975), The Yoẓer: Its Emergence and Development (1984), Eretz-Israel Prayer and Prayer Rituals (1988), and (with Moshe Gil) Yehuda Ha-Levi and his Circle (2001).
Such a remarkable degree of productivity, in addition to his leading role in numerous academic institutions and projects, and his recognition through many awards and prizes, came after a most difficult and stressful start to his life in Romania during the Second World War, and in a Communist prison for almost five years after the Stalinist takeover of that country.
While incarcerated, he wrote impressive and moving Hebrew poetry which ensured that he was already known and admired when he settled in Israel in 1960.
Although he spent time as a visiting scholar at the Sorbonne, Harvard and the University of Cambridge, he preferred to remain in Jerusalem, where he was active at the Hebrew University and in the Jewish National and University Library until his death.
Fleischer's image and notion of the scholar were very much in keeping with the academic tradition of nineteenth-century Germany. He and his wife, Anat, welcomed in their home and assisted those scholars with whom he built close relationships, though he regarded his personal life as essentially a private matter.
He had minimal tolerance for those whose scholarship he assessed as shallow or shoddy, or whose behaviour he regarded as suspect. Once he had, through his own rigorous research, drawn his scholarly conclusions, he remained convinced of their accuracy – and woe betide those who dared to offer challenges to their validity. A similar degree of conviction applied to his characterisation of people, places and political ideas.
For some thirty-five years, by way of correspondence and in personal meetings, I had the benefit of his friendship, advice and support, his delightful Hebrew, and his critical comments. Cambridge work on the Genizah undoubtedly gained much from his guidance and endorsement.
Stefan C. Reif
---
The Genizah Unit acknowledges the continued support of the Friedberg Genizah Project, which amounted to over £27,000 for the first half of this academic year. Major funding was also received from the Arts and Humanities Research Council and, through the British Library's Endangered Archives Programme, the Lisbet Rausing Charitable Fund.
We are grateful for a number of substantial donations, including £15,000 from a British-based trust; £5,000 from the John S. Cohen Foundation; and $5,000 from Derrick M. Smouha, in honour of Herb and Maryse Hops.
Other important donations towards Genizah research were received from the trustees of the Manifold Trust (£300); the Sidney and Elizabeth Corob Charitable Trust (£250); Trinity Hall, Cambridge (£200); Solomon and Gillian Green (£150); Benjamin M. Friedman ($250); Hershel Shanks ($200); Max Sussman (£100); and Paul Saenger ($100).
---
How you can help the Unit
If you would like to receive Genizah Fragments regularly, to inquire about the Taylor-Schechter Genizah Collection, or to learn how you may assist with its preservation and study, please write to Dr Ben Outhwaite, Head of the Taylor-Schechter Genizah Research Unit, at Cambridge University Library, West Road, Cambridge CB3 9DR, England.
The Library may also be reached by fax (01223) 333160 or by telephone (01223) 333000. The internet access is at http:// www.lib.cam.ac.uk/Taylor-Schechter. Inquiries by email should be addressed to genizah@lib.cam.ac.uk.
All contributions to the Unit, whether for research or other activities, are made to the "University of Cambridge," which enjoys charitable status for tax and similar purposes.
In the USA, "Cambridge in America" supports the Taylor-Schechter Collection with its unfunded grant number 7/78. Please contact the Director of the Annual Appeal at 100 Avenue of the Americas, New York, NY 10013-0271 (tel: 212-984-0960).
"Cambridge in America" is recognised by the IRS as a charitable organisation, and contributions for the benefit of the Genizah Research Unit are legally deductible for USA income tax purposes. Contributions are similarly deductible in Canada even if made directly to the Development Office at the University of Cambridge.
---
Thanks are again due to the Lauffer Family Charitable Trust for their continued support, which facilitates the production of this newsletter. The Trust was founded in memory of David Lauffer, a noted Genizah enthusiast, who is fondly remembered by the Research Unit
---