Rental of the Manors of Earls Colne and Colne Priory (ERO D/DPr118)
document 80000710
Copyhold of Earldom - quitrent 11d
Rich Horseman Solly 1.5.1809 death of mother Sarah to all that croft of land containing by a late admeasurement 6r26p in Sandhills held by the annual rent of 11d etc. to which premises mr Oliver Johnson was admitted (together with other lands in 1788 ) by the description of " all that croft of land containing by estimation 1r more or less in Sandhills "
1741 Eliz Sadler surrender Jn Ruggles - under will of Eliz Sadler this became divided among the families of Sadler and Wilshire till
1788 Jn Wilshire part in his own right and part on the surrender of others
ditto Oliver Johnson to the whole viz one moiety surrender of Thos Wilshire and other three third parts of the other moiety surrender of Jn Wilshire Rebecca Thompson and Eliz Wilshire
1797 Sarah Solly wife of Sam surrender of Oliver Johnson
1809 death fine £3.3s
enfranchised 1858
Commutation map 1836 no. 224 (224) pasture 1a26p
217a (217a) garden etc. 2r
total 1a2r26p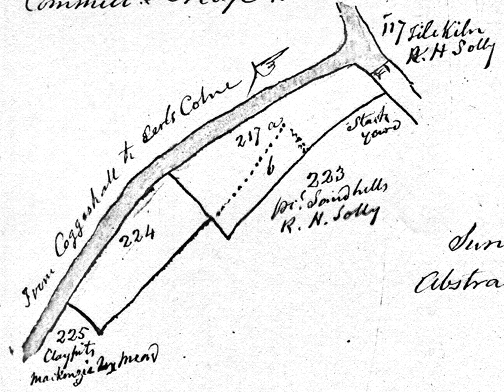 b. parcel within the dotted line (217b (217b) ) has been added to the garden from the adjoining freehold of mr Solly 223 (223) called also Sandhills
Survey 1598 fo. 42
abstract of title p.